Guys my age all know someone older who tells us Bobby Orr was the greatest hockey player of all-time. Guys my age all say it was Wayne Gretzky.  It really is a generational thing, and since they played such different positions, it's really impossible to use analytics to say definitively who was better.
In the NBA, guys my age all think Michael Jordan is the G.O.A.T. If you're in your late 20s, you might think Kobe Bryant was/is better, but you'd be wrong.
Every way you look at it, Jordan was better than Bryant. Check out these metrics from FiveThirtyEight.
According to most advanced metrics, Jordan was better than Bryant at both ends of the floor. (This is true even if we restrict both players to the same block of seasons by age so we're comparing apples to apples. Kobe entered the NBA at age 18, and he's 36 now; Jordan played from age 21 to 34, retired and played again from age 38 to 39. So their overlapping years are 21 to 34.)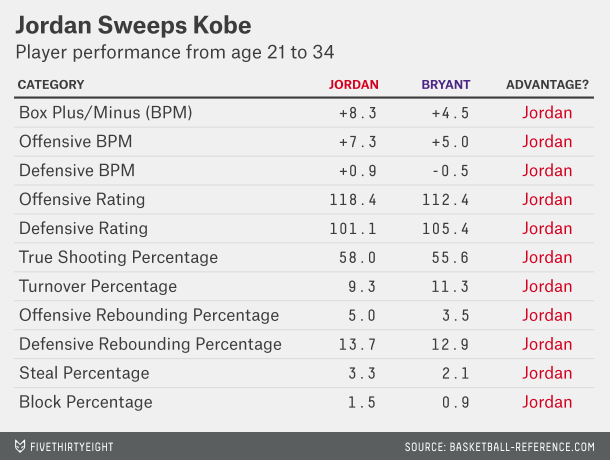 Kobe Bryant passed Michael Jordan on the all-time scoring list yesterday, but he's never been better than Jordan. Jordan is the best, and it's not even close.