Television
---
Jerry Seinfeld and George Costanza were spotted walking to Monk's Restaurant for coffee earlier today. Ok, it was actually Jerry Seinfeld and Jason Alexander, and they were going to Tom's Restaurant for coffee, but it's practically the same thing.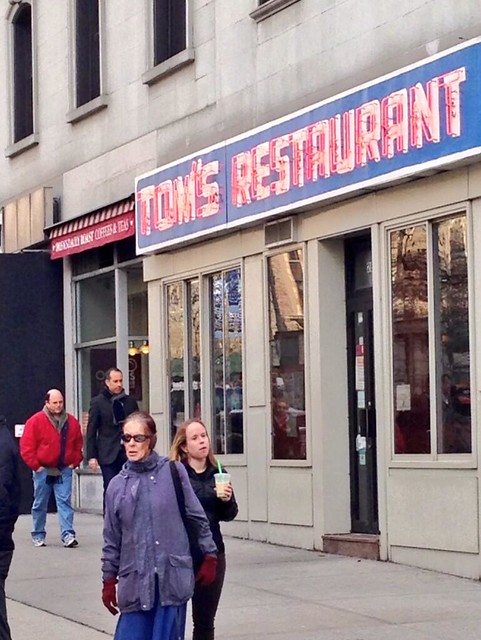 The smart money is on the two filming an episode of Jerry's web series Comedians In Cars Getting Coffee or a SuperBowl ad.
[via Reddit]
---
The Golden Globes were on last night. After Peyton Manning's Broncos secured their win I flipped over during commercials and intermissions of the Leafs game. I found most of the Golden Globes telecast I saw pretty boring.
Here's a screencap making the rounds of a Golden Globe "Fun Fact" aired last night about Michael J. Fox that is most definitely not a fun fact.
---
Speaking of 1990, this CBC Television ad from 1990 is the most 1990ish thing on the web.
[via Retrontario]
---
Excluding live sports, I'm watching less conventional television than at any other point in my life. There are only a few programs I'll still tune in to watch...
The National
I'll tune into The National either at 9pm on CBC News Network or 10pm on CBC, depending on whether I'm watching a Leafs game or doing something else. It's what we'll watch before bed.
Jeopardy
Using a tablet as our scoreboard, my wife likes to challenge me at Jeopardy. She's never beat me.
60 Minutes
If I'm around, I try not to miss 60 Minutes on Sunday nights. I've been enjoying 60 Minutes for as long as I can remember and it's still interesting.
That's it until Mad Men returns early next year. In the meantime, I'll be watching my Leafs, our Canadian junior team and the Olympics in Sochi... and maybe a little NBA and NFL playoffs.
---
I'm watching less non-sports television than I ever have in my life, but I still made time to watch Derek, a 7-episode British series written by, directed by and starring Ricky Gervais.
Each episode is about 23 minutes, so you can chew through these in less time than it took to watch The Lord of the Rings: The Fellowship of the Ring. Do it. You'll thank me.
Derek is tender and sweet and the finale brought me to tears. And it wasn't just me, my wife was openly weeping by the end of it. I hadn't cried during a movie or series since Big Fish.
Here's an introduction to Derek:
---
With the prevalance of DVRs, binge viewing, time-shifting and other digital methods of acquiring television shows, we're in desparate need of a spoiler code of conduct.
Last night, the series finale of Breaking Bad aired on AMC. It's one of the few series I watch, so I most definitely tuned in. I have not, nor will I, blog, tweet, facebook or podcast a spoiler. In fact, earlier yesterday, I made a pledge not to do so.
I pledge to tweet no Breaking Bad spoilers tonight #BreakingBadPledge

— Toronto Mike (@torontomike) September 29, 2013
In my opinion, publicly airing spoilers is downright rude. Would you have broadcast the twist ending of Sixth Sense upon leaving the theatre? Of course not, because that would have been a dick move. Spoiling an episode by live tweeting quotes or plot turns is a dick move.
I live by a spoiler code of conduct. I will always wait a minimum of six-months before spoiling a tv show or movie, and usually I'll wait much, much longer. Treat others the way you'd like to be treated.... it's nothing more complex than that.
Do you have a spoiler code of conduct? Do you think it's fair to live-tweet or facebook major plot points points of popular shows like Breaking Bad?
---
I initially hated the series finale of Breaking Bad. It was far too convenient, far too ideal. It was as if Walter White scripted the ending himself.
Think about how perfectly things turn out for Walt. He somehow finds his way into Gretchen and Elliot's house where he plays them perfectly, Badger and Skinny Pete helping along the way, despite the fact they'd get a huge reward for turning him in.
He's then able to enter Skyler's home, despite being the most wanted man in the country. C'mon, he's in his own home town visiting his old house, his ex-wife and getting close enough to his son that he can gaze upon him. But the best part is when he meets Lydia and Todd in a crowded Albuquerque restaurant. He still looks like Walter White but somehow goes unrecognized. Really?
And the way he gets the ricin into Lydia's tea is way too convenient. It's perfectly put into the one stevia pack he knows she'll use. That's beyond lazy writing, that's intentionally ridiculous. All of the above and the miraculous way Uncle Jack brings him Jesse and allows Walt to save him.... not to mention the way he kills all the nazis and ensures Uncle Jack survives long enough for Jesse to seal the deal. This is fantasy. 100% fantasy.
Because when Walt was trying to start that car outside the bar in New Hampshire with the police on their way, he freezes to death. As he sits there dying, his dream-like fantasy begins. Everything after this point, starting with the vehicle's keys falling from the driver's side visor, is pure fiction.
That explains how convenient and completely ideal it is for Walt. That's what makes this disappointing series finale something truly amazing and awesome.
---
My brother Ryan watches a lot of television. He'll frequently write me emails telling me which series he's digging and urging me to check out shows like Sons of Anarchy, The Walking Dead, Luther and Game of Thrones. If there's a critically acclaimed new show out there, he's watching...
I made a decision earlier in the year to stop starting television shows that are still in production. I broke that rule by watching Orange is the New Black, but I didn't like that show enough to continue. That means I'm just grandfathering in Mad Men and Breaking Bad, a couple of shows I'm up to date with and still thoroughly enjoying.
I sometimes think The Wire ruined me for television. I've started shows like The Walking Dead and Sons of Anarchy, but abandoned them early because I wasn't feeling it. I sometimes think I'm completely satisfied by live sports and good documentaries and films. I'm more than happy to supplement that with re-viewings of shows I adore. I'm currently making my way through Arrested Development for the fourth time and recently finished my third viewing of Curb Your Enthusiasm.
Right now the television world is crazy for Breaking Bad's final two episodes, and I'm right there with ya on Sunday nights. But eventually there will be huge buzz for the conclusion of shows I never bothered to pick up, like Homeland, Boardwalk Empire, The Americans or Shameless, and I'm well aware I'll be on the outside looking in. I'm okay with that.
Just give me my Leaf games, a good doc and the final episodes of Mad Men and I'm happy. When I want something rich and compelling, I'll watch The Wire again.
---
You've likely caught the buzz lately about Orange is the New Black, a new series on Netflix from the creator of Weeds.
My wife heard the host of an NPR podcast she listens to rave about the show, so we decided to give it a go. So little television manages to retain my attention (excluding live sports) so I'm always looking for something new to sink my teeth into. Completely spoiler-free, here's what I thought...
Orange is the New Black is weak. It doesn't suck, it's just weak. I almost bailed after four episodes but decided to finish the season. After all, so many have told me it's awesome, I must have been missing something....
There are plotlines in Orange is the New Black that feel like Glee. I wanted to cut out every scene with Dayanara and the prison guard like the cancer it was. They even played the shitty soap opera score over their cheesy chats.
And speaking of Glee, literally half of the season finale could have been an episode of Glee had Glee taken place in jail instead of high school. If you're looking for Glee in prison, this is definitely the show for you.
Again, it didn't suck, some of the characters were interesting and the "how they got there" flashback scenes a'la Lost sometimes worked, but don't believe the hype. This is not a great show.
Just my two cents... I'll be taking a pass on season two.
---
Revisting the Police Academy movies with my kids recently, it felt like the kind of fare I'd enjoy on Citytv's Late Great Movies back in the 80s.
Late Great Movies is where I first saw Porky's, Fast Times at Ridgemont High, Revenge of the Nerds and all the classics.
In addition to Mark Dailey's perfect voice we had these on-the-street bumpers. If you're too young to remember this, you missed out!
---
Previous
1
2
3
4
5
6
7
8
9
10
11
12
13
14
15
16
17
18
19
20
...
45
Next
Want more Toronto Mike blog entries? Visit the archives.