Sports
---
Steve Nash is far and away the greatest basketball player this country has ever produced. This is Nash country.
On December 5, 2007, I took my kids to see the Toronto Raptors take on Steve Nash and the Phoenix Suns. At the time I thought it was important that they see the greatest Canadian basketball player who ever lived. Little did I know he wouldn't retire until today, almost eight years later.
Thank you Steve Nash for an outstanding 19-year NBA career in which you twice won MVP honours, tallied the third-most assists in league history and assured your place in the Hall of Fame as one of the greatest point guards ever to play the game.
Thanks to you, Canadians are invading the NBA in droves as we all aspire to play like Steve.
---
Anthony Mason died today. I remember him well from those 90s Knicks teams with Patrick Ewing, John Starks and Charles Oakley. He was only 48.
You have to understand, the mid-90s feel like a few years ago to me. It feels like only yesterday I saw Anthony Mason driving to the hoop like a linebacker with a great haircut. Now he's dead.
And Jaromir Jagr's been on my mind lately. He was just traded to the Florida Panthers. The man is 43-years old.
I like knowing Jagr is still playing in the NHL. After all, he's older than me. This fun fact led me to research how many current NHL players are older than me. The answer is exactly two: Jagr and Sergei Gonchar.
That brings us to John Tavares. No, not the New York Islander, but the Buffalo Bandit. John Tavares is still playing professional lacrosse at the age of 46. That's just awesome.
---
Super Bowl XLIX kicks off from University of Phoenix Stadium in about 7.5 hours. In case you've been living under a rock, it's the New England Patriots vs. the Seattle Seahawks.
The purpose of this entry is to collect everyone's predictions. Please guess the final score before 6:30pm and we'll see if anyone nails it. There's a great deal of pride on the line, so give it your best shot.
My prediction: Seattle 32, New England 29
How do you think it all ends?
---
Martin Brodeur is retiring. The 42-year-old is joining the St. Louis Blues front office. It's bizarre he retired a St. Louis Blue. He played seven games with the Blues after 24 seasons with the New Jersey Devils.
I enjoyed Brodeur's entire career, and it was awesome. Unfortunately for him, he'll always be compared to Patrick Roy and when you're hanging with your buddy in a bar and he/she asks "If you could have any goalie play for your team in game seven of the Stanley Cup finals", the answer will never be Brodeur and will always be Roy.
A tip of the hat to Martin Brodeur and his amazing career. Here's his final tally:
691 victories (NHL record)
125 shutouts (NHL record)
3 Stanley Cups
2 Olympic gold medals
---
Guys my age all know someone older who tells us Bobby Orr was the greatest hockey player of all-time. Guys my age all say it was Wayne Gretzky. It really is a generational thing, and since they played such different positions, it's really impossible to use analytics to say definitively who was better.
In the NBA, guys my age all think Michael Jordan is the G.O.A.T. If you're in your late 20s, you might think Kobe Bryant was/is better, but you'd be wrong.
Every way you look at it, Jordan was better than Bryant. Check out these metrics from FiveThirtyEight.
According to most advanced metrics, Jordan was better than Bryant at both ends of the floor. (This is true even if we restrict both players to the same block of seasons by age so we're comparing apples to apples. Kobe entered the NBA at age 18, and he's 36 now; Jordan played from age 21 to 34, retired and played again from age 38 to 39. So their overlapping years are 21 to 34.)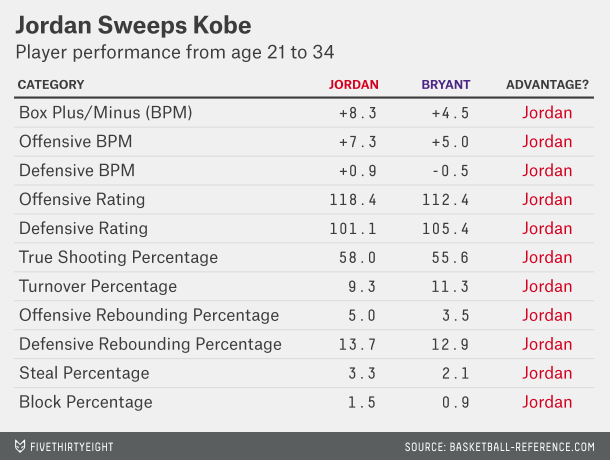 Kobe Bryant passed Michael Jordan on the all-time scoring list yesterday, but he's never been better than Jordan. Jordan is the best, and it's not even close.
---
I never had the pleasure of watching Gordie Howe play hockey. As a very young man, however, I read a biography on Wayne Gretzky and learned how Gretzky idolized Howe.
That made Gordie Howe my hero's hero. Here's a wonderful story about The Great Gordie Howe.
---
I'll preface this entry by stating the obvious. Derek Jeter has had a fantastic career, and deserves to be voted into the Hall of Fame. He's never been linked to performance enhancing drugs, he's always been classy and he's won.
Derek Jeter is also a career Yankee. I don't understand the Derek Jeter love-in currently in full swing at the dome. On Sunday, prior to the game against the Yankees, Jeter will be honoured with a gift from the Blue Jays organization. That's unnecessary and inappropriate.
The Jays shouldn't be giving gifts to opposing players, especially New York Yankees who never suited up for the Blue Jays. And I understand, after receiving his gift from the Jays, Jeter will give a speech and acknowledge us poor Jays fans. I don't need that, do you?
Jeter was a classy player with a great career, but he's also a New York Yankee, and this weekend's Toronto-Jeter lovefest is bollocks.
---
While I was unplugged for a few days earlier this week, Jean-Sebastien Giguere retired. He was the last former Hartford Whaler playing in the NHL. He played eight games for the Whalers in 1996-97.
It's the end of an era. Assuming Chris Pronger doesn't make a comeback, there are no more Whalers in the NHL.
---
I alluded to this in episode 83 of my podcast, but it's time to come clean in print. I really don't care for football anymore.
As a younger man, I watched a lot of NFL. The Bills were my team and I rooted for them the way I root for the Jays or Raptors. Periodically, when we had the Rocket or Doug Flutie, I'd watch the Argos, too.
I can pinpoint the moment I started to care less about the NFL. It was when Rob Johnson got the start over Flutie in the Music City Miracle game. Since then, I've watched less and less NFL football every year. Last season, I caught three games (including the Super Bowl) and all three included Manning and his Broncos.
For a while, I thought it was just the NFL that was turning me off, and I turned to the CFL. Now I know it's the sport. I just don't like football.
---
I've been watching tennis grand slam events forever. As a young man, you'd have thought I was German the way I cheered on Boris Becker and Steffi Graf. After all, Canadians were never a threat.
Here's something I wrote in July of 2009 about Canada's male singles tennis failure. We had produced a few decent female players, and at least a couple of excellent doubles players, but not one male player who could even upset their way into a semifinal match. The highest ranking Canadian male in singles play was Andrew Sznajder who somehow got ranked #46 in September 1989.
Today, Canada's Eugenie Bouchard defeated Simona Halep in the Wimbledon semifinal and will play Petra Kvitova for the title. That's amazing. A Canadian might win a Wimbledon singles event.
Meanwhile, Milos Raonic has reached the semifinal and will play Roger Federer tomorrow. Before I had a true rooting interest, Federer was my guy.
With Bouchard and Raonic, tennis has become a whole lot more fun for this canuck.
---
Previous
1
2
3
4
5
6
7
8
9
10
11
12
13
14
15
16
17
18
19
20
...
44
Next
Want more Toronto Mike blog entries? Visit the archives.