Radio
---
Brian "Henny" Henderson was on the air at 1050 CHUM for 27 years, from 1977 to 2004. In the 80s, I'd literally call a phone number in order to hear his excellent daily sports commentaries. I considered him, Rick Hodge, John Gallagher and Fred Patterson to be the four pillars of daily sports commentaries on the radio in this city.
Several years ago, Henny left a comment on this blog. Here's what he shared with me us.
Since I have no idea what "URL" and all that other computer mumbo-jumbo means, I'll skip straight to the meat.

Yes I have had, and to a lesser degree, continue to have health issues. The reason I was terminated at CHUM however had nothing to do with health.

I was fired because I was too old, making too much money. FULL STOP! In the meantime, I have grown quite comfortable in retirement. Comfortable because of the age old advice, "always marry a younger woman, so that even when you're downsized, at least one of you is working. All of the children have finally left home.

Oldest Gillian is back in school in Vancouver taking her masters. Youngest Erin has crossed the street and is now working for TSN, while Kyle, "The Wonderkid" has graduated with his teaching degree, right in the middle of an era when there are no teaching jobs, Just like his father, he too has a supportive wife with a good job, and so we're all doing fine. Except for the job part.

Anyone know of any teaching possibilities for Kyle? He lives in Burlington, but will eagerly travel.

HENNY
---
In a move that's surprising nobody, Virgin Radio 99.9 in Toronto has unveiled their new morning show. It's Adam Wylde and TJ O'Halloran.
You may recall Tucker in the Morning was turfed back in November. That's when Scott Tucker, Maura Grierson, and Andy Wilson received the bad news that their services were no longer required at Bell-owned Virgin. Adam Wylde, you will recall, quit his gig at Rogers-owned KiSS 92.5 back in June.
Virgin Mornings with Adam Wylde and TJ debuts tomorrow. Adam will be working down the hall from his mom who hosts the CHUM morning show with Jamar McNeil.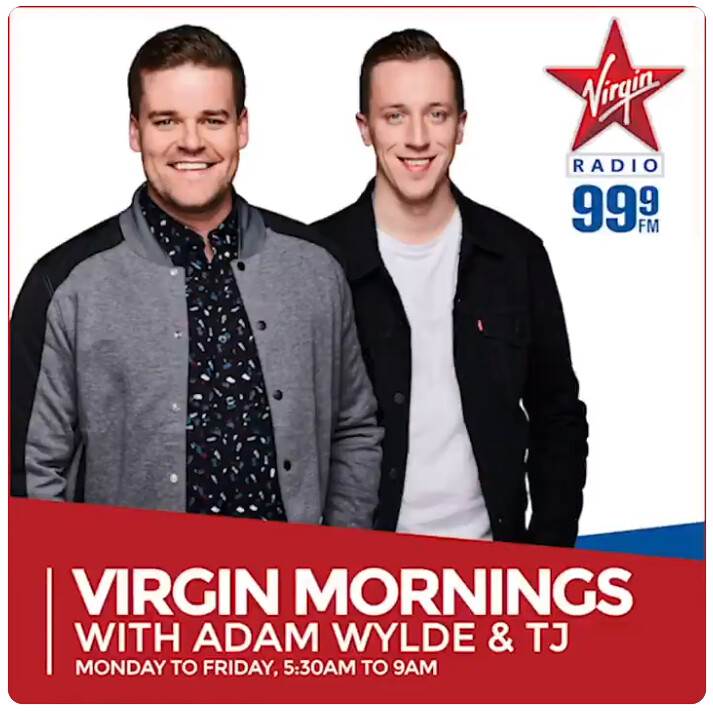 ---
Numeris has shared the Fall 2018 PPM Ratings for radio, but not with me. Sure, they share the overall A12+ with everyone, but that's pretty useless because radio stations target specific demographics and are judged by their success (or failure) in that demo.
Slightly more useful are the numbers below shared by David Bray, President, Bray & Partners Communications. I found them via Broadcast Dialogue. Here are the results for Toronto based on detail Numeris collected August 27 through November 25. The numbers are "% Share of Hours Tuned".
Station
A12+PPM

Aug. 27-Nov. 25

A12+PPM

May 28-Aug. 26

W25-54PPM

Aug. 27-Nov. 25

W25-54PPM

May 28-Aug. 26

M25-54PPM

Aug. 27-Nov. 25

M25-54PPM

May 28-Aug. 26

CBC Radio Two
1.8
2.2
1.5
1.4
1.8
2.3
CBC Radio One
11.8
10.0
11.8
8.6
9.1
7.0
AM 640 Toronto
2.2
2.0
1.3
.8
2.7
2.5
Classical 96.3 FM
5.8
6.4
1.5
1.8
3.1
3.1
102.1 The Edge
1.9
2.4
3.1
4.1
2.9
4.7
News Talk 1010
6.1
6.1
2.0
3.0
1.8
2.7
680 News
6.2
7.0
4.0
5.8
6.8
7.4
 93.5 The Move
1.1
1.0
1.7
1.9
1.3
1.1
AM 740/96.7 FM 
4.0
3.4
1.5
.4
.7
.8
Boom 97.3
10.2
11.1
11.2
12.6
12.4
11.7
98.1 CHFI-FM
11,0
11.1
15.3
12.7
10.7
9.5
TSN 1050
.5
.5
.4
.2
1.4
1.4
104.5 CHUM-F5.8M
6.8
6.5
14.1
14.4
6.3
6.5
Z103
2.1
1.7
2.5
2.1
4.3
3.4
Q107
5.2
5.5
2.4
2.9
7.0
7.5
Sportsnet 590The FAN
1.7
1.7
.3
.4
3.7
4.1
Jazz FM 91
1.8
2.1
1.0
1.8
.6
.6
Jewel 88.5
2.0
1.4
.5
.5
.5
.9
Virgin Radio 99.9
5.2
6.3
7.2
9.3
6.6
8.4
KISS 92.5
3.1
3.0
4.9
4.8
3.7
2.9
G98.7
1.2
1.2
1.5
1.5
.4
.3
Indie 88.1
1.6
1.2
2.7
1.8
3.7
2.4
Again, radio stations target specific demos and base their ad rates on how they fare with that demo. Still, we can make several reasonable assertions.
---
In this 402nd episode, Mike chats with radio broadcaster Sarah Burke about her many jobs at SiriusXM and Indie88. This episode is exactly 1:42:18.
You can listen to this episode in a variety of ways:
Toronto Mike'd is proudly brought to you by Great Lakes Brewery, Palma Pasta, Fast Time Watch & Jewellery Repair, Property in the 6ix, Paytm Canada and Sensus Design and Build. Catch up on all episodes of Toronto Mike'd and subscribe here.
---
There are big changes to 999 Virgin Radio's lineup, starting with Tucker In The Morning with Maura Grierson, and Andy Wilson. That show has been cancelled after 3.5 years.
Tucker, you may recall, took over when Jay "Maddog" Michaels was dumped after nine years. Jay's a good example of how there are silver linings when such restructuring takes place, as he's now co-hosting the Newstalk 1010 afternoon drive show with Ryan Doyle.
When Adam Wylde quit his gig at KiSS 92.5, I initially thought he might be heading to CHUM to join his mom, but quickly realized he was a much better fit at Virgin. This is just speculation on my part, but it's possible that's exactly what's happening here.
In the meantime, the ever popular Virgin Radio Music will take you from 10pm to 9am when singularly-named Luke is on the air until singularly-named TJ takes over. TJ's just lucky TJ Connors left 97.7 HTZ-FM for Winnipeg so confusion could be minimized.
Also let go during this overhaul is midday host Kella Duncan, Will Nash, and Tessa.
Here's Tucker's comments from today about his firing, posted to his Instagram page.
At 9:10am this morning I was told that my services were no longer required at 999 Virgin Radio. Shortly after @mauragrierson and @andywilson123 were also let go. This came as a surprise as our show was out performing the rest of the station for the better part of the last 2 Year's and held the #1 position in our demo for the last 12 months. Honestly, I have never seen a company blow up a show that got along so well and had the track record we had. I wish I could tell you why but they never give you the details when they are stripping you of your key card and walking you out the door. Obviously I'm a mix of pissed off and sad. The one thing I will say is that I was lucky to have had the chance to work with Maura, Wilson and Robyn! We had a great time on and off the air.
---
Right on the heels of Roger Ashby's announcement that his last day at CHUM would be December 5th, Rick Hodge has announced his last broadcast at 105.7 EZ Rock will be this Friday, November 2. That's right, he's retiring from 105.7 EZ ROCK's morning show following six years with the station and 45 years on the air, and it's happening in two days.
I have a lot of time for Rick Hodge. Following an eternity doing mornings on 104.5 CHUM-FM with Roger Ashby and Marilyn Denis, Rick left CHUM to become a part of 97.3 EZ Rock's Toronto morning team. I once sat in on a show and great controversy ensued.
All's well that ends well, and I ended up working with Rick Hodge, attempting to teach him social media and helping him blog.
Here's an interview I conducted with him in which he reveals the truth about why he left CHUM-FM and here's our deep dive when he visited for episode 116 of Toronto Mike'd.
Rick's a gem. Congrats Rick, and let me know when you're ready to come back and kick out the jams with me.
---
In this 390th episode, Mike chats with Dani Elwell about her years at CKLN and CKFM, her on-air resignation at CFNY, her time at JAZZ.FM91, sad departure from the station and what's next. This episode is exactly 1:58:15.
You can listen to this episode in a variety of ways:
Toronto Mike'd is proudly brought to you by Great Lakes Brewery, Property in the 6ix, Paytm Canada and Sensus Design & Build.
Catch up on all episodes of Toronto Mike'd and subscribe here.
---
One of my favourite fun facts to share on episodes of Toronto Mike'd is that Roger Ashby is the last person on Toronto radio who could have been heard on Toronto radio in the 60s. After a long career at 1050 CHUM, Ashby moved over to 104.5 CHUM-FM in '85 where he'd spend many years as part of the Roger, Rick & Marilyn morning show with Rick Hodge and Marilyn Denis.
Rick moved on years ago, and today Roger Ashby announced his last day at CHUM would be December 5th. Of course, this is not news to listeners of Toronto Mike'd. John Donabie came on and spilled the beans in July, the same week Jamar McNeil joined Roger and Marilyn in the booth.
When Jamar visited last week, I told him we knew Roger was retiring by the end of the year and that he was his replacement, but that guy deserves credit for playing it cool and saving the internal announcement for Roger himself. Roger made that announcement this morning.
That episode with Jamar is great and I strongly recommend you give it a listen. I also recommend my conversation with Rick Hodge.
Roger himself also dropped by, and even though he told me he only had 30 minutes, it's jam-packed with interesting tidbits about his 50 years on the air. You'll find that episode here.
Roger's a great guy and has been an institution on Toronto's airwaves for half a century. Congrats, and enjoy what's next!
Related episodes of Toronto Mike'd:
---
Global News Radio 640 Toronto made a couple of on-air changes today. Both Sue-Ann Levy and Lou Schizas have been told their services are no longer required.
So I finally got a call from @talk640 ...they were under the impression I was to call them to axe myself. Helluva way to treat a contributor of 15+ years. And now radio silence.

— Sue-Ann Levy (@SueAnnLevy) September 25, 2018
Just got the word second hand from the PD at Global News @CorusRadio that I was being let go - I had been fielding calls saying that rumours were circulating - Classy @troyreebglobal -

— Lou Schizas (@louschizas) September 25, 2018
Although I don't agree with any of his politics, Lou has been a tremendous supporter of mine ever since he visited for episode 234 of Toronto Mike'd. He's also been a great help during these past few months as I've launched my own business. He's offered great advice, attended both Toronto Mike'd Listener Experiences, and even referred a client. I'm sorry to hear he's lost this job, but knowing Lou, he's already working on the next chapter.
With the changes at 102.1 the Edge, Q107 and GNR 640, things have been anything but dull this month at Corus Quay.
---
I honestly didn't see this coming. Corus has announced the new morning show on 102.1 will be Ruby and Alex Carr, a brother-sister duo currently on the air in Vancouver. Their Toronto show will launch in January 2019.
I sure got some bad intelligence on this one. At one point there were rumblings Dean Blundell was coming back to CFNY, but I quickly determined that was a lie. Then, as recently as yesterday, I heard a non-compete had to expire before the announcement. I was sure that had to be Adam Wylde.
It's interesting that the new Edge morning show is from Vancouver, because they just started a new afternoon drive show that comes from Vancouver. You can read more about busy Meredith Geddes here. 102.1 is just loving Corus's Vancouver talent these days.
Although the press release didn't specifically say Ruby and Alex Carr were relocating to Toronto, I have to assume that's the case. [Confirmed: they will do this show live from Toronto.] I've also heard rumblings that Meredith's Toronto afternoon drive show from Vancouver is only temporary, but I'm on a bit of a losing streak with regards to Edge rumblings, so take that with a grain of salt.
---
1
2
3
4
5
6
7
8
9
10
11
12
13
14
15
16
17
18
19
20
...
46
Next
Want more Toronto Mike blog entries? Visit the archives.