Canadian Media
---
Bob "Bobcat" McCown has been hosting Prime Time Sports on CJCL 1430 / 590 since 1989. Except for a brief period when Dan Shulman hosted the program, he's been the only host the show's ever had.
Tomorrow's his last day as he's been ousted by Rogers Sportsnet. This news was originally tweeted by TSM's Jonah and confirmed today by Sportsnet.
It seem Bob wants to talk about this, and I can't think of a better forum for him to do so than Toronto Mike'd. Bob, if you're reading this, contact me and we'll make it happen.
Okay...I am leaving Prime Time Sports and Rogers. But nobody can shut me up when I still have things to say. Stay tuned. "I'll be back!"

— Bob McCown (@FadooBobcat) June 20, 2019
---
Hamilton's TSN Radio 1150 has cancelled their afternoon drive show, which means Jim Tatti has been relieved of his duties there. Jim is still contributing to Leafs games on Toronto's TSN Radio 1050, however.
I used to love watching Jim Tatti and Mark Hebscher on Global's Sportsline. That was appointment viewing for me, and now I get to co-host Hebsy's excellent Hebsy on Sports podcast. Hebsy put yesterday's episode on YouTube, so sample this ep and if you like what you hear you should subscribe to the podcast at HebsyOnSports.com.
And yes, I've reached out to Jim and invited him to come on Toronto Mike'd. Last time he said no, but this time he said he may come on later this year. That's progress!
---
In a move that's surprising nobody, Virgin Radio 99.9 in Toronto has unveiled their new morning show. It's Adam Wylde and TJ O'Halloran.
You may recall Tucker in the Morning was turfed back in November. That's when Scott Tucker, Maura Grierson, and Andy Wilson received the bad news that their services were no longer required at Bell-owned Virgin. Adam Wylde, you will recall, quit his gig at Rogers-owned KiSS 92.5 back in June.
Virgin Mornings with Adam Wylde and TJ debuts tomorrow. Adam will be working down the hall from his mom who hosts the CHUM morning show with Jamar McNeil.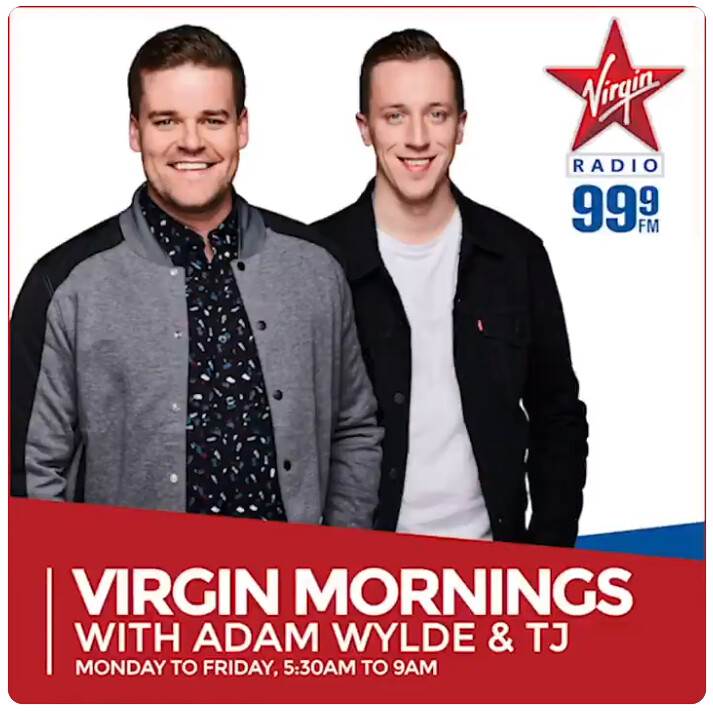 ---
If you were watching Hockey Night in Canada yesterday, you witnessed the return of Dave Hodge for the first time since the pen flip heard across the country.
Dave Hodge joined Ron MacLean on the desk, both sporting replicas of the old Hockey Night in Canada baby blue blazers. It was quite the sight.
Here's the segment before the Leafs pummelled the Flyers, in case you missed it.
When Ron asked Dave if he was retired, Dave said "involuntarily". This man needs to be broadcasting, whether about sports or music or both. I wish he'd podcast.
Speaking of podcasting, here are episodes of my podcast featuring Dave Hodge and Ron MacLean.
---
In Steve Simmons' Sunday Notes, which was posted last night, he dropped a rather startling nugget about Sportsnet president Scott Moore. Here's a copy and paste job from the Toronto Sun column.
The next time you hear or read a Rogers media employee making a strong case regarding the job Shapiro and general manager Ross Atkins have done, ask yourself this question: Is that their opinion, or are they adhering to company policy? Recently, Sportsnet president Scott Moore sent out a memo to staff which included an ardent defence of the work Shapiro and Atkins have done, all but saying to give the guys a break. Which is basically an insult of sorts to the many professionals who work for him …
This claim is a doozy, so I sought corroboration. I'm friendly with a number of on-air Sportsnet peeps, many of whom have visited my home for episodes of Toronto Mike'd. Here's my tweet.
This is from Steve Simmons' Sunday Notes.

If Scott Moore actually sent such a memo to staff, I find it very interesting.

Can anyone corroborate?https://t.co/1X0OTCd2Io pic.twitter.com/9bAgGP1ECb

— Toronto Mike (@torontomike) September 9, 2018
Almost immediately, Sportsnet employee Damien Cox chimed in to say he received no such memo from Scott Moore.
Missed that memo. https://t.co/pq0EKzNLM6

— Damien Cox (@DamoSpin) September 9, 2018
And early this morning, longtime Fan 590 Program Director Nelson Millman shared his experience with such interference from management.
In all of my years running THE FAN 590 for Rogers, I was never once asked/told by anyone above me, what we should or shouldn't say on the air. I sincerely doubt that has changed in the 6 years I have been gone.

— NMillman (@nmillman) September 9, 2018
Simmons' claim is quite serious, but I'll need to see or hear further evidence before I'm convinced. If you have further insight, let me know in the comments, or contact me. I'm more than happy to protect sources.
Update:
I've been in contact with Scott Moore. He's provided a copy of the email in question. He wrote this last Friday in his regular weekly note to all Sportsnet staff. His weekly note is a roundup of what is happening around the network.
The hockey season is literally a couple of weeks away and baseball is finishing up the dog days and heading into the real pennant races.

For the Jays, we always seem to have a dramatic story to tell, and this year is no different. With the Josh Donaldson story playing out in a bizarre way, we once again have an intriguing soap opera to follow. Of course, we are all over every part of this story.

Yesterday, Stephen Brunt was on The Starting Lineup and put much of the current Jays story into perspective (as he often does well). Fans are ready to blame management as they did with the Bautista story. In hindsight, most fans would have to admit management was right on that one.

What's interesting is that the Jays will continue to be a fascinating story over the next 24 months as we get a chance to see how management's strategy plays out. It's not dis-similar to what happened down the street with the Leafs. You have to go through some pain to get to the next chapter. Look at the similarities between having Austin (sic) Matthews and having Vladdy Guerrero Jr. Both may be franchise players to build around. For us, telling all sides of the story is going to be a fun challenge. But it's rarely boring in Jays Land!
Update 2
In this Sunday's column, Steve Simmons has apologized to Scott Moore. Here's what he wrote.
JUMPING THE GUN ON ROGERS MEMO

If I've learned anything from all the years doing this, it's that no matter how clearly you write something, how clearly you express an idea, no matter how obvious it may to be you, someone misinterprets the message or the tone of it. And so it was when Rogers Sportsnet president Scott Moore sent a memo to staff recently, as he regularly does.

The memo was seemingly harmless, if not a little on the cheerleader side. But that's not what I was told about it from various Rogers staff members, some of whom were concerned that Moore was coaching them to treat the Blue Jays front office with kid gloves. Taking their view of the memo and asking some of the most credible people I know at Sportsnet about it, I wrote an item in last week's column questioning why Moore would do that and wondering about the editorial freedom of those who report on the Jays at Sportsnet.

Then I saw the memo. And I saw nothing it in at all that drove coverage or opinion in any one direction.

While I may quibble with Moore comparing Auston Matthews and the current state of the Maple Leafs to the rebuild the Blue Jays are beginning with Vladimir Guerrero Jr. there was nothing in the note to staff that I thought, in any way, influenced the direction of coverage.

Apologies to the good people at Rogers — many of whom are friends and colleagues — and to the president Moore, whose words were misinterpreted here.
---
Although I've tweeted about this and discussed it on Toronto Mike'd and Hebsy on Sports, it was just brought to my attention that I never wrote about it here. My bad!
The big change at Hockey Night in Canada for the upcoming season is the removal of Paul Romanuk, who called a conference final last season. The official word from Rogers PR is that "Paul Romanuk has elected to move on to a new challenge" but that's simply PR spin. There is no way Paul elected to move on... he was told his services are no longer required.
I've always liked the way Paul calls a game, and was surprised so many Leafs fans passionately hated his work. I was also surprised so many Leafs fans disliked Glenn Healy's analysis, so what do I know? Before you accuse me of favouring a past guest on Toronto Mike'd let me assure you I was a big Romy fan well before I met the man. But yes, he did appear on my podcast, and not only was it a great episode, but he was incredibly giving. Prior to this news he was set to return this August to kick out the jams with me. I hope we can still do that one day as Paul's a huge music fan.
Hear my deep dive with Paul Romanuk below.
Paul was performing double duty at Rogers. He was the voice of Sportsnet regional Leafs games, and he called Hockey Night in Canada games nationally. His replacement for regional Leafs games is not Joe Bowen (sorry Leafs fans) but John Bartlett, who was most recently calling Montreal Canadiens games. Bartlett will also call some games for Hockey Night in Canada.
I don't know why Rogers parted ways with Romanuk, but I would speculate there were two primary reasons:
The aforementioned vocal minority of Leafs fans who seemed to despise him calling Leafs games
The rapid rise of Rick Ball who seems primed to become the number two guy after Jim Hughson
If you have further insight, please share in the comments.
In other Rogers Hockey news, Darren Millard has left Sportsnet. He's been there since its launch in 1998. Rumour has it he'll now take a job with the Vegas Golden Knights.
And meanwhile, there's no news yet on whether Bob Cole is calling games this upcoming season. He remains my favourite. Tell me why I'm wrong in the comments.
---
There was a time when the firing of the Edge morning show would be a "stop the presses" moment around these parts. Since the cancellation of The Dean Blundell Show, the only constant at 102.1 the Edge in the mornings has been change. Fearless Fred was there for a while, Rick the Temp was there, Josie Dye was there, and most recently, Adam Ricard and Melani Mariani were there.
Corus will announce a new 102.1 the Edge morning show soon, as Adam and Mel have been let go. I've never had the pleasure of meeting Melani, but Adam was kind enough to visit me for an episode of Toronto Mike'd, and we noted that he was the longest-serving DJ still on the air at that station. Alan Cross doesn't count because he left and came back.
You can hear my chat with Adam here:
Does anyone want to guess who will be their next morning show? I'm guessing Adam Wylde because that's my go-to guess for all Toronto morning radio shows targeting younger listeners with a vacancy.
Meanwhile, Fearless Fred is moving from 102.1 the Edge to Q107. His first shift on Q is 2pm on August 13. And Weekend host Wade MacNeil has also been let go. This is a rather aggressive refresh at 102.1.
---
Earlier this week, I had Cam Gordon from Twitter Canada in my basement and we were talking about a recent PItch Talks event that ended early when Kelly Gruber soured the room. Cam was there, and we got to talking about these events from Homestand Sports. In addition to Pitch Talks there's Puck Talks and Hoop Talks. Here's a trailer from Homestand Sports.
In that trailer, you'll see many Sportsnet personalities. I saw Stephen Brunt, Sid Seixeiro, John Shannon and Elliotte Friedman. In the recent event with the Kelly Gruber controversy, there was an appearance by Dan Shulman and Kevin Barker. Sportsnet personalities are all over these events.
Yesterday, Homestand Sports gave notice that Sportsnet personalities will no longer be permitted to appear at their events. Here's that update.
To the entire Homestand Sports family:

We have recently learned that we will no longer have Sportsnet personalities appearing on our shows. It has been a real pleasure working with all of these talented people.

Though this does not disrupt our programming, it has inspired thoughts about what Homestand is about. From the beginning, our events have been focused on sports fans and making them a priority. We realized that fans want to be more involved in conversations around their favourite sports, teams, and players. Thus, the Talks were born. Our events have created a way for fans to connect with sports media personnel, industry professionals, as well as past and present athletes. We love hearing stories about those who travel from far distances to attend these events, how they heard about it, who they came with; and we love seeing the fans interact with each other.

In addition to the above, we see our events as an alternative to traditional sports media. Currently, most major sports channels and shows are owned and operated by sizable corporations, some of which are not companies with sports as a sole focus. Fans deserve a variety of media to choose from in order to get the full picture and be exposed to different views and opinions. We look forward to continuing to serve fans in this way as we develop our live shows and other content.

We absolutely loved having Sportsnet personalities on our shows for many reasons. One of the main reasons is our feeling that combining talent from Sportsnet with talent from other media outlets created a diverse experience for fans. Though we will continue to create this environment, we do consider this a loss for sports fans.

We would like to sincerely thank the team of Sportsnet talent who have shared their insights at our live events over the years. The memories that have been created will never be forgotten by us or the fans.

The Talks series will continue as usual, and the Sportsnet team will always be welcome. Stay tuned for exciting new programming coming THIS FALL!

Kevin Kennedy
Founder, Homestand Sports
I've found this development particularly interesting, because in many ways, these talks are cut from the same cloth as my podcast. The first line in the trailer above comes from Mike Zeisberger (note to self: invite Mike on Toronto Mike'd) and his words could apply to Toronto Mike'd. He says "you come to this and it is pretty much as informal as being in somebody's basement talking about the sport we all love".
The beauty of Toronto Mike'd is that it's 100% independent. In any given week there could be a guest from Sportsnet, TSN, CBC, Corus, the Toronto Star, the Toronto Sun or an independent. From Sportsnet I've enjoyed brilliant conversations with Ron MacLean, Stephen Brunt, Dan Shulman, Arash Madani, Elliotte Friedman, Tara Slone, Damien Cox, Hazel Mae, Eric Smith, Brad Fay, Chris Johnston, Caroline Cameron, Jeff Marek, Andrew Walker, Carly Agro, Faizal Khamisa, Mike Wilner, Greg Brady, Elliott Price, Steve Dangle, Hugh Burrill... you get the idea. Of course, I didn't sell tickets for people to hear these discussions, and maybe that's the kicker.
I don't know for certain why Rogers decided to prevent their talent from appearing at these events, but I would hypothesize that they're going to launch their own such events and Homestand Sports would be deemed the competition. Again, just an educated guess on my part, but that makes the most sense.
We'll see what the future holds. I'm keeping my good eye on this one...
---
Kevin Frankish, longtime co-host of City TV's Breakfast Television, announced this morning that Friday will be his last day on the program. Here's his announcement...
A very difficult thing to tell you right now. https://t.co/fmzNXPNUZh

— Kevin Frankish (@KevinFrankish) May 29, 2018
Kevin hasn't yet disclosed why he's leaving a job he so clearly loves, nor whether it was his choice. Kevin's career at City TV started in 1991 and he visited me last year to talk about that and so much more. I urge you to listen to this episode of Toronto Mike'd with Kevin Frankish, one of my all-time favourite guests.
Coincidentally, longtime CP24 Breakfast host Steve Anthony left the competition only two months ago. I will keep this entry updated with all the information I learn about this seemingly sudden departure of a Toronto morning television fixture.
And Kevin, I think it's time to schedule your second visit...
---
Al Joynes is gone, Andy Frost is leaving, and now John Scholes has left Q107. His last shift was Friday afternoon. He was there for 19 years.
As you'll hear below, John bows out to Queen's The Show Must Go On.
Although John will no longer be on Q107, it sounds like he'll still be doing some work for Corus on GNR640 and Global. Clearly, more changes are coming at Q. Stay tuned...
---
1
2
3
4
5
6
7
8
9
10
11
12
13
14
Next
Want more Toronto Mike blog entries? Visit the archives.