October 2016 Archives
In this 202nd episode, Mike chats with former MuchMusic Veejay Christopher Ward about his years on City Limits and MuchMusic, co-writing Black Velvet for Alannah Myles and his recent dive into the Much archives for Is This Live?. This episode is exactly 1:14:04.
You can listen to this episode in a variety of ways:
Catch up on all episodes of Toronto Mike'd and subscribe here.
---
In this 201st episode, Mike chats with TSN's Gino Reda about his years on Sportsline, TSN and where I can get a Gino Reda mug. This episode is exactly 1:28:03.
You can listen to this episode in a variety of ways:
Catch up on all episodes of Toronto Mike'd and subscribe here.
---
Welcome to this week's Open Mike. I'm Mike and I'll be your master of ceremonies for the day.
Feel free to use this space to vent, rant, share a story and/or ask a question of the hivemind.
---
I'm writing this entry out of frustration. My pal Freddie P thinks I'm "a fool" because I told him TFC was more popular in Toronto than the Argos. In my humble opinion, TFC is more popular than the Argonauts in this city. Fred, obviously, strongly disagrees.
Fred bases 100% of his argument on the fact the Argos get higher national television ratings. He has no other metric to point to, and he's correct in that an Argos game will be credited with many more eyeballs than a TFC match across this fine nation. But those numbers are national in a ratings system that heavily favours an older demographic. Every other metric, anecdotal evidence and common sense tells you Fred is dreaming in technicolour.
Very quickly, in this moment of frustration, I tweeted the following:
In Toronto, which team has the largest fan base? TFC or Argos? My friend is adamant the Argos do and I'm adamant he's lost his mind.

— Toronto Mike (@torontomike) October 27, 2016
There were many responses validating my opinion.
@torontomike @dalter @paulosenra trust me it's TFC I've heard more TFC chants at Argo games this year than Argo chants

— Jason (@JHagholm1) October 27, 2016
@torontomike 2016 average attendance says a lot. Whether that's paid tix or gate unknown, but more are going 2 BMO for TFC. Bigger fan base. pic.twitter.com/3MW97Gn4F3

— Lee Godfrey (@levongodfrey) October 27, 2016
@torontomike I respect the Argos history and wish they had more support but there is no comparison. TFC by miles.

— James (@JamesD_TO) October 27, 2016
@torontomike i think your friend might be trolling you. And lost his mind.

— Joe Manocchio (@joelapalooza) October 27, 2016
@torontomike He's lost his mind. Just look at fan attendance for one. Then ask abt season subscribers.

— Francis Low (@frlowca) October 27, 2016
@torontomike if your friend thinks Borden is still Prime Minister then it will all add up to you.

— Justin Clevett (@Clevareno) October 27, 2016
@torontomike TFC by far

— Jason (@JHagholm1) October 27, 2016
@torontomike its for sure TFC

— Tim (@tokum23) October 27, 2016
@torontomike Toronto FC. The Argos have lost their appeal in this city.

— Andrew Sheehy (@andrewsheehy228) October 27, 2016
@torontomike He has lost his mind. The Argos and the CFL do not exist in Toronto. TSN CFL ratings are not coming from the GTA.

— Mark Hill (@Inhocmark) October 27, 2016
@torontomike No contest - TFC

— MattCundill (@MattCundill) October 27, 2016
@originaljcl @torontomike it is hands-down the Toronto FC

— J. Inacio (@JInacio18) October 27, 2016
There were a couple of tweets referring to the aforementioned national television ratings, which is undeniable, but the overwhelming majority think Fred has lost his marbles.
In Toronto, the 416 Toronto with John Tory as mayor, which team has more fans: TFC or Argos?
---
---
---
In this 200th episode, Mike chats with broadcasters Humble Howard Glassman and Fred Patterson about their podcast, the state of radio today and how long they'll run. This episode is exactly 1:50:37.
You can listen to this episode in a variety of ways:
Catch up on all episodes of Toronto Mike'd and subscribe here.
---
As a Toronto hockey fan born in the 70s, I idolized Wendel Clark. You'd be hard pressed to find a Toronto hockey fan born in the 70s who didn't. Here's something I wrote about Wendel almost 10 years ago.
I will never forget the 1985-86 post season when we swept the Chicago Black Hawks in three games. That was when my brothers and I first broke out the Diet Coke. You would have thought we had just won the cup. Wendel was our leader and a member of The Hound Line with Russ Courtnall and Gary Leeman. We took the St. Louis Blues to a seventh game before bowing out. We went just as deep the next season, too.

Wendel Clark scored the overtime winner in the greatest game I ever saw. My brother Ryan proudly wore his #17 jersey and we all suffered during his long periods of inactivity due to injuries. Clark was our guy and pound for pound the toughest player you'll ever see playing the game. Doug Gilmour remains my favourite Leaf, but Clark was the definitive Leaf.
Last night, I had an opportunity to meet #17. His new book Bleeding Blue is coming out, and there was a little get together at Maple Leaf Gardens to commemorate the occasion.
I got a photo and some time alone with him. We primarily discussed the fan-created All Heart tribute video I've been enjoying for the past decade. Wendel knows about it, Wendel loves it and I was able to fill him in on the origin thanks to some excellent sleuthing by Down Goes Brown. Wendel seemed genuinely interested and as humble as I'd heard.
After our five minute conversation, others wanted his attention. After four years of having such people I admire visit me for 60-120 minute one-on-one conversations in my house, I think I've become conditioned to expect that. But no, I chose not to invite Wendel to my house. I saved that imposition for Ken Reid.
I've had an advance copy of Bleeding Blue for some time now and I love the stories. It really is an ideal holiday gift for any Toronto hockey fan born in the 70s.
---
Welcome to this week's Open Mike. I'm Mike and I'll be your master of ceremonies for the day.
Feel free to use this space to vent, rant, share a story and/or ask a question of the hivemind.
---
In this 199th episode, Mike chats with chats with broadcasters Christine Bentley and Kate Wheeler about their years in television news and their new show What She Said. When you listen, I might say it's episode 198, but it's really 199. This episode is exactly 1:32:15.
You can listen to this episode in a variety of ways:
Catch up on all episodes of Toronto Mike'd and subscribe here.
---
Way back in 2003, Humble and Fred were the morning show on AM 640, only then it was called Mojo Radio. Humble and Fred were seduced by Mix 99.9 and gave notice, so AM 640 recruited John Oakley form rival CFRB and Oakley worked mornings on 640 ever since. Until now.
John Oakley is switching to the afternoon drive and is now heard on 640 from 4pm - 7pm. Taking his place in the mornings is a new show featuring Matt Gurney and Supriya Dwivedi. Matt Gurney is from the National Post and Dwivedi has been featured on CBC and in the Toronto Sun.
But what of my friend Kelly Cutrara who took over Bill Carroll's spot when Bill left for Ottawa in February? I'm pleased to report Kelly will now have her very own show 2pm - 4pm. Mike Stafford is now 9am to noon and Tasha Kheiriddin will be heard noon - 2pm. Got all that?
Meanwhile, at Newstalk 1010, there are also a couple of changes. Mike Bullard's noon shift is no more. He's no longer on the station, having been charged with criminal harassment in connection with the alleged stalking of City TV journalist Cynthia Mulligan. David Eddie, who had a daily live late night show, has been replaced by syndicated programming out of Montreal. David can still be heard Sunday nights.
Mike Bullard is no longer on @newstalk1010 #radio

— Toronto Mike (@torontomike) October 6, 2016
---
In this 198th episode, Mike chats with Q107 deejay Joanne Wilder about her years at Q, her appearance in Playboy and how it feels getting to play Duran Duran. This episode is exactly 1:07:57.
You can listen to this episode in a variety of ways:
Catch up on all episodes of Toronto Mike'd and subscribe here.
---
---
Prior to yesterday's home opener against the Boston Bruins, the Toronto Maple Leafs had only retired two numbers:
#5 for Bill Barilko
#6 for Ace Bailey
The number of retired numbers has now bloomed to 13 with the following additions:
#1 for Johnny Bower and Turk Broda
#4 for Hap Day and Red Kelly
#7 for Tim Horton and King Clancy
#9 for Charlie Conacher and Ted Kennedy
#10 for Syl Apps and George Armstrong
#13 for Mats Sundin
#14 for Dave Keon
#17 for Wendel Clark
#21 for Borje Salming
#27 for Frank Mahovlich and Daryl Sittler
#93 for Doug Gilmour
Only one current Leaf had to switch numbers to make this possible, so James van Riemsdyk scored his goal last night as #25 instead of his old #21.
Here's the excellent ceremony you likely missed because you were busy being frustrated by the Jays game. It gives you a chance to hear the Leafs' new PA Announcer Mike Ross as well.
---
---
Five years ago today, I was in the room while Humble and Fred recorded their first podcast. Well, it wasn't really their first podcast, simply their first with an actual commitment to record daily.
They're moving their studio to The Queensway, just east of Islington. I biked over today to take some "before" photos and I'll return next Friday to see the "after".
Here's where the microphones and soundboard will go. Fred is either contemplating life, realizing regret or thinking about lunch.
Here's the unfinished table with the new board. Rumour has it this is the same board that put a man on the moon in '69.
Here's where visitors will sit. It's quite the beautiful view of The Queensway.
Here's the view of the new studio from The Queensway. I'm told the "Queens Flowers" sign will be replaced at some point.
Humble Howard will be living in the residence above the studio. Here's his patio where he will partake in the medicinal goodness of all things green.
There is some controversy about Humble and Fred asking listeners to pay for their new basement washroom. Here's what your $10,000 got you.
I'll share pictures from the finished studio next Friday. Well done, boys.
---
Welcome to this week's Open Mike. I'm Mike and I'll be your master of ceremonies for the day.
Feel free to use this space to vent, rant, share a story and/or ask a question of the hivemind.
---
Auston Matthews made his regular season NHL debut last night in Ottawa and scored four goals.
It's the first time in the history of the NHL that a player scored four goals in his first game.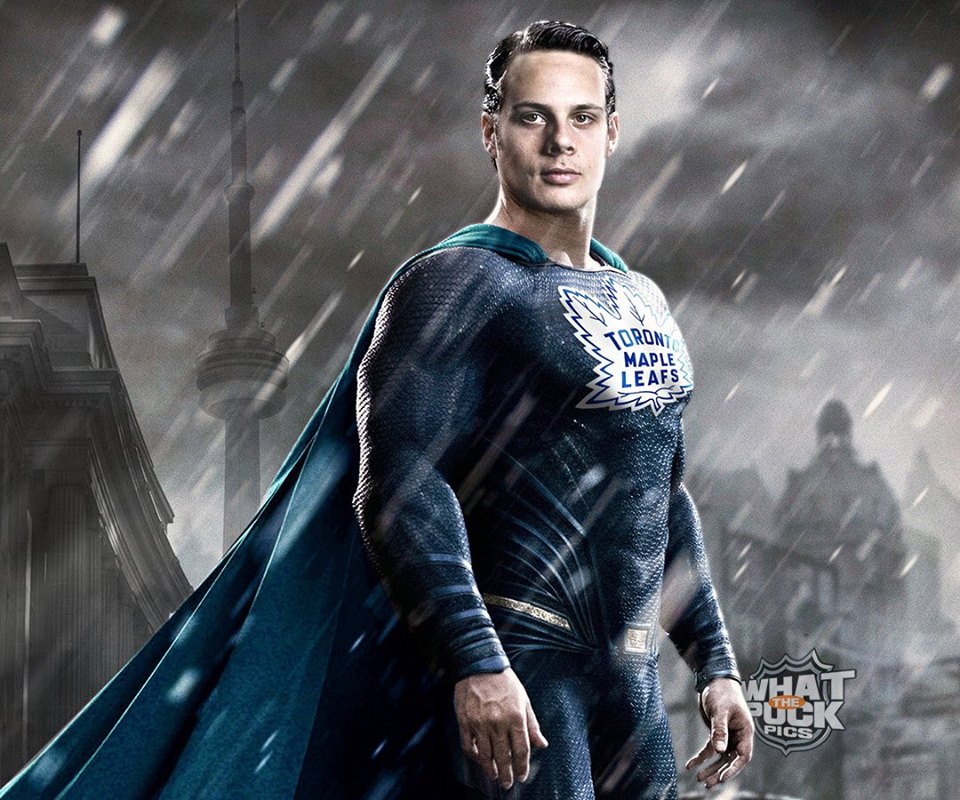 And that, ladies and gentlemen, is how you make an entrance.
---
In this 197th episode, Mike chats with Tim Thompson about his innate ability to marry music and sports, his time producing montages for Hockey Night in Canada, his abrupt end at Rogers Hockey, his work with Ron Hawkins from Lowest of the Low and Gord Downie of The Tragically Hip, his Olympics montages and his friendship with Eric Lindros. This episode is exactly 1:19:28.
You can listen to this episode in a variety of ways:
Catch up on all episodes of Toronto Mike'd and subscribe here.
---
Cleveland swept the BoSox and will face our Jays in the ALCS. It all starts Friday night.
I've been intentionally referring to their team as "Cleveland" and not by the nickname "Indians" because I'm not comfortable with it. I know the story of Louis Sockalexis and understand it's meant as a tribute, I personally just choose not to use it.
The bigger issue is Chief Wahoo. I grew up with Cleveland in our AL East division and watching Major League, and Chief Wahoo always seemed wrong, but in my adult years he seems outright offensive. Chief Wahoo is a racial caricature.
Even if Cleveland doesn't change their nickname, the time to retire Chief Wahoo as their logo has long passed.
---
---
You heard:
KRLD Texas Radio
ESPN Radio
TVA Sports
TBS
Fan 590
---
1982 was the first calendar year in which I purchased music for myself. Prior to then, the only music in the house that didn't spill out of the radio belonged to my parents. But in 1982, I purchased one album on vinyl and one album on cassette tape.
The vinyl I bought was Duran Duran's Rio. "Hungry Like the Wolf" was the single that sold me. At the time, I thought it was the coolest track, ever. Then, I heard "Save a Prayer" and "Rio". I loved this album.
At the time, I kept hearing this track on CFTR by the Stray Cats called "Rock This Town". Prior to this period in my life when I discovered Top 40 music, my diet had primarily consisted of Golden Oldies music from the 1950s found on compilation cassettes purchased at gas stations. I think this primed me for rockabilly and the Stray Cats scratched the itch. I bought Built for Speed on cassette and played that side one like crazy.
I still remember those six songs. "Rock This Town", "Built for Speed", "Rev It Up and Go", "Stray Cat Strut", "Little Miss Prissy" and "Rumble in Brighton". I loved them all.
What was the first album you ever owned?
---
Welcome to this week's Open Mike. I'm Mike and I'll be your master of ceremonies for the day.
Feel free to use this space to vent, rant, share a story and/or ask a question of the hivemind.
---
In this 196th episode, Mike chats with Marc Weisblott from 12:36 about the beer can tosser and what's happening in Toronto radio, television, print and Twitter. This episode is exactly 1:56:34.
You can listen to this episode in a variety of ways:
Catch up on all episodes of Toronto Mike'd and subscribe here.
---
Courtesy of bluejays-voices on Soundcloud, here's how Edwin Encarnacion's wild-card walk-off sounded in the dome and on ESPN Spanish, TBS, Baltimore radio, RDS and The Fan 590.
Here's the fantastic video written by Stephen Brunt and read by Paul Beeston that aired prior to the game.
Go Jays, Go!
---
I'm not referring to the original movie with Yul Brynner, although on its own it too is a classic.
Just this week I watched the premiere episode of HBO's new series of the same name, and it absolutely blew me away. In fact I've already re watched it twice, it's that fucking good.
It's dark, visceral and intelligent. The cast is top shelf, featuring Anthony Hopkins, Jeffrey Wright and Ed Harris. But the standout performance in episode 1 comes from an actor you may have never heard of: Louis Herthum. He's excellent in every sense of the word, and he stole one particular scene right out from under the aforementioned Hopkins.
The premise of course comes from the original film which was written by Michael Crichton. Years later, Crichton went on to write a modernized Hollywood friendly version of the same basic plot: Jurassic Park.
Westworld is HBO's newest Game of Thrones, and it's fabulous.
---
What happened in the 11th inning of last night's wild-card game between the Blue Jays and Orioles can be described in a series of tweets.
Fuck yes!!!!

— Toronto Mike (@torontomike) October 5, 2016
I don't believe what I just saw

— Toronto Mike (@torontomike) October 5, 2016
Toronto faces Texas in the ALDS. There was never any doubt.

— Toronto Mike (@torontomike) October 5, 2016
Edwin Encarnacion's 3-run homer in the 11th inning sealed the deal in a thrilling game at the dome. It was the first playoff walk-off for the Jays since Joe touched 'em all in '93.
While we're on the topic of last night's thrilling game, a dumbass "fan" embarrassed the city by throwing a can of beer at Orioles outfielder Hyun-Soo Kim. I quickly sent the following tweet.
Beer can thrown by this guy pic.twitter.com/U0pHjnmf78

— Toronto Mike (@torontomike) October 5, 2016
I thought it was pretty funny and that every Jays fan would get it immediately. I was mostly right about that, but the tweet was RT'd many times and ended up in the feeds of Baltimore fans, less familiar with the Amish looking mafk from KC. Several of them responded as if this was actually the guy who threw the beer can.
---
I've been a Jays fan since the summer of '83, but I've never seen anything like what I'll see tonight. For the first time in franchise history, the Jays are playing a wild card game to see who advances to the ALDS.
The Jays have won six AL East pennants, only one of which was secured during the wild card era. Tonight is very, very different. It's a one game winner-take-all showdown against the Baltimore Orioles. My stomach is already doing somersaults.
Marcus Stroman gets the start over left-hander Francisco Liriano. Make no mistake, this is a loyalty move by Gibbons. Stroman was our opening day starter, and he'll get the ball tonight, but if you look at everything objectively, you'd likely give the nod to Liriano. I suspect we'll see both tonight.
And that's what makes this one game playoff so different. How Gibbons uses his relievers will mean the world. It's safe to say Stroman will have a very short leash, but if he's pitching well, do you pull him after four? If the first two batters in the second inning reach base, do you go to Liriano then? Is there any chance Stroman faces an Oriole three times tonight?
We're one win away from an ALDS rematch with the Rangers. I'll be watching.... through my fingers as they cover my eyes.
---
Probably the first thing that crosses most people's mind when thinking about limousines is brides, grooms, pigeons, white rice and wedding vows. As it turns out, the most popular occasion for people to rent a limousine is a wedding. It actually makes a lot of sense, since this is a once in a lifetime event for the bride and groom and they should definitely feel spoiled on this big day. Of course, renting a Toronto Limo is just one of the ways they get spoiled on this special occasion.
However, as hard as it may seem to believe, weddings are not the only romantic occasion that might require a limousine service. People surprise their significant others all the time and they often think that a limousine is a nice touch. As it turns out, the people who enjoy a limousine the most are the ones who got surprised with it and had no idea what to expect. So, if you want to do something truly special for your girlfriend or your boyfriend, you have the ideal starting point. Here are some other suggestions that we have for your romantic limousine ride.
Dinner and a movie
Well, this would actually be the upgraded version of dinner and a movie. But surprising your partner with a limo on a regular date would certainly be the ultimate surprise. It is by far the most romantic gesture that anyone could do. We strongly believe that surprises that come out of the blue are the best, especially if they are pleasant surprises and especially if they come for no reason. In other words, if you did something wrong, it might not be the best idea to bribe your partner into forgiving you. You'd have better odds at Canadian mobile casinos. However, depending on the limousine, it might actually work.
Proposals
If surprising your significant other with a limo for no reason is a great idea, we believe that proposing on a romantic date while driving around in a limousine is ideal. It is probably the most romantic way to propose. Just imagine you two sipping champagne out of two glasses, admiring the city, enjoying each other's company and, of course, popping the question. We guarantee that you will not get anything other than a positive answer.
City tours
If you feel like you need to spend more time with your partner or it you have an upcoming anniversary, a city tour in a limousine might be the perfect present. Limo drivers usually know all the romantic places in the city and they know exactly where to drive you and what sights to show you. You will certainly have a romantic date and you might even get to discover new places, even though you are a local.
The bottom line here is that limos can make for amazing surprises. They can show someone just how important they are to you and how much you appreciate them. We believe that anyone would be swept off their feet when surprised with a limousine and a romantic night out!
---
In the world of professional sports, I'm focused on the Jays vs. Red Sox this afternoon. A win and we'll host the wild card game Tuesday. This is a big game.
I was just biking with my two older kids and we were chatting about the Jays. My 14-year old son is more excited about Auston Matthews' debut with the Leafs tonight. My daughter will "follow" the game on Instagram. This led to each of us ranking Toronto's big 6 teams in terms of personal preference.
My 14-Year Old Son's Rankings
Leafs
Raptors
Jays
Marlies
TFC
Argos
My 12-Year Old Daughter's Rankings
Raptors
Leafs
Jays
Marlies
TFC
Argos
Straight from the mouths of babes, as they say. Despite the fact I watch most Jays games and talk about the team often, the team is a distant third on each of their lists.
You can lead a horse to water...
---
Do you remember this time last year? Exactly one year ago yesterday, this happened.
Holy crap, that was fun. Because that led to this.
I sometimes have to remind myself that we didn't actually make the World Series last year, let alone win it. 2015 was special, despite falling short. One year later, I'm still riding the high.
2016 has felt quite different. Still, we entered September with a chance to defend our AL East title. Then, the wheels fell off.
Tell anyone over the age of 40 that this slide has been the worst and they'll reply with 1987. I remember 1987 vividly, and I assure you that felt much, much worse. The Jays had to lose their last seven to blow it in '87. This collapse has felt less violent, less dramatic, less painful. Maybe it's because I'm older, maybe it's because there's still a chance we qualify for the Wild Card (which didn't exist in '87), or maybe it's because this wasn't a bad week, this felt like a bad month.
1987 really set the bar high for Blue Jays collapses. It was unbearable. We were 3½ games up with a week to play and blew it.

— Toronto Mike (@torontomike) September 18, 2016
So here we are, with the biggest game of the season starting in an hour, and the Jays clinging to the last Wild Card spot. I'm hoping we figure this out, but fully prepared for the worst. After all, I remember '87.
---
Want more Toronto Mike blog entries? Visit the archives.