December 2014 Archives
I started 2014 thinking cycling was the key to good physical health. I biked to stay fit.
I'm finishing 2014 convinced cycling is the key to good mental health. I bike to gain perspective, collect my thoughts and solve problems. I bike to understand, to analyze and to dream. The physical benefit is just a bonus.
I just finished my final ride of 2014, a 25.01 km ride along the waterfront on a quiet and nippy New Year's Eve. Here's my tale of the tape for 2014, all personal bests.
Total distance cycled: 4693.42 km
Number of rides: 260
Time spent riding: 226.54 hours
Longest ride: June 7 (123.95 km)
---
Toronto Mike'd took a giant leap forward in 2014, attracting interesting guests and finding a whole new audience. You can't judge the quality of an episode by the number of downloads, but it does give some insight into the Zeitgeist.
Here are the 10 most downloaded episodes of Toronto Mike'd in 2014.
---
Welcome to this week's Tuesday Open Mike. I'm Mike and I'll be your master of ceremonies for the day.
Feel free to use this space to vent, rant, share a story and/or ask a question of the hivemind.
---
After watching Broadchurch last week, we decided to stay in England and dove into Luther. Luther is set in London and looks as if it was run through a filter. Everything is drenched in grey.
These past few days, that's all I see when cycling. The concrete trails are grey, the lake is grey, and the sky is grey. The world around me is various shades of grey.
Here's a pic I just took. Sometimes, it's difficult to see where the water ends and the sky begins.
Every silver lining's got a touch of grey.
---
Some people rally against homelessness or seek to feed the hungry. Others embrace causes like gender equality, cancer research and easier access to better education for our children. Good causes, all of them, but that's not what motivated me five years ago.
Five years ago, I got very upset about an ad campaign by Pepsi. They had the audacity to tell us fans of Canadian hockey how to cheer. Here's my initial entry on the subject, "Cheer Nation? I'm Not Chanting "Eh! O' Canada Go!" For Pepsi".
I didn't stop there. I started talking to the press, getting quoted by the Saskatoon StarPhoenix and Vancouver Sun. I claimed victory when Pepsi killed the campaign, admitting it was unwise to tell Canadians how to cheer for their national team.
One day, I might use this power for something even more important. I'll know it's go time when that tender nerve is struck once more.
---
I don't receive many gifts at Christmas anymore. This year, I received exactly two presents: my favourite gum from my oldest son and a water resistant bluetooth speaker from my daughter so I can listen to podcasts and mp3s while in the shower. It was a great Christmas.
Over the last few years, there have been a few gifts that have really changed my day-to-day. One per year, actually, and only one was given to mark an occasion.
In 2012, for my birthday, my girlfriend (now wife) bought me a new bicycle. She had heard me talk about how much I loved cycling the city in my younger years and thought new wheels might spark a return. She was absolutely right and just last week I cleared 4500 km for the calendar year, a personal best.
In 2013, I bought myself a podcast recording studio. I wanted the audio I recorded at home to sound professional, so I truly splurged to do this right. Just last week I sat down with Strombo to record my 103rd episode and produced what I sincerely believe is my finest work to date.
This year, my wife and I decided to buy a couple of Chromecasts, one for each television in the house. It has completely changed the way we watch television, movies and YouTube. I can't recommend Chromecast highly enough if you stream entertainment via Netflix, YouTube or even if you're just watching a local MP4, AVI, MOV or MKV file. It's brilliant.
So as much as I talk about not wanting any more stuff and rejecting most consumerism, there have been a few gifts in recent years that have changed my life for the better. And they often come without reason or fanfare and once they're here, they stick.
---
I love this tournament. I always have. Canada games during the World Juniors are mandatory viewing for me, regardless of the time zone.
This time, the tournament is in Canada. In fact, I'll be attending the gold medal game at the ACC. Here's hoping we're playing in that one.
Here's Canada's roster for the 2015 World Juniors:
| Player | Pos | Draft year | League | Current team |
| --- | --- | --- | --- | --- |
| Zachary Fucale | G | 2013 (36th) | QMJHL | Quebec Remparts |
| Eric Comrie | G | 2013 (59th) | WHL | Tri-City Americans |
| Josh Morrissey | D | 2013 (13th) | WHL | Kelowna Rockets |
| Darnell Nurse | D | 2013 (7th) | OHL | Sault Ste. Marie Greyhounds |
| Samuel Morin | D | 2013 (11th) | QMJHL | Rimouski Oceanic |
| Shea Theodore | D | 2013 (26th) | WHL | Seattle Thunderbirds |
| Madison Bowey | D | 2013 (53rd) | WHL | Kelowna Rockets |
| Joe Hicketts | D | 2014 | WHL | Victoria Royals |
| Dillon Heatherington | D | 2013 (50th) | WHL | Swift Current Broncos |
| Max Domi | F | 2013 (12th) | OHL | London Knights |
| Anthony Duclair | F | 2013 (80th) | NHL | New York Rangers |
| Sam Reinhart | F | 2014 (2nd) | WHL | Kootenay Ice |
| Connor McDavid | F | 2015 | OHL | Eerie Otters |
| Nick Ritchie | F | 2014 (10th) | OHL | Peterborough Petes |
| Curtis Lazar | F | 2013 (17th) | NHL | Ottawa Senators |
| Nic Petan | F | 2013 (43rd) | WHL | Portland Winterhawks |
| Nick Paul | F | 2013 (101st) | OHL | North Bay Battalion |
| Robby Fabbri | F | 2014 (21st) | OHL | Guelph Storm |
| Lawson Crouse | F | 2015 | OHL | Kingston Frontenacs |
| Frederik Gauthier | F | 2013 (21st) | QMJHL | Rimouski Oceanic |
| Jake Virtanen | F | 2014 (6th) | WHL | Calgary Hitmen |
| Brayden Point | F | 2014 (79th) | WHL | Moose Jaw Warriors |
Go Canada, Go!
---
Over the last few nights, my wife and I watched Broadchurch, a BBC crime drama. I must say, it was fantastic.
The acting, writing and cinematography were all top notch. In fact, as good as True Detective was, I think I enjoyed Broachchurch a little more.
The first season is only eight episodes, and you'll burn through it. A second season (or as the Brits say, "series") is on the way. You can watch Broadchurch now on Netflix Canada.
---
Welcome to this week's Friday Open Mike. I'm Mike and I'll be your master of ceremonies for the day.
Feel free to use this space to vent, rant, share a story and/or ask a question of the hivemind.
---
This is my son Jarvis's first Christmas. We got a pic of him with Santa just so I could put together this little collection I call "First Christmases".
This is my firstborn James and his first Christmas of 2002. This pic wasn't even digital.
Here''s my darling daughter Michelle and her first Christmas of 2004.
And now here's my sweet baby Jarvis and his first Christmas of 2014.
I'm a lucky SOB. Merry Christmas and happy holidays to all.
---
Podcasts went mainstream in 2014. We can thank Serial for that. But even as podcasts take off in popularity, I sense confusion from people as to how they should manage their podcasts.
Firstly, iTunes is not your only option. It's a fine option, particularly for the desktop / laptop, but there are many excellent alternatives.
I have an Android phone. I've noticed several very good podcast apps that only cost a few dollars, but there's also an excellent free app I've been using lately. It's called Podcast Addict and you can download it from Google Play here.
Once Podcast Addict is installed on your Android device, simply click the + button at the top to add a new podcast. You're presented with several options for adding a new podcast, as shown below.
You could add the RSS feed for my podcast, which is https://www.torontomike.com/torontomiked.xml, but it's probably easier to search for "Toronto Mike'd".
It's that simple. You're now subscribed to Toronto Mike'd (or any other podcast you're interesting in) and it's easy to manage which episodes you download and listen to.
---
Welcome to this week's Tuesday Open Mike. I'm Mike and I'll be your master of ceremonies for the day.
Feel free to use this space to vent, rant, share a story and/or ask a question of the hivemind.
---
I want to wish each and every one of you a very happy Festivus. For those who don't know what Festivus is, there are three easy to follow steps:
"Get the pole out of the crawl space". Or go out and buy one. Remember, it should be aluminium, due to the "very high strength-to-weight ratio". Remember, "it requires no decoration". Tinsel is "distracting".
"The tradition of Festivus begins with the airing of grievances... At the Festivus dinner, you gather your family around, and you tell them all the ways they have disappointed you over the past year."
After dinner, it is time for the "Feats of Strength". Remember, Festivus is not over until someone is pinned.
The origin of Festivus was explained nicely by Frank Costanza in the Seinfeld episode "The Strike". Here's his exchange with Cosmo Kramer.
Frank Costanza: Many Christmases ago, I went to buy a doll for my son. I reached for the last one they had, but so did another man. As I rained blows upon him, I realized there had to be another way.
Cosmo Kramer: What happened to the doll?
Frank Costanza: It was destroyed. But out of that a new holiday was born . . . a Festivus for the rest of us!
Cosmo Kramer: That must've been some kind of doll.
Frank Costanza: She was.
Here's everything you need to know. Happy Festivus everyone!
---
Joe Cocker was 70. He was the singer-songwriter best known for his cover of the Beatles' With A Little Help From My Friends. He also had hits with You Are So Beautiful and Up Where We Belong.
---
In this 103rd episode, re-branded episode 102.1 by marketing, Mike chats with George Stroumboulopoulos about his years at The Fan 590, CFNY Edge 102, MuchMusic, CBC and his current gig at Hockey Night in Canada. There are laughs, tears, The Wire references and almost two hours of open and honest dialogue with Canada's boyfriend. Seriously, we cover everything, from how the death of Martin Streek affected his working relationship with Corus to how he ended up hosting a reality show on ABC and what happened to his CNN show. I even ask Strombo if he'd take Jian Ghomeshi's old hosting spot on Q. This episode is exactly 1:50:46.
You can listen to this episode in a variety of ways:
Catch up on all episodes of Toronto Mike'd at https://www.torontomike.com/podcast/.
---
This inflatable Santa Claus trend seems to have spiked over the past few years. It's not just inflatable Santas people are putting on their front lawns, it's giant inflatable snowmen and reindeer, too.
When fully inflated at night, it's a great sight for kids of all ages. They're typically illuminated and colourful and quite the spectacle. But when I go for my daily lunchtime bike ride, it's just plain sad.
I'd guess at least 90% of the inflatable Santas I ride past are completely deflated, making them sad piles of festive plastic. If I didn't know better, I'd think the jolly old elf was shot dead in his tracks. On one street in my neighbourhood, two out of every three houses have a sad deflated Santa on their lawn when I ride past. Here's a pic I took on Friday.
At night they're blown up and ready for action, but during the day it's just sad.
---
The Raptors just leaked their new logo. New uniforms and a full colour scheme will be unveiled in the new year.
Here's our first taste:
I'd like to see more before deciding whether I dig it or not. I don't hate this, but it does seem a little close to the Brooklyn Nets' branding.
What do you think?
---
Here's a shot I just took in Mississauga by Lakefront Promenade Park overlooking Lake Ontario. The trails are bone dry and it's not too cold, making it pretty ideal for cycling.
---
Welcome to this week's Friday Open Mike. I'm Mike and I'll be your master of ceremonies for the day.
Feel free to use this space to vent, rant, share a story and/or ask a question of the hivemind.
---
You've likely heard that North Korea hacked and threatened Sony because of The Interview, a Seth Rogen and James Franco comedy that was due to be released later this month. It's all over the place, but I don't believe that's what's happened here.
Yes, I believe Sony was hacked. By the sounds of it, they were super hacked, if that's a thing. 100 terabytes of data has been stolen from Sony servers, but I don't believe North Korea is behind that and I don't believe it had anything to do with The Interview.
Here's a good timeline of events. You'll see this all started on November 24. There was absolutely no link made between the cyber attack and The Interview until Sony Pictures made the inference in a report five days later.
Marc Rogers, a whitehat hacker and security evangelist, explains why this most likely has nothing to do with North Korea. He points to the broken English that "reads to me like an English speaker pretending to be bad at writing English" and the changing of language/locale of the computer before compiling the code. He makes a compelling argument, and combined with what we know about North Korean computing, it seems rather unlikely that North Korea could pull this off.
Then, there's this:
It's clear from the hard-coded paths and passwords in the malware that whoever wrote it had extensive knowledge of Sony's internal architecture and access to key passwords. While it's plausible that an attacker could have built up this knowledge over time and then used it to make the malware, Occam's razor suggests the simpler explanation of an insider. It also fits with the pure revenge tact that this started out as.

Whoever did this is in it for revenge. The info and access they had could have easily been used to cash out, yet, instead, they are making every effort to burn Sony down. Just think what they could have done with passwords to all of Sony's financial accounts? With the competitive intelligence in their business documents? From simple theft, to the sale of intellectual property, or even extortion – the attackers had many ways to become rich. Yet, instead, they chose to dump the data, rendering it useless. Likewise, I find it hard to believe that a "Nation State" which lives by propaganda would be so willing to just throw away such an unprecedented level of access to the beating heart of Hollywood itself.
But what about Sony's claim, soon to be supported by the United States government, that North Korea is behind these attacks in an effort to stop The Interview from being released? Sorry, but that's far too convenient for everyone involved.
Sony is under immense scrutiny for their massive security failure, and blaming North Korea is the easiest way out for management. Tying this threat to North Korea also helps with the US political agenda. Everybody wins with this convenient spin.
And meanwhile, there's this lousy* comedy that was sure to be a dog with fleas and is suddenly the water cooler topic of the day. At some point, Sony can release The Interview and it will become an American's patriotic duty to see it. Talk about taking very sour lemons and making lemonade!
To summarize, I believe the hack was real, but it had nothing to do with The Interview and North Korea is not behind it. I'm basing this on everything I've read on the subject, and we'll see if I'm right.
Meanwhile, Sony is fucked. Security matters, and they just found out the hard way. What do you think of this developing story?
* I haven't seen this movie, and cannot confirm it's lousy, but I did see an account from one person who saw a screening who thought it was "lousy", but maybe that person thought Airplane was lousy.
---
BlackBerry has begun selling the BlackBerry Classic, a phone that looks an awful lot like the BlackBerries we knew and loved in 2009.
There's a physical keyboard, navigation buttons and a trackpad. That leaves you with a 3.5-inch 720×720 screen. Nobody who already left Blackberry for an iPhone, Android or Windows phone would possibly be interested in the Classic, so I'm guessing the target market for this device are the very few still using a BlackBerry Bold.
Is that enough to save BlackBerry?
---
My friend's brother just posted this picture to Instagram. It's a sign currently on his front porch.
I don't understand why it's any of his business how I celebrate Christmas. Why can't he celebrate Christmas his way with his family, friends and church without interfering with how anyone else celebrates this holiday. Why does he care and what business of his is it?
There is no Christ in my Christmas. The believers in my family have Santa, and I have an excuse to see friends and family, drink eggnog and consume vast amounts of chocolate. That's how I celebrate Christmas, and because the kids get a couple of weeks off, I'm taking off some time to hang with them.
Don't tell me what I'm doing is wrong and I promise not to erect a sign on my lawn chastising you for being an adult who believes in fairytales.
---
In this 102nd episode, Mike chats with Spirit of Radio Sunday host Scot Turner about his many years on CFNY and Energy 108, what's next for Spirit of Radio Sunday on Edge 102 and why he keeps changing the spelling of his first name. This episode is exactly 1:03:26.
You can listen to this episode in a variety of ways:
Catch up on all episodes of Toronto Mike'd at https://www.torontomike.com/podcast/.
---
Of course, I'm kidding with that title. There's no such thing as a jinx. There's nothing I can say or write on this blog that will have any effect on our professional sports teams.
I catch every Leafs and Raptors game I can, and lately, it's been pure joy. The Leafs are 9-1-1 since getting hammered by Nashville. The Raptors have been hot all season, now 19-6, good for first place in the Eastern Conference.
I'm so jazzed about how well my teams are playing, I'm documenting this moment for posterity. Here are your red hot Raptors leading the East.
And here are your red hot Leafs, winners of 5 in a row.
Good times...
---
Welcome to this week's Tuesday Open Mike. I'm Mike and I'll be your master of ceremonies for the day.
Feel free to use this space to vent, rant, share a story and/or ask a question of the hivemind.
---
Guys my age all know someone older who tells us Bobby Orr was the greatest hockey player of all-time. Guys my age all say it was Wayne Gretzky. It really is a generational thing, and since they played such different positions, it's really impossible to use analytics to say definitively who was better.
In the NBA, guys my age all think Michael Jordan is the G.O.A.T. If you're in your late 20s, you might think Kobe Bryant was/is better, but you'd be wrong.
Every way you look at it, Jordan was better than Bryant. Check out these metrics from FiveThirtyEight.
According to most advanced metrics, Jordan was better than Bryant at both ends of the floor. (This is true even if we restrict both players to the same block of seasons by age so we're comparing apples to apples. Kobe entered the NBA at age 18, and he's 36 now; Jordan played from age 21 to 34, retired and played again from age 38 to 39. So their overlapping years are 21 to 34.)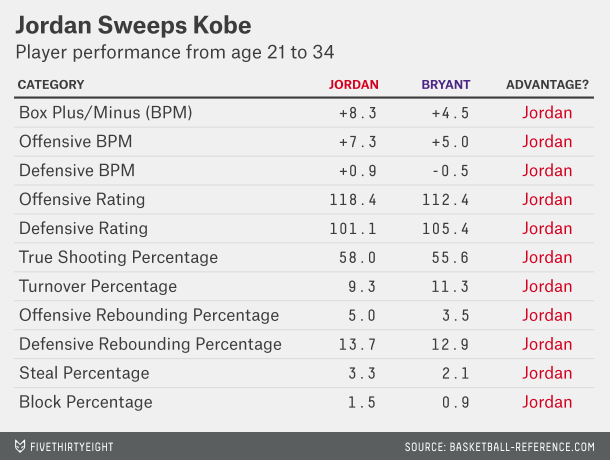 Kobe Bryant passed Michael Jordan on the all-time scoring list yesterday, but he's never been better than Jordan. Jordan is the best, and it's not even close.
---
In this 101st episode, Mike chats with NEWSTALK 1010 reporter Siobhan Morris about all things CFRB, her reporter voice, her visit to Fordfest and why she adopted the Red Sox as her team. This episode is exactly 1:11:37.
You can listen to this episode in a variety of ways:
Catch up on all episodes of Toronto Mike'd at https://www.torontomike.com/podcast/.
---
I sleep on a very low, almost flat pillow. It's polar fleece and barely raises my head above the mattress. I don't think pillows come much lower than this one.
It's always been my preference. When it comes to pillows, I guess you could say I'm a minimalist. Whenever I'm at a hotel or somewhere with regular height pillows, I struggle to sleep and usually decide I'm better off with no pillow at all. I find the regular height pillows strain my neck.
My wife can't believe I'm able to sleep on my pillow, as hers is much higher. Funnily enough, I feel the same way about her pillow. When it comes to pillows, we're on opposite ends of the spectrum.
What's your pillow preference for sleeping? Low, medium, high or other?
---
---
Welcome to this week's Friday Open Mike. I'm Mike and I'll be your master of ceremonies for the day.
Feel free to use this space to vent, rant, share a story and/or ask a question of the hivemind.
---
A tweet from @Scroll includes PPM Top-line Radio Data for Toronto from September 1, 2014 through November 30, 2014.
Here it is. I'll share some observations and thoughts on the other side.
That 2.7% share for CFNY sticks out. This entry I wrote about PPM radio ratings five years ago shows CFNY had a 5.4% share. That's a 50% decline.
Is this partially the result of cancelling the Dean Blundell Show? Since firing Blundell, the morning show has changed a few times, a sure recipe for bleeding listeners. Meanwhile, the new kid on the alt rock block, Indie88, chimes in with a 1.2% share. But make no mistake, Edge 102 and Indie88 combine for less market share than Edge 102 had only five years ago, further evidence male-focused stations are floundering.
On the other end of the spectrum, CHFI continues to lead all stations with CHUM-FM slipping a little from 12.1% five years ago to 10% today, still good for second place. CBC Radio One remains strong with an 8.7% share, good for third place overall. CFRB is easily the most listened to AM station with a solid 7.7% share.
In the always interesting battle between The Fan 590 and TSN Radio, The Fan leads 2.4% to 0.7%. Five years ago, when CHUM was merely simulcasting CP24 on 1050, they only had a 0.1% share, so I guess this is progress.
What does everyone think of these numbers?
---
The Golden Globe Award nominations were announced today, and it seems I'm a bit behind on my movie watching.
Here are the nominations for Best Motion Picture, Drama. Of these, I've only seen Boyhood, which I loved.
Boyhood
Foxcatcher
The Imitation Game
Selma
The Theory of Everything
Here are the nominations for Best Motion Picture, Musical or Comedy. I haven't seen a single one, although I'm just trying to find an open block of time before diving into The Grand Budapest Hotel.
Birdman
Into The Woods
The Grand Budapest Hotel
St. Vincent
Pride
I've got some work to do.
---
When it comes to scripted television, I watch very little. I caught The Simpsons Christmas episode on Sunday, but mainly to recapture some of the joy I experienced watching that show in the early 90s. I'll watch the odd episode of Seinfeld or Modern Family in syndication if I'm feeding the baby, but otherwise I'm really just waiting for the final episodes of Mad Men to air.
Oh... and I watch The Newsroom. Not the Ken Finkleman Newsroom but the Aaron Sorkin Newsroom. I started watching because I really liked Sports Night and The West Wing and I kept watching because it's wonderfully awful.
Other than the great opening scene in the pilot and a couple of fantastic scenes in the penultimate episode that aired last weekend, it's scene after scene of cheesy convenience, cringe-worthy moments and holier than thou attitude from the sanctimonious ACN crew. One storyline this final scene actually concluded with the HR Manager revealing it was all just a joke. I found that fitting, because this entire series is a joke.
When I watch The Newsroom with my wife, I literally yell at the screen. I yell at the web guy when his top notch digital research consists of searching Twitter, I yell at Jim for being so pathetic and condescending and then I yell at everyone for loving Jim so much. But I do watch.
I can't wait to see how Sorkin ends this.
---
In this 100th episode, Mike chats with Humble and Fred about their 25 years together as they share more Toronto radio stories than you can shake a stick at. In fact, if you work in Toronto radio, we likely talked about you. This episode is exactly 1:30:51.
You can listen to this episode in a variety of ways:
Catch up on all episodes of Toronto Mike'd at https://www.torontomike.com/podcast/.
---
Welcome to this week's Tuesday Open Mike. I'm Mike and I'll be your master of ceremonies for the day.
Feel free to use this space to vent, rant, share a story and/or ask a question of the hivemind.
---
My buddy Erin Davis wrote an interesting blog entry about Baby, It's Cold Outside, a song you'll hear often at this time of year. Baby, It's Cold Outside isn't a Christmas song, but a "cold weather" song, and since it's so good, it gets lumped in with holiday favourites like White Christmas and Silver Bells.
Erin commented on the pushback that Baby, It's Cold Outside is a little "date-rapey". After all, the songstress says "I simply must go, the answer is no" yet her pursuer persists with the charm and continues to pour the alcohol. Today, it's less "no means no" and more "only an explicit sober yes means yes".
The tune is fantastic and, as these seasonal songs go, this is one of the best. Everyone has a favourite version (mine is Ray Charles and Betty Carter from 1961).
When it comes to music, it's best we don't over-analyze the lyrics. I'm not offended by the lyrics of Baby, It's Cold Outside any more than I'm offended by the use of the slur "faggot" in my favourite Christmas song of all-time. If we were to only listen to music with 100% safe and politically correct lyrics, we'd be left with a whole lot of Kenny G.
Oh, but baby it's cold outside.
---
In this 99th episode, Mike chats with Elvis about Serial, the Pope, the Jays, the redesign and airs a special vintage CFNY Christmas message from David Marsden. This episode is exactly 1:30:35.
You can listen to this episode in a variety of ways:
Catch up on all episodes of Toronto Mike'd at https://www.torontomike.com/podcast/.
---
I live in the south end of Toronto, just a short walk from Lake Shore. That makes attending the annual Lake Shore Santa Claus Parade awfully convenient.
With my youngest napping and my oldest kids otherwise engaged, I attended the parade this morning with my nephew Nate. Nate has an irrational fear of sirens and this parade has a surprisingly heavy use of sirens, but I still managed to photograph every float.
Here are pics from this year's parade, along with a little snark, completely free of charge.
The first "float" is the "Rehab Unit". That reminds me, Rob Ford was dumping candy canes on little kids last year after being uninvited from the big parade, but he was nowhere to be seen this year.
Then we had a gentle reminder that Toronto is hosting the Pan Am Games next summer. That sparked a debate between me and my brother as to which is less interesting to us, the Pan Am Games or Commonwealth Games. It was a draw.
This next float brought back wonderful memories of watching Looney Tunes on Saturday mornings. That's not snark, that's totally legit nostalgia.
Here we have some sort of underwater motif. It's colourful and cute, and although it wouldn't make the cut at the big downtown parade, it was almost too good for the Lake Shore parade.
I'm not sure if this is Cinderella or not. It's really more of a generic homogenized prince and princess float that I'm sure was a big hit with the little girls in attendance.
I'm pretty sure this is an Alice in Wonderland float, because there's the Cheshire cat on the roof. When I first saw the clocks I actually thought of Jessie Spano and the fact there's never enough time.
Now we're just getting lazy. Is this even a float or just a truck delivering hay that took the wrong exit from the Gardiner Expressway?
Fun Fact: I thought the animatronic penguin on the bench was a real kid and was very impressed by the makeup job.
Nothing says winter in Toronto like Trinidad and Tobago's official musical instrument, the steelpan.
I caught 2 minutes of the live Peter Pan musical the other night and couldn't take it anymore. I thought the young lady playing Captain Hook on this float did a far better job.
Geek alert: Red Hat Linux made an appearance. (No, not really.)
This Snow White float is top notch. Well done, Lake Shore Santa Claus Parade.
What amuses me about this little parade is how just about anything could be a float. This is a fire truck. It is also a parade float.
Somehow I doubt this Thomas the Tank Engine-ish float was licensed from Gullane Limited.
This was, without a doubt, my favourite float in the entire parade. It's a group of hillbillies complete with moonshine and beards. Bumpkin sensibilities be damned!
I believe these are polar bears wearing sunglasses and riding a snowmobile called "Polar Express". Why the hell not?
This is the scariest looking Grinch I've ever seen. A good effort nonetheless!
I cannot look at this old ambulance without seeing the Ecto-1.
Ok, really.... how is this a float? This is a spinning class in progress. That's not a float, that's a pre-cinnamon dolce latte activity.
I think this is a dragon, but I suppose it could be a dinosaur. I can say for certain, however, that it's a very bright green.
T'was the night before Christmas, and these mice still lacked noses and eyes and mouths...
And now, for the penultimate float... a skiing snowman!
The Santa Claus float at this parade is far lower to the ground than the Santa Claus float at that other Toronto parade. I like this better as it makes Santa seem like more of a regular guy. He's not all high and mighty, he's on our level.
There you have it, the 2014 Lake Shore Santa Claus Parade in its entirety. The elves were extremely generous with the candy canes and the weather cooperated fully.
I'll be back next year.
---
Welcome to this week's Friday Open Mike. I'm Mike and I'll be your master of ceremonies for the day.
Feel free to use this space to vent, rant, share a story and/or ask a question of the hivemind.
---
Back in 1994, 40,000 people watched the series finale of Star Trek: The Next Generation at SkyDome. Yes, this actually happened.
Here's a clip shared by Retrontario featuring Monika Deol and some guy named Howard from CFNY.
Were you one of the 40,000 Star Trek fans at SkyDome that night?
---
I have a question for those of you who listen to my podcast. Those of you who don't are excused.
How exactly do you listen?
Do you...
Subscribe via iTunes?
Subscribe via another podcast aggregator?
Download the MP3 and play it another way?
Play it directly off of this blog?
Have another neat little trick that makes your life easier?
Please let me know in the comments. And if you listen but don't normally comment, perhaps this is the day you break your silence.
---
There have been a few Toronto radio developments I thought we might want to discuss, so here's a big fat juicy three-fer.
Indie88 PD Vacancy
The first involves Indie88. They're looking for a new Program Director. I've exchanged emails with their old Program Director, Adam Thompson, and he even promised to appear on my podcast. I should have known something was up when he changed his mind.
The Marsbar Theatre
Then there's David Marsden on 94.9 The Rock. His Marsden Theatre, an Oshawa staple since 2003, airs for the last time on December 14. He's going to focus on his NYthespirit.com project where $5.99 / month gets you a "boutique 80s stream curated by David Marsden".
Humble and Fred on Toronto Mike'd
Humble and Fred are appearing on my podcast next week, together. I'll finally get to use all three microphones at once. Let me know if you have any questions for this duo, celebrating 25 years together.
---
Jean Béliveau was 83. He led the Montreal Canadiens to 10 Stanley Cup championships during his 20 seasons in the NHL. In 1,125 games, he scored 507 goals, set up 712 others and finished with 1,219 points.
---
I just finished episode 9 of Serial, which means I'm up to date. There are three episodes remaining, and they'll be released over the next few Thursdays.
I'm a big fan of podcasts, but only subscribe to a handful. I even produce my own podcast and have been working with podcasts since 2006. So when I write about Serial, I'm writing as a podcast expert.
Season 1 of Serial is an investigation into the 1999 murder of Hae Min Lee in Baltimore. It's very well produced and very interesting. Essentially, it's a long episode of This American Life chopped into 12 parts, and that's a good thing.
I'm finding this series inspiring. At the heart of a compelling podcast is a good story. This is a very good story, and absolutely true. At this point, I feel like I know Adnan Musud Syed personally and am completely invested in his fate.
If you're a fan of podcasts, it's likely you've already sampled Serial. If not, you may want to dive in and hear what all the fuss is about. You can subscribe to Serial here.
---
Welcome to this week's Tuesday Open Mike. I'm Mike and I'll be your master of ceremonies for the day.
Feel free to use this space to vent, rant, share a story and/or ask a question of the hivemind.
---
I record all my bike rides. Here is how my cycling in November 2014 compared to November 2013.
November 2014: 434.26 km
November 2013: 297.89 km
I'm rather pleased with myself, because in November 2013 I was biking every weekday, training for the Ride to Conquer Cancer. Most of this increase was because I added about 5 km to my daily ride.
---
In this 98th episode, Mike chats with Elvis about recent guests and current events. This episode is exactly 1:19:59.
You can listen to this episode in a variety of ways:
Catch up on all episodes of Toronto Mike'd at https://www.torontomike.com/podcast/.
---
Want more Toronto Mike blog entries? Visit the archives.