January 2013 Archives
Here's the very first episode of my brother Ryan's new podcast, Fantasy Sports Hookup. If you're interested in fantasy sports, you'll want to subscribe because my brother and his buddy know their stuff.
In this episode, Booner and Mikey (neither are me, although I've been called both at one point or another in my life) talk all about Super Bowl XLVII. There are predictions, a mock-draft and some great debates. This episode is exactly 35:02.
You can listen to this episode in a variety of ways:
You can listen to all episodes at https://www.torontomike.com/fantasysports/.
---
I think my 2-year old nephew's birthday party last year was the last straw. I had just come back from Berlin feeling bloated and slow, and then I pigged out on pizza, chips and brownies at Nate's birthday party. That Monday, I decided to change things up.
I was going to start doing three things:
I was going to modify my diet. Essentially, less sugar and junk food and smaller portions of the foods I love. I was going to be smarter about what I put in my body.
I was going to exercise more - more walking, biking all summer long and now swimming every weekday
I was going to weigh-in every morning, documenting my progress via Wii Fit
Below is how my weight chart looks after this morning's weigh-in. I bounced off the bottom in September and started building mass with the swimming.
Here's the tale of the tape:
Feb 3, 2012: 86 kg (189.5 lbs)
Jan 31, 2013: 66.3 kg (146.1 lbs)
I still eat lots of pizza and pasta, and if you bake me cookies, I'll have a few, I'm just aware of what my decisions do to my body. It's simple math: calories consumed - calories burned.
I've never felt better.
---
The Memphis Grizzlies' leading scorer is now a Toronto Raptor. Rudy Gay and his big contract now belongs to the Rap who traded Jose Calderon and Ed Davis to land him and centre Hamed Haddadi.
What does the National Post tell us about this deal?
Gay, 26, is having a poor year by his standards. He is averaging 17.2 points while shooting just 41% from the floor and 31% from three-point range. However, his career statistics are 45% and 34%, and it is very rare for a player to start declining at this stage of his career. It is likely he is just having an off-season. Almost certainly, Gay would slide in as the Raptors' best swingman since the departure of Vince Carter.

But there are concerns for the future, most notably how he might pair with DeMar DeRozan, whom the Raptors signed to a four-year, US$38-million extension this year. Both struggle to hit the three-point shot, and are not elite creators. However, Gay and new starting point guard Kyle Lowry played together in Memphis, and are close friends.

The move would be an expensive one for the Raptors. Calderon's contract was set to expire after this year, while Davis's rookie-scale contract is only guaranteed through next year at US$3.15-million. He would be due for a raise after that. Gay is owed more than US$37-million over the next two years.

In 24 games as a starter, Davis has averaged 12.9 points and 7.7 rebounds on 56% shooting from the floor. After struggling in his first two years, Davis's player efficiency rating has shot up to 18.1, well above the league average. However, there is a suggestion that this Davis is playing at or near his peak — that a skinny power forward with limited range on his jumper has a limited ceiling. Davis was the 13th pick in the 2010 Draft.

Calderon, meanwhile, will go down as one of the greatest Raptors ever — a low bar, perhaps, but meaningful nonetheless. Calderon's 525 games with the team are just 17 behind Morris Peterson's franchise record. His 3,770 assists more than double second-place Alvin Williams on that all-time franchise list. He is also a top-five Raptor in career minutes played, field goals made, field goals attempted, three-point field goals, steals and free-throw percentage.
Andrea Bargnani remains a Toronto Raptor.
---
Toronto Mike'd is back for a 23rd episode from our new studio. In this episode, Rosie and I talk about the weather... and Rob Ford, Kathleen Wynne, Mike Stafford, favourite comedies, a CFNY Superbowl ad and how to get out of washing your jeans for a very, very long time. This episode is exactly 41:26.
You can listen to this episode in a variety of ways:
Catch up on all episodes of Toronto Mike'd at https://www.torontomike.com/podcast/.
---
I only became aware of Andrew Wiggins last year when my brother Ryan espoused his virtues as a slam-dunk #1 pick in 2014. Wiggins is from Vaughan "The City Above Toronto" and currently plays for Huntington Prep High School in West Virginia. I'm told the nickname "Canada's LeBron" is well deserved.
If Andrew Wiggins stays healthy, he's a lock to go first overall in 2014, but already I'm seeing articles asking if the Raptors shouldn't tank for Wiggins.... next season.
I've never been comfortable with the idea of a team intentionally sucking in order to score a better draft pick. I like to root for my team to win, even if I know they can't win the championship, and I believe we owe it to sport to make the opposition earn every win against us. The notion of tanking has never agreed with me.
And in the NBA, you can come in dead last and not get the #1 pick. In fact, there's a 75% chance you won't get the first pick overall if you come in last. That's far from a guarantee.
Wiggins may be a once-in-a-generation player, and he's even Canadian, but if we're already talking about tanking to improve our odds of drafting him in 2014, we really are hopeless.
---
Organization for Economic Cooperation and Development (OECD), 24/7 Wall St. has compiled a list of the 10 most educated countries in the world. Canada tops the list.
Here's their top 10:
Canada
Israel
Japan
United States
New Zealand
South Korea
United Kingdom
Finland
Australia
Ireland
In 2010, 51% of our Canadian population had completed a tertiary education, which takes into account both undergraduate and graduate degrees. I'm part of that 51% having earned an Honours Bachelor of Arts degree from the University of Toronto back in 1998.
You probably know what I'm about to ask you... Do you have a degree or diploma from a University or College?
---
---
I've been swimming every weekday for four months. Here's what I've learned after four months of swimming.
If you're swimming in chlorine as I am, get yourself a good pair of goggles. My Nike goggles have saved my eyes.
Even with a good pair of goggles, a little chlorine is going to get in your eyes and you're going to start resembling a pothead. Bonus tip for potheads: tell your employer and colleagues that you're a swimmer.
Your hair will never be the same, so you're going to need a good clarifying shampoo.
Don't swallow the water. It's not nearly as tasty as it looks. Bonus tip: don't chew gum while you swim.
Instead of counting lengths, time your swim so you can solve the world's problems. There's no better place to think than in the pool, and you don't want to waste that thinking by keeping track of your lap count.
---
Sales of desktop computers have slowed while sales of laptops and tablets have taken off. Welcome to 2013.
I'm here to claim the desktop isn't dead. Although I'm writing this entry from a MacBook Pro, the bulk of my 9-5 work is performed on a desktop PC. It's my most comfortable work station and the entire set up, excluding the 17 inch flat panel screen I've been using for the past decade, cost me less than $300.
I should point out my desktop is running Ubuntu Linux, a free O/S, which did bring down the cost, but it's fast, reliable and acts as my de-facto work station. It's about five years old and if sales of the desktop are declining, this is probably the biggest reason. Your five year old desktop works as well today as it did when you bought it. There's been no need to upgrade.
Who else still uses a desktop computer for work or play? If you're using a desktop computer, how old is it?
---
The last time I hosted an Open Mike, it drew the ire of Burkie. Who will I piss off this time?
Let's make this the best Open Mike ever. Rant, rave and/or drool here.
---
Toronto Mike'd is back for a 22nd episode from our new and currently unsponsored studio. In this episode, Rosie and I start things off with a frank discussion about the cease and desist letter sent by Brian Burke's lawyer followed by lighter fare, like the closing of their University McDonald's, raw food, texting protocol and their mutual love for hot dogs. This episode is exactly 44:26.
You can listen to this episode in a variety of ways:
Catch up on all episodes of Toronto Mike'd at https://www.torontomike.com/podcast/.
---
Last Friday, I did what I've done every Friday for quite some time. I hosted an Open Mike entry where folks can comment about whatever's on their mind.
I've maintained this blog for over ten years, and in that time I've received 47348 comments on 11744 entries. 69 of those comments were on this particular Open Mike entry, and one has resulted in a rather threatening cease and desist letter from a lawyer representing Brian Burke.
The anonymous comment reiterated a rumour that's been all over the place this past month. I myself have heard this Brian Burke rumour from many different sources, but have never written about it here because I don't believe it to be true. In fact, I wrote this comment on January 18, 2013 at 18:14 in response:
The rumour about Burke is everywhere, but that doesn't make it true. It's not fair to Burke or Hazel Mae to treat such scandalous speculation as fact.
I've already removed the offending comment. I'm simply not in the mood to be bullied by lawyers over an anonymous comment on my blog. The cease and desist letter, however, didn't just ask me to remove the comment, it wanted me to pass on all information I have "concerning the individual noted above who published or republished this story, and of any other individual who has published or republished the whole of the "news story"" on TorontoMike.com. That's something I'm not willing to do.
I am many things, but I am not a lawyer. I'm going to reproduce the letter in its entirety below in the hopes you'll share with me your opinion and advice. Perhaps one of you is a lawyer or knows a lawyer? Here's the letter I received earlier today.
We are legal counsel for Mr. Brian Burke.  Mr. Burke is extremely concerned about a defamatory "story" being posted about him in various places to the effect that he is the father of Hazel Mae's child.  The "story" also contains many other defamatory statements about Mr. Burke.

It has come to our attention that the "story" was posted in response to your "Mid-January Open Mike" blog on January 18, 2013 at 20:14 by "Anonymous".

While you referred to the "story" as scandalous speculation, it remains posted on your web site.  We trust you are aware of the legal consequences of the publication and re-publication of the postings.  Please immediately remove this posting from your web site, and any similar postings on your web site which publish or republish the defamatory statements noted above in whole, or in part, or in substance.

If you do not remove the posting we have identified and any other similar postings from your web site, we have instructions to commence legal proceedings to protect Mr. Burke's reputation and interests.

Please also provide us with any and all information you have concerning the individual noted above who published or republished this story, and of any other individual who has published or republished the whole of the "news story" on your web site.  Mr. Burke wishes to discover the author of the story.  If you do not provide us with such information, we have instructions to commence legal proceedings in order to obtain a court order that you provide that information to us and pay Mr. Burke's costs of having to obtain the court's assistance.

We look forward to hearing from you immediately.

H. David Edinger
Heenan Blaikie LLP
Lawyers
2200 – 1055 West Hastings Street
Vancouver, BC, V6E 2E9
I've yet to reply back...
---
During recent trips to Berlin, Amsterdam, Paris and Dublin, it was just me and a map and my two legs. I found each city to be very walkable, and was able to hit each destination without requiring public transportation.
Is Toronto (the old Toronto, not the megacity) as walkable? I'm thinking I'd need to visit my own city as if I were a tourist to learn the truth.
According to Walk Score, Toronto is Canada's 2nd most walkable city, behind Vancouver. Here are the top 10:
Vancouver (Walk Score = 78)
Toronto (Walk Score = 71)
Montreal (Walk Score = 70)
Mississauga (Walk Score = 59)
Ottawa (Walk Score = 54)
Winnipeg (Walk Score = 53)
Edmonton (Walk Score = 51)
Hamilton (Walk Score = 51)
Brampton (Walk Score = 48)
Calgary (Walk Score = 48)
Do you find Toronto to be a walkable city?
---
My mother tongue is English. In fact, it's the only language I speak fluently. Boring, isn't it?
According to this treemap, many Torontonians grow up speaking a language other than English. If you want to read the smaller boxes, here's the very interesting source PDF.
Did you grow up speaking a language other than English? If so, which language?
---
The big story line with the Ravens ~ 49ers Super Bowl is the coaching matchup. Baltimore Ravens head coach John Harbaugh is brother to San Francisco 49ers head coach Jim Harbaugh.
That's never happened before, but I remember well an AL Championship Series that pitted Blue Jay Garth Iorg against his brother Kansas City Royal Dane Iorg. It was 1985 and I distinctly remember an interview with Garth and Dane's mom in which she claimed she was rooting for the Royals. That must have made Garth feel great.
Dane ended up winning in 7 and then went on to win the World Series. Garth would continue to platoon at third base with Rance Mullineks until Kelly Gruber was ready to take the reigns.
They should have called the '85 ALCS The Iorg Forge.
---
Albert Brooks has always made me laugh. Whether in movies like Broadcast News and Mother or his hilarious characters on The Simpsons, I find Brooks to be a funny guy.
When I was a kid, I'd watch Super Dave Osbourne on John Byner's Bizarre. 7-year old Mike loved the character, so I was delighted when I saw the actor, Bob Einstein, show up in Curb Your Enthusiasm and Arrested Development, two of my favourite comedies from the past decade.
Now here's a mind blowing fact for everyone...
This guy:
Is the younger brother of this guy: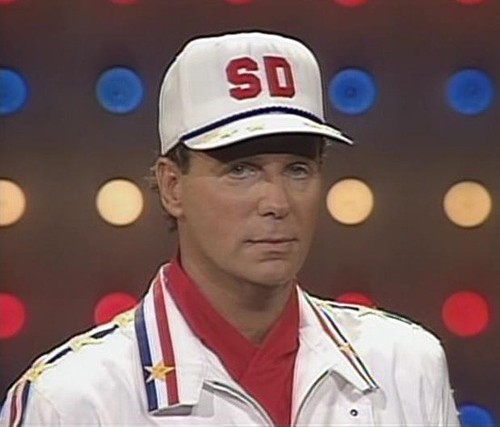 Bonus mind-blowing fact: Albert Brooks was born Albert Einstein.
---
When I opened my own podcast recording studio, my 8-year old daughter Michelle was the most excited of all. She wanted to know exactly how it works and now happily hosts her very own podcast she calls She's So Young.
She's So Young is already two episodes deep and has its own iTunes channel. She's rather proud of this fact, so if you could subscribe and leave a positive comment, she'd love it.
Before we record each episode, Michelle writes down the topics she wants to cover and by episode two was driving the content all by herself. Here's episode two of She's So Young.
Great job, Michelle!
---
I just read that Atari has filed for bankruptcy in the US.
The oldest brand in video gaming is to sell of (sic) its distinctive logo and the rights to classic games such as Pong, Asteroids and Centipede.
My first home gaming experience was with Atari. In the early 80s, I played on an Atari 2600 clone called the Gemini (not my award). I held onto my old Atari catalogue, shown below.
I wouldn't mind owning that logo. Maybe if we all chip in we can put together a solid bid?
---
Dear James,
I have very distinct memories of turning 11, because I thought it was pretty cool that my age matched George Bell's number. 11 seemed pretty old at the time and I was rather impressed I had finally made it.
Now my first born is 11 and I'm so very proud of you. You know I love you and will always be there to support you, encourage you, coach you and hang with you. You're smart, sweet, funny and talented. I'm a very lucky daddy.
I can't believe that strapping young man was once this little dude:
Happy Birthday, James!
---
Stan Musial was 92. He was one of baseball's greatest hitters and a Hall of Famer with the St. Louis Cardinals for more than two decades.
He won seven National League batting titles, was a three-time MVP and helped the Cardinals capture three World Series championships in the 1940s.
My very favourite Stan "The Man" factoid is that he finished his career with 3,630 hits: 1,815 at home and 1,815 on the road.
---
I'm looking forward to watching the Leafs vs. Habs tonight. Here's our opening night roster.
Forwards:
Lupul
Kessel
Kulemin
Van Riemsdyk
Grabovski
MacArthur
Bozak
Kadri
Komarov
McLement
Brown
Steckel
Orr
Defense:
Phaneuf
Gunnarsson
Liles
Kostka
Gardiner (currently injured)
Komisarek
Franson
Fraser
Holzer
Goalies:
I'm predicting this team will surprise us and play above their ability and finish 10th in the Eastern Conference.
Go Leafs Go!
---
Earl Weaver was 82. He was the fiery Hall of Fame manager who won 1,480 games with the Baltimore Orioles.
On September 15, 1977, in Toronto, Weaver asked umpire Marty Springstead to have a tarpaulin covering the Toronto Blue Jays bullpen area removed; the tarp was weighed down by bricks and Weaver argued that his left fielder could be injured if he ran into the bricks while chasing a foul ball. When the umpire refused to order the Blue Jays to move the tarp, Weaver pulled the Orioles off the field, forcing the umpire to declare a forfeit: the only forfeit in Orioles history.
---
Toronto Mike'd is back for a 21st episode from our new studio. In this episode, Rosie and I talk about recent losses, lies from Lance, the new NHL season and take a trip down memory lane with Chris Sheppard. This episode is exactly 44:02.
You can listen to this episode in a variety of ways:
Catch up on all episodes of Toronto Mike'd at https://www.torontomike.com/podcast/.
---
I've had better weeks, how about you?
Let's make this the best Open Mike ever. Rant, rave and/or drool here.
---
Pauline Phillips was 94. She was an advice columnist and radio show host who began the "Dear Abby" column in 1956.
Pauline Phillips' identical twin sister, Eppie Lederer, started Ann Landers.
---
Four years ago today, I suffered my one and only (so far!) upper body injury when I separated my shoulder playing hockey.
Even now, if I sleep too long on my left side, I feel the pain. I've accepted long ago that this is perma-pain, and I just live with it. When I feel the dull ache setting in, I just switch sides and it subsides. I suppose there are worse pains to live with...
Following the injury, the pain was so intense I was popping percocets like candy. That made for a very interesting visit to Chuck E. Cheese for my son's 7th birthday.
Memories...
---
Conrad Bain was 89. He was the actor best known as Phillip Drummond in the sitcom Diff'rent Strokes and Dr. Arthur Harmon on Maude.
He reprised the role of Phillip Drummond for the series finale of Fresh Prince of Bel Air.
---
I just got word my buddy Daniel Torreblanca passed away while visiting Peru. He was only 31 years old.
Just before he left with his girlfriend to visit his family in Peru, Daniel and I had a great chat about what was next for him. He had just quit his job and was looking to re-enter the web development field. I actually had a solid lead for him at my girlfriend's work and he seemed psyched about the opportunity. But first, he was going on a trip to Peru.
While in Peru, Daniel didn't feel well, and passed away suddenly from a seizure. The autopsy shows he had meningitis.
In the photo above, Daniel is wearing the blue shorts. He was a lousy baseball player, we'd always joke about that, but a great dodgeball team mate. This was our championship season.
Our relationship started because of dodgeball, but we'd work together on several big web projects over the next five years. He was a great programmer and whenever I had heavy duty PHP requirements, I knew who to call. He was my go-to guy because he was creative, he was skilled and I could trust him. When you find a programmer like that, you hold on to him.
31 is far to young to lose a friend. If the universe was trying to give me perspective on the loss of my dog last week, the universe has succeeded.
I'll miss Daniel. My sincere condolences to his family and friends.
---
---
Last week, I wrote that there was something happening here. I'm pleased to announce that everything is set up and working and I now own my own professional podcasting studio in West Toronto.
With a Mackie professional mixer and RØDE Procaster microphones, the sound is top notch. Rosie and I will soon give it a whirl with the return of Toronto Mike'd for a 21st episode.
With years of experience managing the back-end of podcasts like the popular Humble and Fred Radio, and great advice from audio expert extraordinaire Andrew Stoakley, I'm excited to be producing podcasts with passion.
This is going to be fun.
---
Some conspiracy theories can be fun grist for the mill, but others can be outright offensive and hurtful. No, this isn't an entry about the flu shot, a topic of much debate on these pages, this is an entry about Sandy Hook Elementary School and 9/11.
Refusing to believe in influensa vaccinations is unfortunate as it compromises herd immunity, but believing the Newtown, Connecticut shooting was an inside job designed to move political opinion on gun control is downright nasty. Adam Lanza killed 20 children and six adults that day. Suggesting they died as part of a government conspiracy really upsets me.
Imagine those who lost a loved one that day reading about this conspiracy theory. Imagine how Gene Rosen feels. He helped six Sandy Hook students who were "sitting in a neat semicircle" at the end of his driveway that day, and today he receives emails like this:
How are all those little students doing? You know, the ones that showed up at your house after the 'shooting'. What is the going rate for getting involved in a gov't sponsored hoax anyway?
And don't get me started on 9/11 conspiracy theories. If you've bought into even a minute of the slop Loose Change and other 9/11 conspiracy sources peddle, take a few minutes to read this.
Have fun with your theories that man never landed on the moon or Paul McCartney was replaced by a look-alike, but when innocent people die, let the facts speak for themselves.
---
I hadn't been the movies in a while, but yesterday I caught a matinee of Django Unchained. It was awesome.
For my money, there's no better director than Quentin Tarantino. He's been consistently great and Django Unchained ranks right up there with his best. I normally like my movies to click in just over 90 minutes, but at 2:45, Django Unchained never felt long. Rumour has it there is a 5 hour director's cut. I'd like to see that.
More Tarantino love:
---
Back in 2007 I decided to check out an HBO show entitled John From Cincinnati. It wasn't bad, and I ended up watching all ten episodes, but looking back I think it was the theme song that kept drawing me back.
I just adored their use of "Johnny Appleseed" by Joe Strummer and The Mescaleros. It set the tone perfectly and I'm sure fooled me into thinking the show was better than it actually was. An amazing opening theme can do that.
I don't remember much from John From Cincinnati... I think he was supposed to be Jesus or something like that... but I'll never forget that tune from Joe Strummer and The Mescaleros.
---
That was a fun little scramble this morning getting the kids to school. How was your morning?
Rant, rave and/or drool here.
---
Humble and Fred have signed a very interesting deal with Astral. This deal replaces their previous deal with Rogers.
Here's the press release.
TORONTO, Jan. 11, 2013 /CNW Telbec/ - It is with a lot of pride and a little apprehension that Astral Radio announces the return of "Humble" Howard Glassman and Fred Patterson.

Debuting January 21st, the Humble & Fred Radio Show will air weekday evenings on Funny 820 Hamilton, Funny 1410 in London, Ontario and News Talk 1010 CFRB Toronto. In addition, new stations will be added to the syndication list over the next year.

The hilarious duo is set to entertain their audience with a combination of highlights from their popular podcast and new exclusive content.

"It's with great trepidation that we are partnering with Humble & Fred", said Rob Farina, EVP Content & Platforms for Astral Radio, "we hope for the best, but expect Humble & Fred to bring nothing but heart ache and lawsuits."

Glassman and Patterson are best known for their long-running morning show on Toronto radio station 102.1 The Edge, where they debuted in 1989. The pair has worked separately for the past several years, but reunited last year to create daily podcasts that are available on iTunes and on HumbleAndFredRadio.com.

"We're thrilled to be part of the evolution of Comedy on Astral", shared Humble & Fred, "we look forward to the opportunity to be fired by them again!"

The addition of Humble & Fred, along with the variety of Canadian comedians being featured across Astral's comedy radio stations, displays our investment in the format and support of Canada's legendary role in the world of stand up comedy. Astral Radio is the first broadcaster in Canada to offer consumers a 24/7 comedy service.

Founded in 1961, Astral Media Inc. (TSX: ACM.A/ACM.B) is one of Canada's largest media companies. It operates several of the country's most popular pay and specialty television, radio, out-of-home advertising and digital media properties. Astral plays a central role in community life across the country by offering diverse, rich, and vibrant programming that meets the tastes and needs of consumers and advertisers. To learn more about Astral, visit astral.com.

SOURCE: Astral Media Inc.
As the guys explain it to me, they'll clean up their podcast so it doesn't become too much of an editing nightmare and edit out chunks for broadcast on terrestrial radio. Basically, every day Phil will have about 2 hours of content from which he'll have to create four 25-minute bits. These bits will be aired on Funny 820 Hamilton, Funny 1410 in London, Ontario and News Talk 1010 CFRB Toronto.
I'm very happy for the guys, I'm just worried they'll soon run out of media conglomerates to leverage. After Corus, Rogers and Astral, is there anything left?
Congrats, H + F. Let me know when 1010 wants to license Toronto Mike'd.
---
With 20 episodes in the can, the Toronto Mike'd podcast is about to be reborn. I'm not quite ready to make the official announcement, but I thought this might be a good time to drop a few hints.
This picture was taken yesterday:
Then today I picked this up:
Toronto Mike'd 2.0 is set to drop next week. Stay tuned...
---
Farewell, old friend...
---
The Toronto Maple Leafs fired president and general manager Brian Burke.
He was hired with much fanfare and hope back in 2008 but without a playoff appearance during his tenure, he's been on the clock for at least a year.
I was pretty sure they'd give him one more season. I didn't see this announcement coming at this time, did you?
---
The great Rickey Henderson was a Blue Jay for exactly 44 regular season games and 12 playoff games. He was the first run scored when Joe Carter touched 'em all, don'tcha know!
During that brief stint in Toronto, he filmed an ad with Bob McCown for his morning show on The FAN 1430. That's right kids, before The FAN 590, CJCL lived way over at 1430.
I'm surprised Rickey never tried acting. He's a natural.
---
---
I don't watch any television in the morning but my mom sure does. She recently switched from Breakfast Television to Global's The Morning Show. She's a big fan of Dave Gerry, Liza Fromer's co-host on the program.
Apparently, Dave Gerry's no longer on The Morning Show, so my mom asked me to find out what happened. Using the power of Twitter, I posed the question and made sure my pal Mackay Taggart, producer of The Morning Show, saw the tweet. I use the term "pal" loosely in that I follow him on Twitter and once had a conversation with him while sitting by a speaker phone with Humble and Fred, but he got back to me quickly with "Dave's decided to go back to his first love...reporting. He's still here at Global and will be producing pieces for TMS!"
Ok, he's off The Morning Show but still employed by Global to do some reporting. That's fine... but what's this alternative opinion by the slightly less credible @BlueJays55? "You can tell your mom that Liza pushed him off the show because doesn't like to share & hates talented people. She's a phony."
Either way you slice it, my mom is ticked. She just asked me if Dave Gerry's on Twitter (he is) and how she can tweet at him. She's very, very serious about this.
---
I didn't see Family Guy last night, but I'm told it included this bit about Breaking Bad and The Wire.
In case YouTube pulls the clip, it's Peter Griffin being hypnotized to say "Breaking Bad is the best show I've ever seen, except maybe The Wire. I will never stop talking about Breaking Bad or The Wire".
I enjoy Breaking Bad, but it's not the show I recommend to everyone I meet. That show would be The Wire, The Greatest Show On Television, Ever™.
---
I'm going through a few old crates trying to get rid of crap I don't really need to keep. One box is full of old relics like my 1995-1996 University of Toronto datebook.
As I peruse this datebook, I see it was my Google Calendar before I had a Google Calendar. Everything went in this book and there was no backup!
I also found the two pieces of identification I used most in '95-'96.
2 for 1 Movies got me through university!
---
I've been so fed up with the NHL and NHLPA CBA negotiations, I've been telling everyone who will listen to just ping me when it's over. This morning, I received several pings. I guess the lockout is over and we'll have a season.
Immediately, I'm hit with two different sensations. One is anger that we had to wait 113 days and that they'd do this to us after cancelling the 2004-2005 season. They fought over a multi-billion dollar pie and we suffer. Screw 'em.
The other is delight that NHL hockey is back. I watched the entire Marlies game yesterday because I miss Leafs hockey. I've been watching for 30 years and it's a fun pastime that I can share with my family and friends. Nothing's better than sitting down on a Saturday night to watch the Leafs game with my kids. Even Monica has become a big fan instead of merely a casual follower looking for a good site to bet on march madness.
So no, there's no boycott here. I'll still watch, and if you give me a ticket, I'll even go to the ACC. And I even have silly fantasies in my head where we slip into 8th and actually win a playoff game or two. I know it's crazy, but it's what we Leaf fans hope for.
Compare the tone of this entry to my entry when the NHL and NHLPA ended the last work stoppage. I was just damn happy then. Now I'm happy but more than a little jaded.
How do you feel about the NHL returning?
---
2013: so far, so good. How are you doing on January 4?
Rant, rave and/or drool here.
---
I used to work with a guy I called Hatman. I called him Hatman because he owns hundreds of different hats. After reading his 20th tweet about collecting sneakers, I had to ask him why anyone would want to own more than one pair or running shoes. Sure, I could see a guy wanting to own two or three maybe, but Hatman has dozens and dozens of pairs of very expensive sneakers. I just didn't get it.
Hatman introduced me to his buddy Ryan Aleong who took the time to write a guest blog entry about why he loves collecting sneakers. He calls this "The Phenomenon of Sneaker Culture".
Within the last 12 months, sneaker culture has taken on a life of its own. It went from being an underground love and appreciation for athletic shoes, to a pop culture phenomenon.

Current sneaker culture can be separated into two groups. On the one hand, you have those with a rooted interest in the history, design, and love for where kicks were, where they are, and where they are going. On the other are those simply looking to monetize the popularity of this new aspect of pop culture.

Aficionados have their own personal tastes and reasoning for their collections. Maybe it starts with what their favourite player wore. It could be a love for the design elements of the shoe. Some may be heavily interested in the technology. Every person has their own loves, likes, and dislikes.

Shoes are also seen as a form of personal expression. The different models, styles, and colourways allow the wearer to put a unique (and comfortable) stamp on their outfit for the day or occasion.

Christmas 2011 saw the re-release of the beloved Air Jordan XI 'Concord', popular because this was the first shoe that Michael Jordan wore upon his return to the NBA from retirement. It was a technological innovation for a shoe which also utilized luxurious elements for added value.

The shoe saw overnight lineups, fisticuffs, and websites crashing from fervent demand. This would be just the start of what was a banner year for sneaker popularity.

The release of the Nike Air Foamposite One 'Galaxy' during the NBA All-Star weekend in February resulted in malls being shut down and police being called in for crowd control.

The Nike Air Yeezy 2 was the second collaboration project between Nike and hip-hop superstar Kanye West. With two colourways, limited availability, and only available by RSVP, the shoe instantly saw resale prices 9-10x their original MSRP of $245 US.

Retro releases of old favourites like the Concords have played a large factor in why sneakers are as popular as they are. A generation of people who used to love those shoes but couldn't afford them, now can. At the same time, you're seeing a younger generation of entrepreneurs seeing the financial windfall of reselling a shoe with finite availability.

Whether you love to rock 'em, stock 'em, or resell 'em, sneakers have seen huge growth in popularity in 2012. And 2013 shows no signs of slowing down either.
Michael Jordan will be getting a senior's discount at Denny's but people will still be lining up to buy his shoes. At that point, I'll bet they're velcro.
Does anyone else collect sneakers?
---
A list of the top 50 Toronto albums is making the rounds, so I thought I'd chime in with my six favourite Toronto albums.
With apologies to the Rheostatics, Rush and Blue Rodeo, these are my top six.
Hayden - Everything I Long For
Favourite Tracks:
"Bad As They Seem"
"In September"
"Tragedy"
The Pursuit of Happiness - Love Junk
Favourite Tracks:
"I'm an Adult Now"
"She's So Young"
"Hard to Laugh"
The Lowest of the Low - Shakespeare My Butt
Favourite Tracks:
"Henry Needs a New Pair of Shoes"
"Eternal Fatalist"
"Bleed a Little While Tonight"
Barenaked Ladies - The Yellow Tape
Favourite Tracks:
"Brian Wilson"
"If I Had $1000000"
"Be My Yoko Ono"
Maestro Fresh-Wes - Symphony in Effect
Favourite Tracks:
"Let Your Backbone Slide"
"Drop the Needle"
"Tear it Up"
Rusty - Fluke
Favourite Tracks:
"Groovy Dead"
"Wake Me"
"Misogyny"
And Neil Young's Live at Massey Hall 1971 isn't on this list because although he spent his formative years in Toronto and recorded this masterpiece in Toronto, I'm having difficulty swallowing it as a Toronto album. And yes, some of you hate rap and will ridicule me for including the Maestro on this list. Go ahead, I have thick skin.
---
Less than a month ago, the Raptors were 4-19. 4-19 is pretty ugly. 4-19 was enough to get me to stop tuning in, despite the fact my main winter team isn't playing at all.
Since then, the Raptors have won 8 of 9. 12-20 is nothing to write home about, but it beats the mess out of 4-19. Heck, in the Eastern Conference, 12-20 puts us in 10th place, only 2.5 games out of the playoffs. Put that in your pipe and smoke it.
With Andrea Bargnani out of the lineup, and the Raps putting in a solid defensive effort most nights, I've been watching again, and it's been fun. It's not a star-laden team, but it's a cohesive collective that plays together and shares the wealth between DeMar DeRozan, Jose Calderon, Kyle Lowry, Ed Davis, Alan Anderson, Amir Johnson and Terrence Ross who managed to score 26 points last night.
I'm not foolish enough to suggest the Raptors will make the playoffs, and I'm well aware these wins are coming against weaker teams, but with 8 wins in 9 games, they certainly have my attention.
Ping me when we trade Bargnani for a 2nd round pick.
P.s. Sorry to hear Raptorized John passed away. I've heard his calls on The FAN 590 for so long, it was like he was a part of the station. Raptorized John had a distinctive voice and always started his call with "Yo!".
Raptorized John died last week during his sleep. I'm thinking he would have been jazzed about Ross's effort last night.
---
As a happy owner of the Nintendo Entertainment System growing up, I know all too well the frustration when the NES wouldn't recognize my game cartridges. My trick, learned from friends, was to blow the cartridge connectors with all my might. It always worked... eventually.
I spent years blowing my Nintendo cartridges and always assumed that's how I got the game to load. Then, earlier this year, I learned the horrible truth. Blowing my Nintendo game cartridges did absolutely nothing. In fact, Nintendo claims the moisture from my breath helped ruin the games.
I wonder what other stuff I believed was actually total bullshit...
---
Courtesy of Macleans.ca, here are 12 Canadian words, phrases or slang that most Americans wouldn't understand.
1. Two-four (24 beers)
2. Loonie (and, of course, toonie)
3. Toque
4. Klick (kilometre)
5. Toboggan
6. Peameal or back bacon
7. Washroom
8. Serviette
9. Chinook (the wind, not the helicopter)
10. Mickey (e.g. a mickey of vodka)
11. Knapsack
12. Kerfuffle
I'd like to add chesterfield to the Maclean's list. Call it a couch all you want, but it will always be a chesterfield to me.
---
Want more Toronto Mike blog entries? Visit the archives.