January 2010 Archives
I slept in this morning. My son's early morning practice was cancelled due to a video shoot at the rink, so I didn't wake up until 9:30 or so.
The moment I got online, I learnt something big was going down. Brian Burke had a press conference scheduled for 11:30 and the announcement was to be "major". The more details that leaked, the better it all got. In my humble opinion, this was a fantastic day for fellow fans of the Toronto Maple Leafs.
Before I dive into the nuts and bolts, I've got to comment on the freaky timing. Three days ago, the PR person for Ford Canada contacted me and asked me if I'd like to watch a Leafs game from the third row this coming Tuesday. I actually hesitated before saying yes. That's when an alarm went off in my head. The result was this entry entitled "I Hate My Favourite Team".
I wrote that late Thursday night. My ticket for Tuesday night's game arrived on Friday. I watched last night's game and didn't give a flying fig that we blew a 3-0 lead in the third period. I awoke this morning caring as little about the Leafs as I ever have in my lifetime. I felt complete apathy.
Suddenly, with a couple of strokes of his mighty pen, Brian Burke has me very much looking forward to watching Tuesday's game from the third row. Today, we sent six players and got four in return. Let's take a look at what we gave up.
| Leaving Toronto | My Thoughts |
| --- | --- |
| Matt Stajan | He's just a guy, a 3rd liner. Nice player, but no major loss. |
| Ian White | I really liked White. I'm very sorry to see him go. |
| Jamal Mayers | Who cares? I sure don't. |
| Nik Hagman | Hagman was a decent player, but no all-star. |
| Jason Blake | Overrated, overpaid, don't let the door hit ya on the way out. |
| Vesa Toskala | See above - I'd have given both Blake and Toskala away for absolutely nothing. |
To summarize the above, I'm sorry to see White and Hagman go, but you've got to give up something to get something special. Let's see who's joining Toronto in today's trades.
| Joining Toronto | My Thoughts |
| --- | --- |
| Dion Phaneuf | I love this addition. He's a former and future all-star who got serious Team Canada consideration. He's only 24-years old. I'd have traded the 4 Leafs for him alone. |
| Fredrik Sjostrom | I'm not sure what Sjostrom adds, but at least he's only 26. |
| Keith Aulie | I'm surprised we got a bonafide prospect in this deal. He'll join the Marlies and has great promise. |
| Jean-Sébastien Giguère | Sure, Giguere might be overpaid, but he's only 32 and we need goaltending. And besides, we got him for Blake and Toskala, two players I'd have traded for nothing. |
I'm very, very happy with today's deals, and very much looking forward to Tuesday night. The Leafs are a better team today, and more importantly, there's reason to care again. And dare I say, even a glimmer of hope.
Thanks, Burkie.
---
Crazy Heart: 8.5 out of 10.
Crazy Heart reminded me a great deal of The Wrestler. Both films are about a down and out former great who meets a good woman and attempts to resolve issues with their offspring. The Wrestler, which I very much liked, had an open ending. Crazy Heart, which was an even better film, does not.
Jeff Bridges is a shoe-in for best actor at the Academy Awards, but I'm surprised there's no buzz around Crazy Heart getting a best picture nomination. They're nominating ten films this year, and Crazy Heart deserves to be one of them. It's not just a great story about Bad Blake that's brilliantly acted, it's also got fantastic tunes to carry the weight. If the songs had sucked, the movie would have been far harder to buy.
Crazy Heart is great stuff. Do yourself a favour and see it.
---
Dion Phaneuf is a Toronto Maple Leaf. This is not a drill. The Toronto Maple Leafs have acquired defensemen Dion Phaneuf and Keith Aulie along with winger Fredrik Sjöström from the Calgary Flames in exchange for Matt Stajan, Nik Hagman, Jamal Mayers and Ian White.
Phaneuf, 24, averaged 51.5 points per season from 2005-09. This year, he has 10 goals and 12 assists to go with a plus-3 rating. I absolutely love this deal; Burke won this one hands down.
Brian Burke will announce a second trade shortly. I'm hearing Jean-Sébastien Giguère is coming to Toronto for Vesa Toskala and Jason Blake. I'm off to the movies so if someone out there can leave a comment confirming the details surrounding trade #2, I'd appreciate it.
---
Up by 3 heading into the third, they fooled me. For a brief moment, I truly believed we could win a game.
Quite the fool I was. In the words of Roger Daltrey, WON'T GET FOOLED AGAIN.
I'm told "major changes" are coming today. In an hour, Brian Burke will hold a press conference. Welcome to Toronto, Jean-Sébastien Giguère!
And sorry Ron Wilson, I'm taking over this team. You suck.
---
Pauly Fuemana was 40. He was the frontman for OMC, the New Zealand duo who found fame with the hit song "How Bizarre".
I was newly married when "How Bizarre" broke and my wife was a big fan of the tune. The song guaranteed OMC a spot on a whole bunch of One-Hit-Wonder lists.
---
I'm submitting a song for SLS23 consideration. I'm submitting "Saint Veronika" by Billy Talent.
I'm a sucker for this band, and I really don't care that you hate them.
---
Neil Young has never won a Grammy. I know this for a fact because Neil Young might just be my favourite singer / songwriter of all-time.
Neil was honoured at the pre-Grammy MusiCares gala as their Person of the Year for his artistry in music and philanthropic contributions. I did a little reading about the event in which several artist covered Neil's biggest hits. I went to Google News, typed in Neil Young and started reading.
That's how I found this article. Below is a screen cap of the page in which it clearly states that Neil Young wasn't the only big name artist to never win a Grammy. It says The Beatles also never won a Grammy.
That factoid surprised me. I instantly tweeted about it.
It didn't take long for people to call bullshit on my erroneous tweet. That article was dead wrong. The Beatles have actually won 7 Grammy awards.
The interweb lies. Consider yourself warned.
---
The Swansea Hockey Association is the world's largest outdoor hockey league. Normally that's a good thing if you ask me, but when it's -18°C, it's less of a good thing.
The SHA plays at Rennie Park. The Rennie Park zamboni has animated Maple Leafs painted on it, and it always brings a smile to my face.
---
They say you shouldn't look a gift horse in the mouth. I disagree. If the horse is a lemon, it's not gift at all. It's a big animal that you have to care for and feed and that's going to cost you lots of money for oats and a stable and such.
As part of their Experience G promotion, Gatorade took me to a Raptors game. As part of the deal, I got an Raptors cookie bundle. It's tough to explain exactly what a Raptors cookie bundle is, so here are a couple of pictures I took.
I actually ended up taking home two bundles, one for each kid. They look amazing, don't they? There's a brownie in there, and several big cookies, and each bundle retails for $9 at the ACC. As a brownie and cookie aficionado, I was quite looking forward to cracking it open and diving in.
They were so bad, even the kids couldn't eat them. How bad does a cookie have to be for a 5 year old to say no? I knew it was a weak bundle when even dunking the cookies in milk didn't improve things.
Stay away from these cookies. They look great, but they're not edible.
---
I just got back from a great little party to celebrate a pal's birthday. I left this party with a pretty cool gift. It's Wendel Clark's book "Wendel - My Life in Hockey" and it's autographed for me.
Earlier in the week, I ordered a tee shirt from Pucking Hilarious. I ordered WWWD? in black.
Hard work is the ethic of the free.
---
Yes, I used to watch Pee Wee's Playhouse. I loved that show. It's great to see Pee Wee Herman back in his playhouse getting an iPad.
---
Ball.
I've got nothing else to say.
---
I thought I hit the bottom last October. I had just come to the realization that my five and a half year old daughter had not been alive for a single Leafs playoff game. We Leaf fans are enduring an unprecedented streak of failure for a team that hasn't won the Stanley Cup in 42 years.
Four months later, it's gotten worse. For the first time since I discovered the team in the early 80s, I hate my Maple Leafs. We've been this bad before, we've even been worse, but as a wise man once tweeted, the 2009-10 Toronto Maple Leafs "have no redeeming qualities whatsoever".
It's okay hating your favourite team. I feel I've earned the right. After 30 years of investing blood, sweat and tears, I know I deserve better. And in lieu of better, I'm going to do what feels natural, and that means hating this hateful, brutal team.
I knew we found a new bottom when I got free tickets to next Tuesday nights game at the ACC and I didn't feel the excitement I've felt every time prior. I'm not even looking forward to watching my team live and that scares saddens me.
It's bad, folks. I hate my favourite team. I can't stop watching them, or reading about them, or writing about them, but I sure as hell can hate them. And I do.
---
J.D. Salinger was 91. He was the legendary author, youth hero and fugitive from fame whose "The Catcher in the Rye" shocked and inspired a world he increasingly shunned.
---
I remember listening to Punkorama on Edge 102.1 back in the day when it was hosted by George Stroumboulopoulos. The hard aggressive sounds of Punkorama will no longer be heard each Tuesday night on CFNY as the last episode of Punkorama aired two nights ago.
Here's the playlist from the last show.
FACE TO FACE – It's Not Over
NOFX – Don't Call Me White
CARPENTER – You Can't Keep A Good Man Down
TITUS ANDRONICUS – Titus Andronicus
HUSKER DU – New Day Rising
FLATLINERS – Filthy Habits
…TRAIL OF DEAD – Days Of Being Wild
IGGY POP & THE STOOGES – I Wanna Be Your Dog
EVERY TIME I DIE – Imitation Is The Sincerest Form Of Battery
RANCID – The Wars End
DILLINGER FOUR – A Floater Left With Pleasure In The Executive Washroom
SNUFF – All Over Now
SOCIAL DISTORTION – I Was Wrong
THE RIOT BEFORE – We Are Wild Stallions
GASLIGHT ANTHEM – Angry Johnny And The Radio
THE REPLACEMENTS - Unsatisfied
RIP Punkorama
---
Zelda Rubinstein was 76. She was the diminutive character actress with the childlike voice who was best known as the psychic called in to rid a suburban home of demonic forces in the 1982 horror movie "Poltergeist."
---
I actually resisted the iPod for years. I preferred my iRiver because it actually had a built in FM receiver. Sometimes I want to listen to MP3s, other times I want to listen to the radio.
I eventually bought a Shuffle for running and a couple of years ago I got a Touch for my birthday. The Touch won me over. I love the interface, the apps, the browser - and it even plays MP3s!
Today, unless you're living under a rock, you've heard that Apple has unveiled their new iPad. It's more than just a bigger Touch, but it's not for me. When I need a pocket device I have my Touch and when I need something bigger I have my trusty laptop. I don't feel compelled to drop $1000 hundreds of dollars on an iPad.
Here, hot off the press, is the new ad from Apple for the iPad. This is a Toronto Mike exclusive.
And here's the iPad itself. This is not a Toronto Mike exclusive.
---
The George Carlin of the Barilkosphere, also known as Down Goes Brown, had this to tweet the other night.
Dear 2009-10 Toronto Maple Leafs. You have no redeeming qualities whatsoever. I hate you.
That, in a nutshell, is precisely the problem. There are no redeeming qualities to speak of. We watch, because it's our team, and you don't desert your team during bad times, but you don't have to love your team. You can root for your team and hate your team. I have the right to hate my team, and I hate this team.
And now the vultures are circling, picking through the carcass of this Leafs' season. All this and our first round pick belongs to Boston.
There's more to say... so much more... but in typical 2009-10 Toronto Maple Leafs fashion, I'm going to underwhelm as I disappoint and miss your already low expectations.
---
Congrats to my brother Steve and his wife Vanessa on the birth of their first child. Nathaniel James Boon arrived at 12:41 this afternoon.
The inspiration for his name is obvious to me.
---
I've always loved Public Enemy. I'm still infatuated with the first four Public Enemy albums. Those samples, those hardcore drum beats, Chuck D's rhymes... PE remains the greatest hip-hop band of all-time.
"Fight the Power", the last track on their third album, Fear of a Black Planet, recently turned 20. My favourite line in the song is probably the most repeated line after the title phrase.
Elvis was a hero to most
but he never meant shit to me you see
straight up racist that sucker was
simple and plain
mother fuck him and John Wayne
I've got several versions of Public Enemy's "Fight the Power" and most of them have the lyrics I posted above. The album cut, however, has Chuck D repeating "Elvis was a hero to most" three times. That's my favourite version of "Fight the Power" and I get very angry when I hear a version with Chuck saying "Elvis was a hero to most" once.
Back in '91, I rushed to Sam the Record Man at Yonge and Dundas to buy a copy of the Barenaked Ladies' Yellow Tape. Yes kids, the yellow tape was actually a cassette tape drenched in yellow. I actually ended up buying it twice I loved it so much.
The final track on BNL's yellow tape was a fun cover of PE's "Fight the Power". It was only 1:33 long, but it included a great spin on the repeat of "Elvis was a hero to most".
Elvis was a hero to most
Buddy Elvis was a hero to most
Buddy Ebsen was a hero to most
Buddy Rich was a hero to most
Buddy Hackett was a hero to most
Nutty Buddy was a hero to most
If anyone out there has BNL's cover of "Fight the Power", I'd love the MP3. My yellow tapes now live only in the confines of my mind.
---
Back in 1983, I watched a made for TV movie starring Gary Coleman. It was called "The Kid with the 200 I.Q.".
I was only 8 or 9 at the time, and I thought it was the greatest movie in the history of the world. It was perfect.
Gary Coleman was my hero, and the greatest actor this side of Mark Hamill. He was cute and he was funny. Soon thereafter I discovered Diff'rent Strokes where I could enjoy his comedic talents weekly.
This is Gary Coleman today. He's not nearly as cute and funny as I remember him.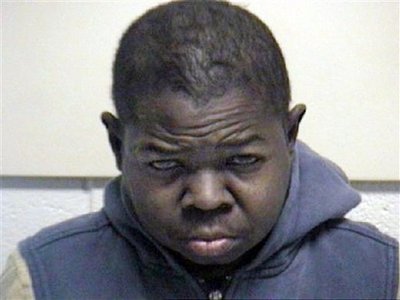 ---
Pernell Roberts was 81. He played the eldest Cartwright brother in TV's "Bonanza" and had the lead role in "Trapper John, M.D.".
---
A few years ago, I shared my memories of Elmer the Safety Elephant. Elmer was a character who would visit my primary school back in the 80s to teach us about bike safety, not walking on train tracks and such.
I just received the following email regarding Elmer the Safety Elephant.
Hi Mike, just read your article on "Elmer the Safety Elephant". Excellent. I noticed a picture of the flag and Blinky, but none of the Elmer statues that used to grace our schools in the good old days. Just wanted to let you know that I am in possession of one of the original 8 statues (8 being the number of districts in the Toronto area at that time). I know 1 statue is in the police archives, and the rest are probably in safety officer's basements. I saved one from going into the trash as it needed some repair to the trunk and was to be disposed of. It is a beautiful sight to see, all original paint etc.
Here are pictures of this rare Elmer statue.
The person who saved this statue wishes to remain anonymous, but he would like you to know that Party Boy DJ Services is "very good and in-expensive compared to most companies". Just remember.... safety first!
---
I waffle between loving the TTC and hating the TTC. On any given day you can find me singing the TTC's praises or wondering why a world class city like Toronto is so under served by its public transit system.
Here's a nice YouTube video sendup of the infamous TTC sleeper. The TTC sleeper, who appeared on the cover of Friday's Toronto Sun, has been revealed as George Robitaille. George, an almost 30-year TTC vet, claims his nap can be explained by "health issues".
[via @JimRichardsShow]
---
[via Clay Larsen's Flickr account]
---
I'm expecting the arrival of my second nephew next week. It'll be my brother Steve's first kid. My other brother has a son who was born the exact same day as my second (and probably last) child.
We were all together last night to celebrate my oldest child's birthday, and a great debate erupted. Based on zero facts and figures, I thought the number of women who choose not to have children could be as high as 30%. Everyone thought that number was ridiculously high (although I'm told Ryan started to side with me).
Here are some assumptions I made as I argued my case:
There's a correlation between education and motherhood - the more education you have, the less likely you are to procreate - Canadian women are becoming more educated - more woman are earning university degrees than ever before
The less religious you are, the less likely you are to start a family - Canadians are becoming less religious as each year passes
City folk are less likely to procreate than suburban or country folk
The higher in the corporate hierarchy you climb, the less likely you are to mother a child - women are assuming upper management positions in companies more than ever before
All of that seemed logical to me, and 30% seemed plausible. This morning I did a little Googling and I found this New York Times article entitled More American women choose not to have children.
American women are waiting longer to have children, and more than ever are choosing not to have children at all, according to a report by the U.S. Census Bureau.

Twenty percent of American women from the ages of 40 to 44 have no children, double the level of 30 years ago, the report says, and women in that age bracket who do have children have fewer than ever - an average of 1.9, compared with the median of 3.1 in 1976.
The article went on to say that Hispanic women in the US were bucking the trend. Considering Canada doesn't have the same Hispanic women populous, and per-capita Canadians are more educated, my 30% might not be that ridiculous.
How many Canadian women choose not to have children? If you're a woman who chose not to have kids, I'd love to hear why you made that decision.
---
This is a pretty shitty hockey team we have here. We'll be missing the playoffs for the fifth year in a row, and if we throw in that lockout year, it'll be six springs without blue and white playoff action. Remember how fun that was?
After this loss, my son and I watched a couple of Wendel Clark video montages. We didn't win any cups with #17 either, but damn he had heart.
MLSE Tribute
---
Last night, Conan O'Brien hosted his last Tonight Show. I'm with Coco, and not just because I attended the taping of his show. I like that guy for a whole bunch of reasons.
In the clip below from Conan's last show, he teams up with Will Ferrell, Beck, Ben Harper, ZZ Top's Billy Gibbons, and trusty house-band drummer Max Weinberg to close out the show in style with an unforgettable rendition of Lynyrd Skynyrd's "Free Bird."
---
Humble Howard is currently co-host of the Boom Breakfast Show on Boom 97.3. He's also a good buddy of mine, and tomorrow he turns 50.
He's just asked me to post something he's written on the subject. When he sent me this prose via email, the subject line read "Old Guy Ranting". I think it's far better perspective than that.
Here's Humble Howard on turning 50.
I have been thinking a lot about age lately, mainly because it's not everyday you turn half a century old and it seems like a big deal, at least to other people. For me it's just a number. When I hit 30 or 40 those numbers didn't vex me and I'm not too freaked out by this milestone… it beats the alternative of "not turning 50!"

I will say that 50 seems a lot younger than it used to. My Dad's 50 was way older than mine. I was 12 when he was this age and I thought he was super old. I don't think it's the same for my kids, I'm far too active and immature and I'm guessing they think of my 50 as younger than my father's.

We all think that as we age the age we used to think was ancient gets older and older. 60 year olds are old but I guarantee you that when I'm 59 I'll think 60 is the new 45.

Getting older is just a way of marking time and time marching on is what is scary to all of us. I'm not going to lie. I've been keeping track of celebrity deaths that are close to my age and going, "He was only 59? That's only 9 years older than me!" That's' the really scary part of getting older-getting older is when people die. Yes they do. And that's the real reason we all want to stall the number of candles on the cake. Fun huh?

So I'm viewing this as an opportunity for adventure and to find new forms of life on the other side of my half-century. And I'll look at it this way- tomorrow I won't be a year older, I'll just be one day older than 49.
You can follow Humble on Twitter, or become his friend on Facebook.
---
I quit the NFL years ago, but this Sunday I'm going to watch every minute of the NFC championship game. For me, it's all about Brett Favre.
Brett Favre is my kind of player, the epitome of heart, and I've been watching him for the better part of two decades. I became a Favre fan in 1992 and when he led the Packers to a Super Bowl win in 1997, I celebrated like the home team had triumphed. Amazingly, he hasn't missed a single game since '92. He's as durable as he is dominant.
Here are a few entries I've written about Brett Favre over the past seven years.
At 40-years-old, Favre will become the oldest quarterback to start a conference championship game when he takes the field in New Orleans. At 35-years old, I'll be watching my favourite football player of all-time. I'm not ready for this ride to end.
---
In my travels the other night, I stumbled upon Dead Teen Songs or Teenage Death Music or the teen death song or teen tragedy. In addition to being quite the title, it's quite the list.
You've got to love songs about teenage death. Here are my ten favourite dead teen songs.
Last Kiss - Pearl Jam
Leader of the Pack - The Shangri-las
I Don't Like Mondays - Boomtown Rats
Delia's Gone - Johnny Cash
The Legend Of Tom Dooley - The Kingston Trio
Freddie's Dead - Curtis Mayfield
19 - Paul Hardcastle
Adam's Song - Blink 182
Jeremy - Pearl Jam
People Who Died - Jim Carroll
But my favourite teen tragedy song didn't even get a mention on this web page. That would be Big League by Tom Cochrane and Red Rider. Hit a truck doing seventy in the wrong lane to the big league.
---
It was just another night at the office for our Leafs. This time, we decided to dig deep for a new way to lose. How about too many men on the ice in the last minute of overtime. That'll work...
And that led to the Lightning scoring the winner with 9.8 seconds left in OT. If you're tracking this at home, and you should be, that's our 35th loss in 52 games. It ain't easy being this bad.
---
If you thought spelling Mroczkowski was tough, try spelling Lara Di Battista's name.
When I wrote about her leaving Citytv, I spelled her name Lara Di Battista, having seen it spelled that way on a couple of web pages. Her Wikipedia page, however, clearly refers to her as Laura DiBattista.
Does anyone know if it's Laura DiBattista or Lara Di Battista?
---
On Friday night at 7pm, CBC, CTV and Global Television will air "Canada for Haiti", a fundraiser to support earthquake relief for Haiti. The one-hour, commercial-free event will also be streamed online at the networks' websites and broadcast on CBC Radio Two.
Joining hosts Cheryl Hickey, Ben Mulroney and George Stroumboulopoulos are the following super duper Canadian peeps:
Celine Dion
James Cameron
Michael J. Fox
The Tragically Hip
Jason Reitman
Ryan Reynolds
William Shatner
Rachelle Lefevre
Joshua Jackson
Eugene Levy
Norman Jewison
Tom Jackson
Will Arnett
Brent Butt
Hugh Dillon
Mike Holmes
Rick Mercer
Alex Trebek
Sandra Oh
Pamela Anderson
Justin Bieber
Nelly Furtado
Sarah McLachlan
Barenaked Ladies
Simple Plan
David Foster
Chantal Kreviazuk
Raine Maida
Measha Brueggergosman
K'naan
Craig Kielburger
Wayne Gretzky
Steve Nash
Stephen Harper
Michaelle Jean
Donations collected during the broadcast will go to a number of non-profit organizations including the Canadian Red Cross Society, Care Canada, Free the Children, Oxfam Canada, Oxfam Quebec, Plan Canada, Save the Children Canada, UNICEF Canada and World Vision Canada.
---
Paul Quarrington was 56. He was an award-winning author, filmmaker, playwright and musician who gained national acclaim with his rock 'n' roll novel "Whale Music."
---
I like Howard Stern. I also like Conan O'Brien. I really like this clip from December 14, 2006, in which Howard Stern warns Conan about Jay Leno and The Tonight Show.
[via @JimRichardsShow]
---
Before I act, I always ask myself one simple question. What would Wendel do?
If you're asking yourself this same question, and you should, you should buy WWWD right now from PuckingHilarious.com because they're donating $2 from every shirt sold to the Canadian Red Cross for help with relief in Haiti. Get one now.
---
Since we learnt bodies were falling at Citytv, I've had a few emails from people on the inside. One gentleman tells me there's a lot of chatter amongst the survivors about Broadcasting Decision CRTC 2008-347.
Broadcasting Decision CRTC 2008-347 was the approval by the CRTC to grant Rogers a "broadcasting licence to provide CITY News (Toronto), a regional English-language Category 2 specialty service that would offer 24-hour-a-day news and information programming sourced from its local television and radio news properties. The programming would consist of a mix of local news, traffic, weather, business, sports and entertainment information devoted exclusively to residents in the Greater Toronto and commuting areas."
This new Rogers 24-hour-a-day news channel is coming soon, possibly to channel 1 on your Rogers digital cable box. The CityNews (I preferred CityPulse) survivors are speculating that all Citytv news programming will eventually move to this new GTA news channel. The axing of the noon, 5pm and weekend news is just the beginning.
I'm going to share part of an email I got from someone with intimate knowledge of what went down at Citytv this week.
Anne was first to go shortly after the news on Monday evening. The rumour of her being let go spread quickly through the staff and Tuesday morning the rest of the pink slips were being handed out. Staff was weeping in the open, some of them wondering if they would be next.
Not fun...
---
It's the dog days of January and I'm starting to come to grips with the reality Roy Halladay has been traded. It still sucks, but it happened, and I wasn't consulted on the manner.
The GOAT once had the worse season possible. In 2000, Roy Halladay recorded a 10.64 ERA in 67.2 innings pitched. How bad was Halladay's 2000 season? It's the all-time record for worst ERA in a season among pitchers with at least 40 IP.
At one point, the greatest Blue Jays pitcher of all-time was also the worst pitcher in the history of the game. And that's one to grow on.
---
My boy turns 8 today. I can't believe I'm the proud parent of an 8 year old. That sounds awfully old to me.
It's been an awesome eight years. James has taught me far more than I could ever teach him.
Happy 8th birthday, James! Daddy loves you very much.
---
I missed this one due to volleyball. As a result, we're keeping this one really, really short..
Our beloved Toronto Maple Leafs lead the league with 177 goals allowed.
That is all. Go Leafs Go.
---
Anne Mroczkowski was let go by Rogers' Citytv yesterday. Two years ago, I had this idea to create Toronto-centric Valentine's Day cards. I started with four and the plan was to add to the collection until I had a dozen or so.
One of my initial four featured Anne Mroczkowski and Gord Martineau. It was modelled after the infamous "fu*king bint" episode.
Happy Valentine's Day!
---
Late last year, Jim McKenny was shown the door at Citytv. He had been doing sports for Citytv since 1984. Prior to that, Rogers had purged several other Citytv institutions, for better or worse. These included the NewMusic, Ed the Sock, Amber Mac, Silverman Helps and Speakers Corner.
Similar to Jim McKenny, Anne Mroczkowski has been serving up CityPulse and CityNews news at Citytv for what seems like forever. Here she is co-hosting CityPulse Tonight with Gord Martineau in 1985.
This morning there's been a lot of noise about big personnel changes at Citytv, including the release of Anne Mroczkowski and long-time correspondent Laura DiBattista. I try not to post these items based solely on rumours, so I've waited until at least one reliable source went on the record. That would be @stephaniesmyth who just tweeted the following:
Anne Mroczkowski, Laura DiBattista reportedly both gone from CITY TV, along with writers/producers/editors/camera people.
Mroczkowski will be missed. She always delivered the news with class, even when being berated by colleagues. Here's hoping everyone who's part of this latest Rogers purge of Citytv staples lands on their feet.
---
Kate McGarrigle was 63. She was the Canadian folk and roots music singer best known for her work with her sister, Anna, as the McGarrigle Sisters.
The Kate and Anna McGarrigle song I remember most fondly is The Log Driver's Waltz from a certain NFB animated short we all know and love.
---
We jumped out to a juicy 3-0 lead with a trifecta of goals in our first 8 shots and then sat back and waited for Nashville to come back.
They did, tying it in third and pressing to win until Phil "The Thrill" Kessel awoke from his slumber to win it for the good guys.
5 points behind Tampa Bay for 13th in the conference. Hell, yeah!
---
During hockey season, I have a Pavlovian response to Saturday nights. Around 7pm I instinctively seek a comfy seat and a television so I can watch my Toronto Maple Leafs on CBC's Hockey Night in Canada. It's an important tradition in my house.
This past Saturday night, as the clock approached 7, I felt those familiar tingles. It was time for hockey featuring the blue and white, only there was no Leaf game to be found. Instead it was the Habs vs. Sens and the Leafs had the night off.
In his column today, Chris Zelkovich explains why a Saturday night without the Leafs is a ratings disaster for the CBC.
While stories hit the news from time to time telling us that interest in the Toronto Maple Leafs is dropping faster than, well, the Leafs' playoff chances, the fact is the Blue-and-White still drive ratings no matter how bad they are.

Further proof came Saturday night in one of those rare instances when the Leafs are not the main attraction on Hockey Night In Canada. In fact, this Saturday they weren't even playing. Instead, the nation got the Montreal Canadiens and Ottawa Senators -- an all-Canadian matchup featuring one team with deep roots across the country.

It was a pretty good game, too.

The result? The lowest Game 1 rating on CBC this season. It drew 300,000 fewer viewers than the previously ratings dog and drew only 130,000 more than a Detroit-Toronto pre-season game.

It was almost beaten out by the Pittsburgh-Vancouver late game and finished behind three NFL playoff games. Actually, it was four because the 1,040,000 who watched Sunday's Jets-Chargers game included only those who tuned in to TSN. The game was on CBS, too.
Here's an idea for the NHL schedule makers. Let's ensure the Leafs play each and every Saturday night. It's good for me, it's good for the CBC and it just makes good sense.
Besides, it's the way it should be. You don't mess with the natural order of things.
---
To make a personal donation to the Canadian Red Cross or to make a donation on behalf of an organization, click here.
---
Carl Smith was 82. He was the country music hitmaker of the 1950s and 1960s known for his dynamic voice and good looks. He had 41 chart singles during the 1950s, including the hits "Are You Teasing Me," "Back Up Buddy," and "Hey Joe!".
---
Alvin and the Chipmunks: The Squeakquel: 4 out of 10.
I'm not going to lie, I don't like seeing old friends like David Cross, Jason Lee and Wendie Malick like this, but this movie wasn't made for me. It was made for the kids.
My wife and I took 17 kids to this movie yesterday. Most were 7 years old, but a few were a little younger and a few were a little older. All of them loved this movie. They didn't just like it, they loved it.
And let's be honest, no adult couple is going to go to this movie without taking along their kids, nieces or nephews. If they do, they deserve to sit through 88 minutes of crap. You go because the kids will have a blast. And they did.
---
My son's birthday party is this afternoon, and he's asked that he and his friends see Alvin and the Chipmunks: The Squeakquel.
I sat him down and tried to talk him out of it. I showed him the 21% fresh rating at Rotten Tomatoes, I explained to him the several other options at his disposal and I recommended a couple of alternative films that he might prefer.
He wants the Squeakquel, so he's getting the Squeakquel. Pray for me.
Check out some birthday party supplies ideas from Party Mart a supporter of this site.
---
My wife makes great coffee. It's the best part of waking up on weekends.
I was advised yesterday that sugar in our coffee is slowly killing us. Sure, we breathe dirty city air every day, eat lots of pizza, and drink Coke Zero like it's water, but the teaspoon of sugar in my morning coffee is what's going to do me in.
Because my wife makes the weekend coffee, I'm really not in a strong bargaining position. She's gone out and purchased something called Organic Blue Agave. There is now Organic Blue Agave in my coffee where sugar once was. I'm sipping my first cup as I type and I suppose it's okay.
I honestly hadn't heard of the agave plant until its nectar showed up in my morning brew.
Late breaking development: I'm sticking with sugar! To be honest, sugar in my coffee tasted better, and I'm not sold on the benefits of Agave. A man needs a few vices. My wife will stick with agave and I'll stick with good ol' sugar.
---
First Person Tetris - This one's tough.
---
YouTube user Retrontario frequently uploads fantastic retro-Toronto-centric gems. These clips never fail to bring back a ton of memories for me, so I feature them from time to time.
Lanny McDonald and Brian Glennie are hungry. Thankfully, they have Hungry-Man tv dinners to fill them up.
This is proof positive that NHLers weren't paid very much in the 70s.
---
Remember when we shutout Philadelphia 4-0? Bozak had that sick goal and Toskala recorded his first shutout since October 2008?
That was fun.
---
Near my house there's a big billboard advertising Molson's new light beer. It's called Molson Canadian 67 and the logo is half a maple leaf beside "67". When I see this logo, I only think of one thing. That's 1967, the last time the Maple Leafs won the Stanley Cup.
I see this ad as a taunt. '67 was a long time ago, a time when there were only six NHL teams, a time before my birth. Why is Molson taunting Leafs fans?
Oh right, George Gillett recently sold the Montreal Canadiens and the Bell Centre to the Molson family. Now it all makes perfect sense.
Molson's marketing team will tell you the 67 references the number of calories in the beer, but we know better. It's Molson, and the Montreal Canadiens, sticking it to Leafs fans.
---
I've been offline all day and out of the loop. As I catch up on what I've missed, I see Jimmy Kimmel appeared on Jay Leno's show and totally bitch slapped him.
Leno doesn't seem to realize he's being publicly pounded on his own show. What happened to NIMBYism?
Very well played, Mr. Kimmel...
---
Today is my 14th wedding anniversary. I honestly love my marriage (and wife) more and more with each passing year.
My wedding was unusual. I shared the story six years ago.
We both had classes that chilly Toronto afternoon, but we had an appointment we couldn't miss. Ten days earlier, while chatting on the phone with my twenty year old girlfriend of less than eight months, the topic of marriage came up. "We should just do it now", one of us suggested. The next morning we met at Ossington Station and got our marriage license at New City Hall for $53. The next stop was Old City Hall where we booked a time with the Justice of the Peace to get hitched. The cost was another $53 and the next available time was 2:00pm on January 15th. We took it and never looked back.
I'm a very lucky SOB. Happy Anniversary, sweets.
---
Were we that good or were the Flyers that bad? Methinks we caught the Flyers on an off night because there's no other way to explain a Vesa Toskala shutout.
It was a convincing win with the clear highlight being an absolutely sick goal by Tyler Bozak. It also happens to be his first career NHL goal.
---
I just learnt Derry Newbury passed away late last year. Derry was the young man behind First Sounds, a blog I wrote about back in 2007.
Derry was a former Deaf Mute who had his life changed by a specialist who did an implant surgery giving him the ability to hear and speak. His blog was where he wrote about his struggles. When I shared that link he was dealing with a tumour on the base of his brain stem.
His brain cancer returned and took his life in October. I had lost touch with Derry's blog and only found out about his passing today when someone tipped me off.
It's just sad. He was a brave kid.
---
As many as 100,000 may die from the earthquake in Haiti. Haiti's infrastructure was poor before this natural disaster, the tragic consequence of poverty and corruption, and now there is both chaos and devastation.
The world must help Haiti, even if they did make a deal with the devil. Literally. Just ask Rev. Pat Robertson.
If God is so great with all that omnipotence and such, you'd think he'd find a loophole in this deal Haiti struck with Satan. Luckily for Haiti, Pat Robertson is here to pick up the pieces. Bless his ignorant and insensitive heart.
---
Teddy Pendergrass was 59. He was one of the premier R&B singers in America, leading Harold Melvin & the Blue Notes to the top of the charts with indelible soul classics such as "If You Don't Know Me by Now" and "I Miss You."
---
I spotted this sign at Mississauga's Square One mall. It's a parking spot reserved for "Low Emission and Fuel Efficient Vehicles Only".
I just wonder how they enforce it. Do they have a list of car makes and models that fit the bill? Does my '99 Mazda Protégé qualify?
---
---
The Disaster Assistance Response Team, or DART for short, is a specialized team of about 200 Canadian Forces soldiers that flies into disaster areas around the world to provide drinking water and medical treatment until long-term aid arrives. The military created DART in 1996 because of its experience in Rwanda two years earlier, when international relief organizations arrived too late to save thousands of people from a cholera epidemic.
Yesterday's deadly 7.0 earthquake in Haiti will kill thousands. Our 200-member rapid response unit, which can operate a mobile command centre and a medical facility with water purification equipment capable of producing 100,000 litres of clean drinking water, will be deployed to Haiti.
The only question is when and how to balance the need for medical professionals to treat the sick and wounded against the need for engineers and infrastructure specialists who can prop up damaged bridges and buildings in a land where flimsy construction standards were no match for the sliding tectonic plates.
Port-au-Prince has been devastated. I don't think sending prayers will be sufficient. The DART is a good start, but the Haitian people are going to need a lot more help than that.
[picture via The Big Picture]
---
I share an MP3 from my collection every Wednesday. You have seven days to grab this week's MP3. Please right-click your mouse and select "Save Link As..." or "Save target as..." so you can download it to your PC before playing.
Alice Cooper - Is It My Body
I once listed my favourite Greatest Hits collections. Alice Cooper's Greatest Hits was an easy choice.
In the late 80s and very early 90s I would hang at Joe's where his brother Frank would show off their stereo that actually went to 11. They cranked a lot of Ozzy and Van Halen and Alice Cooper's Greatest Hits. The Ozzy was alright and the Van Halen was okay, but the Alice Cooper struck a chord. I still love this album.
Joe is considering a run for city council. I think he'd be great. Go for it, Joe!
---
The Leafs have allowed 51 power play goals against this season. A blog called Behind the Net recently listed the worst penalty killing teams since 1963.
Only two terrible Los Angeles Kings teams from the late 70s and early 80s had less than a 70 PK%. This season's Leafs clock in at 68.32%. That's unbelievably bad.
No matter how you slice it, this year's Leafs take is historically bad on the power-play. Every single player with regular PK time other than Jeff Finger has given up goals at a rate that's worse than the league-average. Mike Komisarek, Nikolai Kulemin, Wayne Primeau and Francois Beauchemin have been particularly bad, allowing goals at double the NHL average, or worse. Komisarek's poor PK work is made even worse because he did not even play against top PP lines at 4-on-5. And let's not forget Vesa Toskala, who has had a humiliating 768 save percentage down a man - that's so bad that it can't all be the fault of the skaters in front of him.
Typical Leafs analysis with the cup half empty all the time. Don't you all realize that the opposition is only scoring on their powerplays against us 31.68% of the time? We kill 2 out of every 3 successfully!
---
Margaret Wise Brown's Goodnight Moon is far and away the book I enjoyed reading to my children most. Those beautiful illustrations by Clement Hurd, that gentle prose... For years my kids fell asleep to this book, it was a staple.
At some point over the past year or so, my youngest outgrew Goodnight Moon. I no longer read it, and it breaks my heart. This entry serves absolutely no purpose except to allow me to reproduce those words here, without permission from the copyright holder.
In the great green room
There was a telephone
And a red balloon
And a picture of --
The cow jumping over the moon

And there were three little bears sitting on chairs

And two little kittens
And a pair of mittens

And a little toyhouse
And a young mouse

And a comb and a brush and a bowl full of mush
And a quiet old lady who was whispering "hush"

Goodnight room
Goodnight moon
Goodnight cow jumping over the moon
Goodnight light
And the red balloon

Goodnight bears
Goodnight chairs

Goodnight kittens
And goodnight mittens

Goodnight clocks
And goodnight socks

Goodnight little house
And goodnight mouse

Goodnight comb
And goodnight brush

Goodnight nobody
Goodnight mush

And goodnight to the old lady whispering "hush"

Goodnight stars
Goodnight air

Goodnight noises everywhere
Previous tributes to Goodnight Moon:
---
I'm not much of a reader. I read a lot of the web, but not actual books.
My wife reads a lot, so I asked her to give me a list of her ten favourite books of 2009.
1. The Sealed Letter by Emman Donoghue

2. Three Cups of Tea by Greg Mortenson

3. Loving Frank by Nancy Horan

4. The Story of Edgar Sawtelle by David Wroblewski

5. Half the Sky by Nicholas D. Kristof

6. Julie & Julia by Julie Powell

7. When will there be good news? by Kate Atkinson

8. The Autobiography of Henry VIII by Margaret George

9. Outlander by Diana Galbaldon

10. Beach Music by Pat Conroy
I'm still partial to Goodnight Moon.
---
My kids' school will have full-day kindergarten next fall. This is an initiative from Dalton McGuinty's government.
Almost 600 elementary schools across Ontario will be named Tuesday by Premier Dalton McGuinty as the first in the plan to provide a full school day for kindergarten children from 9 a.m. to 3:30 p.m., plus affordable before- and after-school care, should parents want it.
I think this is fantastic, but it's exactly one year too late for me. My youngest starts grade one in the fall. I missed it by thiiiiiis much.
This makes up for the good luck I had in '93 when I was the last graduating class from Michael Power's original location near Islington and Bloor. They moved near Centennial Park in the fall of '93 and I had no interest in that extra commute west.
Even Steven.
---
A lot of obvious news came across the wire today. Mark McGwire took steroids, Sarah Palin is contributing to Fox News and Simon Cowell is quitting American Idol. No surprises there.
It's also no surprise that they have a serious problem in China with men outnumbering women. More than 24 million Chinese men of marrying age could find themselves without spouses in 2020.
The study said the key contributing factors to the phenomenon included the nation's family-planning policy, which restricts the number of children citizens may have, as well as an insufficient social security system.

The situation influenced people to seek male offspring, who are preferred for their greater earning potential as adults and thus their ability to care for their elderly parents.
Sex-specific abortions are common in China. The strong cultural preference in China is to have boys over girls, so when the ultrasound shows it's a girl, it's often aborted. You can blame the single child policy for that lovely little factoid.
The normal male-female ratio is between 103-107 males for every 100 females but in parts of China it's as high as 130 males for every 100 females.
---
Life is funny. You never know what's around the corner or how things will work out.
On November 27, I wrote about Rick Hodge being forced off Astral's airwaves. In that entry I wrote about something I witnessed when I sat in on the old EZ Rock morning show. What I wrote upset Rick Hodge and many of his friends, and the aftermath caused me to write "This is a Blog. This is My Blog".
Earlier today, I wrote about a shake-up with the EZ Rock morning show. Of course I wrote about the dismissal of Rick Hodge and Kim Stockwood. You could have bet the farm on it. After all, I've always loved radio, I wrote about Rick Hodge leaving CHUM-FM, about Humble getting a new gig at EZ Rock and it's the only morning show I've sat in on. It would have stuck out like a sore thumb if I didn't address this developing story.

So I did what I've done 9524 times before. My fingers hit the keyboard and I reported what I knew to be true. Then, because it's my blog, I threw down some personal opinions about it all. And yes, that included a less than flattering story about Rick Hodge. This isn't something I do lightly, I managed to not tell the story for 18 months, but this morning I felt like sharing it. So I did.

Rather quickly, my email filled up with angry emails and comments. It was as if I had attacked the Pope. I came back from lunch, read one negative email after another, and quickly realized it simply wasn't worth it. This is my hobby, I had shared a little story about the subject of the news story I was writing about, and suddenly I was under attack. That prompted me to do something I haven't done in 9525 entries over 7 years. I deleted the story about Rick Hodge.
Six weeks later, I'm working with Rick Hodge. Rick's got some time on his hands and things he wants to share, so he'll soon be blogging up a storm at TheHodgeBlog.com. I'm setting everything up for him now and will soon be teaching Rick how to be master of his domain, so to speak. One of his first entries will be about the move from CHUM FM to EZ Rock / CFRB 1010 and he'll also address that paragraph I deleted.
You really never know what's around the bend.
---
On the weekend, I wrote about movies I loved in 2009. As promised, here are movies I gave 5 or less out of 10 a.k.a. movies I hated in 2009.
---
We had a little contest. Name your favourite tee shirt form Pucking Hilarious and you win the shirt. I had two shirts to give away, and they're going to...
Patrick (who prefers the Sad Habs shirt) and Andrea (who prefers Hackey Night). I've written you both emails to find out size, colour and shipping address.
Today is the last day to order Goal Scores You and Sad Habs, so click over to http://www.puckinghilarious.com/ to buy one of each. NHL 94 and Hackey Night are still available and will soon be joined by new designs. I got a sneak peek at Puck Man and it's great.
Congrats to the big winners!
---
When the Leafs play on CBC, Joe Bowen calls the game for radio. When Joe Bowen is calling the game for television, Dennis Beyak fills in. Both call fine games. That's how we roll in Leafsville.
Florida Panthers games are called by a cat named Randy Moller. After each goal, he drops a pop culture nugget that has to be heard to be appreciated. Randy Moller, I love you.
[via Metafilter]
---
There I was at the Air Canada Club, an hour before tipoff and enjoying my pasta, when the Gatorade guy told me why I was there to watch the Raptors and Celtics from the very first row. It's called "Experience G"...
"Experience G" will give sports fans the opportunity to score some unforgettable major league experiences - from court side at the Raptors or rink side at an Oilers game, to field side at a Bombers game, there will be tons of sporting events to choose from.

Fanatics can qualify by becoming a fan of the soon-to-be-launched Experience G Facebook page and uploading a video of themselves completing a specific a challenge that tests athletic ability and will to win - this could be anything from showing their best game face, touchdown dance or slapshot to a three point shot or crazy ball-handling skills. Tickets to sporting events across the country are available, so there are lots of chances to win.
I looked the guy from Gatorade directly in the eyes and asked him the big question. "Will this social media campaign at any time imply that we're cheering wrong and tell us exactly how to cheer?"
I'm promised there will be no cheer. This chant-less campaign is already 100x better than That Damn Pepsi Cheer as far as I'm concerned. And I'm not just saying that because they bought me lunch, let me order anything throughout the game on their tab and gave me first row courtside seats to see the Celtics.
It's better courtside. I was courtside before, but not first row. It's completely surreal and you get to enjoy the game within the game. I'm talking about all the trash talking, especially from the always hilarious Rasheed Wallace. Wallace killed us all afternoon and wasn't shy about replying to our heckles. When one loudster told him he sucked, his instant reply to us all across from the Raptors bench was "thank you very much".
Kendrick Perkins was also a treat to watch. At one point, he told us to "eat a dick". You don't get such demands in the Sprite Zone.
Although the Raps did pull within four with a couple of minutes to play, we trailed wire to wire. That's okay, because I had the best seat in the house. Check out these pics.
---
Tied 1-1 in the second period, Alexei Ponikarovsky was awarded a penalty shot. I saw it, you saw it, it happened.
It never happened. Instead, they determined that Sergei Gonchar had scored 13-seconds earlier. There's a rule somewhere about scoring two goals on the same play, so the penalty shot was cancelled.
This, in a nutshell, is the life of a Maple Leafs fan. We're tied with the defending Stanley Cup champions and fighting tough, about to get a penalty shot, but instead the puck is dropped at centre ice and we're down 2-1.
The sad thing is, I'm rather used to it by now. Of course Wallin missed that open net! What did you expect him to do? Score?
---
I almost made it two whole days without writing about that damn Pepsi cheer. I really don't understand how it got out of the design phase. Why would Pepsi insert itself awkwardly between Canadians and hockey? Coke would know better...
Case in point: eight years ago, Coke ran an ad campaign to align itself with Canada's cheers for Team Canada. Where Pepsi chose to tell us we were doing it wrong, Coke told us we were doing it right. Here's a Coke ad from 2002 that the Pepsi Canada marketing executives should have watched before agreeing to the national embarrassment that is Cheer Nation.
They say there's no such thing as bad publicity so long as they spell your name right. I strongly disagree. This Pepsi campaign couldn't have gone worse, and the moment I saw the first ad I knew it would fail. The backlash against Pepsi amongst this nations millions and millions of hockey fans will be felt for a long, long time. In fact, every time my team loses a game, and as a Leafs fan that's all the time, I now blame it on that damn Pepsi cheer.
But that Coke ad is pretty good. They seem to get it. Pepsi should take notes.
Other Toronto Mike Pepsi Cheer Rants:
---
This is everything you need to know about Lost in 8:15.
It's a smart refresher before we start season six.
---
I'm submitting a song for SLS23 consideration. I'm submitting "Brothersport" by Animal Collective.
This isn't just a great song, it's a fantastic video. I dare you not to love this.
---
Art Clokey was 88. He was a pioneer in the popularization of stop motion clay animation, creating Gumby and Davey and Goliath.
---
I have an idea that will instantly improve our hockey club. Let's stop playing the Buffalo Sabres. We've now lost 10 in a row against them, going 0-5 this season.
I have another idea. Let's stop spotting the opposition a two goal lead. For the 23rd time this season, we were down 2-0. I know it's fun to storm back, but sometimes you fall a little short.
If my two ideas are implemented, I guarantee a race for 8th in the Eastern Conference.
---
I review every movie I see, giving them a score out of ten. You can read every one of my reviews at https://www.torontomike.com/reviews/.
Here are movies I saw in 2009 that earned 8 out of 10 or greater.
Tomorrow I'll look at movies that earned less than 5.
---
There's a whole bunch of chatter about Jay Leno's 10pm show getting chopped and Leno going back to 11:30 once the Olympics are over. That slot currently belongs to Conan O'Brien. I'm not sure what that move would mean for Conan.
Here's something I wrote six years ago about Conan O'Brien.
I have nothing but positive feelings about Conan O'Brien. I knew him first as a writer and producer of some of the funniest Simpsons episodes ever. He wrote Homer Goes to College and Marge vs. the Monorail, two of my personal favourites. As a late night talk show host, he's certainly one of the best. My brother Steve and I made it a point to stay up and watch Conan during his first few seasons. This was a time when it was perfectly reasonable for me to go to bed at 1:30 in the morning. Conan O'Brien is directly responsible for a great deal of the laughter I have expunged throughout the past decade.
The next year, my brother Steve and I watched Conan tape his show at the Elgin Theatre. You might remember that infamous episode as the one in which Triumph the Comic Insult Dog took a poop on French Canadians. Good times...
When Conan moved to 11:30, I decided to record each episode in an attempt to recapture some of that funny I remember from Conan and Andy. After about 20 episodes I stopped watching. Conan seemed to lose something when he went to 11:30. He lost that quality that made him so much funnier than Jay Leno. It wasn't the same show I once loved.
By watering things down for an 11:30 Leno loving audience, Conan lost his way. He no longer appealed to those like me, and he was still too out there for those who wanted Jay Leno. Now he's in limbo.
I wish they'd move him back to 12:30 so I can reset my PVR and enjoy Conan and Andy as I remember them.
---
You know that movie you really, really like that everybody else hates? We all have one. For me, that movie is Dirty Work.
I've always liked Norm MacDonald, so when I learnt Norm was filming a Bob Saget film right in my own backyard, I was pretty psyched. There are scenes filmed all over Toronto, from U of T to the office at Jane and Annette. There's also a fantastic Chris Farley cameo on Annette.
I'm thinking about the hilarious Dirty Work today because Artie Lange is in the hospital recovering from a suicide attempt. I first got to know Artie Lange from Dirty Work, but then got to truly appreciate his talent as co-host of The Howard Stern Show. Artie was always brutally honest about his demons, demons that would lead him to stab himself nine times this past week. According to this morning's Stern show, he's alive and physically out of danger now. Here's hoping he pulls through and find some good in life.
If you want to see Artie Lange and his buddy Norm MacDonald at the height of their powers, watch Dirty Work. I love it and I don't care who knows it.
I friggin' love that fish scene.
---
For a while this past summer, my ring tone was Lester Freamon in The Wire saying "all the pieces matter". It's perhaps that line more than any other in the series that rings most true. All the pieces do matter, and they all connect, but you have to recognize them before you can measure their influence.
I've spent some time these past few weeks attacking Pepsi for their Cheer Nation campaign. If you follow this blog, you're likely sick if me blogging about the Saskatoon article, the Vancouver article and literally starting Twitter wars with panty salespeople. And it's pretty tough to get sick of Twitter wars with panty salespeople.
I wasn't shy with my passionate hatred for that Pepsi campaign, which I now blame for the silver medal. You really couldn't read this blog over the past few weeks and miss it. It became something personal to me, and when a battle becomes personal, you'll sacrifice almost anything to win. @pmcphedran joked that I had killed my shot at getting any Pepsi perks.
A few days ago, I heard from Pepsi. Specifically, I heard from Gatorade, but Pepsi owns Gatorade and this story is better if I say I heard from Pepsi.
Gatorade asked if they could buy me lunch at the Sterling Room in the Air Canada Club on Sunday afternoon. After lunch, they'll give me courtside seats to see the Boston Celtics take on our Toronto Raptors. Of course there's no such thing as a free lunch (or free courtside seats at the ACC), so I'll be hearing about Gatorade's newest promotion at some point. After seven years of blogging, I've got the drill down pat.
This is the slippery slope of independent blogging. In one entry you'll lambaste Pepsi for thrusting the worst ad campaign in Canadian television history down your throat and in the next entry you'll promote their newest campaign while you thank them for the penne putenesca and courtside Raps tix you know you could never afford on your own.
All the pieces matter...
---
Oops.
[via 9GAG]
---
The Leafs fell behind 1-0 for 31st time in 44 games. But you know what's scary? This was the 22nd time they were down 2-0. We've been down 2-0 or more in half of our games.
In this one, we actually fell behind 4-0 in a snoozer of a game. It's tough to come off the excitement of the gold medal game on Tuesday and watch a dog like this.
At least we finally have a legitimate shot at the first overall pick, right?
---
I share an MP3 from my collection every Wednesday. You have seven days to grab this week's MP3. Please right-click your mouse and select "Save Link As..." or "Save target as..." so you can download it to your PC before playing.
Nirvana vs. Lady Gaga
DJ Lobsterdust mashed up Nirvana's "Smells Like Teen Spirit" and Lady Gaga's "Poker Face". It works for me.
---
What was Pepsi thinking? That's what I want to know.
I work in marketing. I'm shocked Pepsi's "Cheer Nation" campaign got off the drawing board. I totally understand why Pepsi would want to associate their beverage with our national game, that's just smart business sense, but asking us to abandon "Go Canada Go" and "Ca-Na-Da" in favour of their awful and insulting chant of "Eh Oh Canada Go" is a horrible, horrible idea. They literally trampled ungraciously and obnoxiously on sacred ground.
Since I wrote Cheer Nation? I'm Not Chanting "Eh! O' Canada Go!" For Pepsi I've been using every ounce of my Google prowess and social media might to defend my nation, our game and our collective intelligence by rallying against PepsiCo and this campaign. I've managed to get interviewed by one major newspaper and an article I wrote got into the hands of the entertainment editor at The Star. Sadly, that article never got printed, but this one in the Vancouver Sun ran today.
'Eh Oh Canada Go' junior hockey chant falls flat

VANCOUVER — While Team Canada's attempt to achieve a sixth straight World Junior Championship gold medal fell to the wayside in overtime against Team USA last night in Saskatoon, at least one sigh of relief was exhaled by hockey fans across Canada as a corporate attempt to hijack a cultural tradition fell flat in its face.

Pepsi's attempt to eliminate the traditional Canadian hockey chants of "Go Canada Go" and "Ca-Na-Da" and re-brand them with the dubious chant of "Eh Oh Canada Go" was received with little fanfare before the tournament and by the gold medal game, the corporate takeover was stopped in its tracks as 13,000-plus loud, passionate fans kept to the traditional "Go Canada Go" chant.

Pepsi is a sponsor of Hockey Canada but not the Olympics and decided to get in on the pre-Olympic hockey buzz by creating a marketing campaign asking Canadians to create a new hockey chant.

The hockey gods cringed, as did fans across Canada.

The corporation's bid to get one million people to sign up for "Cheer Nation" has only garnered 93,876, many of whom were enticed to sign up because Pepsi said it would temporarily display a list of their names in the Hockey Hall of Fame.

Pepsi's Facebook page has 133,000 fans, although that may be deceiving since most of the latest messages on the page seem to reinforce what many are calling a marketing disaster.

"I became a [Facebook] fan of this just to say how stupid it is. No company is going to tell me how to cheer. I don't need a sports cheer marketed," wrote Facebook member Jeff.

Meanwhile, the recently created "Eh! Oh! Canada Go! chant is a national embarrassment" Facebook page has 30,000 members.

And on Canucks.com, one fan created a forum discussion demanding the Pepsi chant be boycotted.

While Pepsi said the chant had "landed in Saskatoon" it was barely heard, if not for the parachuted Pepsi employees who tried (and failed) to launch the chant inside the arena.

During one commercial break in a previous game the chant's creator Joan Buma was introduced while a small group of "fans" chanted the cheer and a Pepsi cheerleader waved a Pepsi flag up and down the aisles. To Pepsi's credit one boy (presumed not to be paid by Pepsi) did stand up and bravely cheer the Pepsi chant for the camera.

Fans posting messages on online hockey discussion forums, such as NHL team websites and HFBoards.com, condemned the chant, with all due respect to Buma.

"I trust the Pepsi chant will die the early and inglorious death it deserves," said one member on HFBoards.com.

Bloggers also derided the corporate gimmick.

"Toronto Mike" said on his popular blog that the premise that Team Canada fans needed to be united was "faulty," and that fans are not corporate "sheep."

By the gold medal game there was seemingly nothing left of the chant other than the continuous bombardment of Pepsi commercials on television. The cheer wasn't necessarily boycotted, rather it was simply ignored and died an inglorious death.
I'm claiming victory. This campaign will go down in history as one of the greatest miscalculations in Canadian marketing history. We Canadians are a tolerant bunch, polite and passive at times, but when you come in our backyard and tell us how to cheer for our national hockey team, we get pissed. And you don't want to see a Canadian pissed.
That damn cheer has indeed died an inglorious death. We won!
---
My buddy Kic is a big Raptors fan, so I asked him to chime in on the Raps periodically.
Here's his mid-season report card for our Toronto Raptors.
Mid-season Grades

Hey Raptors fans! I know it's been a while since I last blogged about our beloved Raptors team, so I thought I would give out some mid-season grades on the team so far.

Many fans feel that the team has underachieved again, great team on paper, won't make the playoffs…..blah blah blah. But honestly the Raptors, who currently sit in 6th place in the Eastern Conference at 17-18, are exactly where I would have placed them at this part of the season. It's been a tough schedule for the Raptors so far, many back to back games, many road trips and a lot of tough Western Division teams played. But fear not my trusted Raptors fans, this is where the schedule gets a little easier for us. We have yet to play the Knicks this year, plus we still have a handful of games against the lowly Nets.

I find it quite fitting that the Raptors play the Magic next, especially since CB4 just passed Vince to become the all-time Raptors scorer. Personally, I feel that us Raptors fans need to stop booing Vince. I know that many fans will persecute me for mentioning this, but don't we owe Vince credit for the Raptors franchise? He was the guy who wore that Toronto jersey as he turned heads at the slam dunk contest years ago. Not only did this put Toronto on the map for basketball, I started seeing Carter jerseys in music videos. I still think we have a franchise because of Vince and I will still proudly wear my Carter jersey….and stop booing him.

So here are my grades for the team so far:

CB4 = A (an absolute beast…..and he'll only get better)

Bargnani = B+ (really starting to pick up his game and now that December is over, so should the slump)

DeRozan = B (limited minutes, however, very exciting to watch him play this year…he is the future)

Turks = C+ (has had some clutch games, however, he needs to get the ball more….hear that Jay)

Calderon = C+ (ya he has flashes of greatness, but man…..he really needs to learn how to play some D)

Jack = B+ (has really looked good this year coming off the bench, I still feel he should start over Jose)

Belinelli = C (has been way too cold this year, still waiting for some consistency. Here's hoping he doesn't become the next Kapono)

I said it before the year started and I'll say it again….this team WILL make the playoffs, and I'm still predicting we make it past the first round.

Looking forward to heckling both KG and Paul Pierce while I attend the game on Sun.
Kic is best known as the bananas guy on that FutureShop ad.
---
I thought it might be wise to get this Leaf recap up before tonight's game against the Flyers. You see, there was another game last night, and this Leaf victory sort of got buried.
What I'd like to see is a PPM look at GTA viewers of this game. If they're anything like me, they watched the entire first period and then got completely absorbed by the Canada-USA junior final.
Sobering fact of the day: Phil "The Thrill" Kessel has only one point in his past 10 games.
---
The last time I wrote a World Junior Hockey Championship game recap without Canada winning the gold medal was January 5, 2004. I titled that entry "Silver Sucks".
Since then, we've won five straight gold medals and silver still sucks. Tonight we lost, but not before coming back from a two goal deficit with only a few minutes to play in the third. It was another Canadian comeback, with an unfortunate change in the script. The good guys lost.
In my desperate search for a silver lining, I think I found a good one. The last time Canada didn't win the gold in this tournament, games like this were also taking place. Yes, the Toronto Maple Leafs were a playoff team.
Follow the logic... In 2004, Canada loses the gold medal game to the USA and the Leafs make the playoffs and beat the Sens in 7. Canada goes on to win five straight medals and the Leafs fail to play another playoff game.
Maybe this is a good omen?
---
Canada, your junior team needs you. It's 2-2 in our gold medal game against the USA, after one period. We're gunning for #6 in a row.
Come on CANADA!
---
Lost is the only network drama I follow. We're about to begin the sixth and final season and I'm pretty psyched about it.
As per FCC regulations, the cast of Lost has appeared in The Last Supper positioning. Here's that great new promo.
Click image above to see it super sized.
Of course, The Last Supper was originally painted by Leonardo da Vinci. You can see that original 15th century mural painting below.
The final season premieres on Tuesday, February 2, 2010 at 9PM.
---
Up in the Air: 8 out of 10.
I've heard from a few trustworthy souls that this is a perfect movie. It's not that good. Don't get me wrong, I'm giving it 8 out of 10 because... well, because it's lovely, but it's far from perfect.
Then again, it does have a Young MC cameo.
What I really liked about Up in the Air is the way it makes you think. What's in your backpack? I've got some crackers, an Ubuntu install disk and a copy of Steinbeck's Of Mice and Men in mine.
---
Back on December 12, 2009, Humble and Fred recorded Humble and Fred's Fifth Podcast
It's a good thing we didn't make this Christmas themed, because here it is going live on January 4th. The home page for this podcast, should you want to subscribe to the podcast in iTunes or download the MP3, is https://www.torontomike.com/humbleandfred/.
Enjoy!
Thanks to Acme Pictures for donating the web space, Dan Duran for producing the audio and Bingo Bob and PROUD-FM for donating the studio. Oh yeah, and thanks to Humble and Fred for another hour of great radio audio.
---
I don't know Stephen from Kitchener, but he just sent me a long but heartfelt and passionate email about his disdain for corporate radio and his disappointment in 102.1 The Edge.
It seems he did some Googling and came across my Edge 102 ~ CFNY category page. I think he read all 130 entries there.
Here are Stephen's thoughts. It's a fascinating read if you have 30 minutes.
Hi Mike,

Going to be somewhat of a long e-mail here. Name's Stephen, 24, from Kitchener. I've listened to radio for years, and while I would like to call myself a long time listener of The Edge, I really can't back that up. Sad to say my good musical tastes grew too late and by the time I started tuning in to CFNY, around 2003, its glory years were long past. Although one thing I can mention through reading your various articles and reading the Wikipedia page on the station – is that there are many generations of fans that "abandoned" the station every couple years to changes, etc. Everyone has a time when CFNY meant something to them, and then hated where it went, and gave up on it. However I feel I have come of the heels of the final "nail in the coffin" pertaining to CFNY's hey-days. I'm the generation that grew up with Bundell, Dye, and Bookie. I can never really call myself a big fan or listener of the station, because most of the time when I was 18/19 I listened to then new (in my area) DaveFM (which I have now grown to hate) and other stations. In recent years I've switched more to my own personal collection through an mp3 player. What radio used to have was a sense of community; everyone listening to a song at the same time around an entire city, and enjoying it. That is now lost on the iPod generation. It's good and bad in its own right. It was creepy last time I was in Toronto, I was stopped at a light and casually looking out my window to see an epidemic – almost every person that walked by on the sidewalk had earbuds. All tuned out in their own world with their own personal music tastes and playlists. This will be the death of radio in coming years, and I say that's fine with me.

Anyway, every year I usually check out The Edge's Top countdown for the year (in this case the Top 200 Songs of the Decade), and for whatever reason Martin Streek's death popped into my head again. I went to see if their memorial page was still up on the station's website, and it was. At least they didn't erase him that fast this time. I first heard of his death on the Dean Bundell show, and was pretty shocked. Of course as soon as I heard he was let go, I put two and two together quickly, although that will forever be up for debate (as to why he did it). I was too young to really experience anything relating to him (never really listened to his live shows), and also never lived in Toronto, but I did notice right away a different voice on the radio on Thursdays nights, and no 4:20 thought when Barry was supposed to be on. It would be wrong for me to say I listened to Streek a great deal, but today I really realized than damn, we lost a great personality.

So yesterday, I got largely derailed from other projects and spent a good six hours going through video clips, Wikipedia entries, news articles, and a lot of blog entries covering the subject. I originally found your Streek bits when he died, but today I found there was a lot more written about him and the Edge in general, so I got to reading. I found out a lot more today about him, the station, and also browsed other articles about the death of MuchMusic and TheNewMusic program (you know how one link always leads to another!), a show I vaguely remember being aired by MuchMoreMusic. I know I'm only 24, but my love for retro music started very early, moreover for Canadian artists that outside of Canada, are virtually unknown anywhere else. It really ticks me off more people don't know more about our music, because in this internet era bands get picked up on fast. Back in the 80s, this wasn't possible for bands like Rough Trade or Pukka Orchestra or Chalk Circle or Martha & The Muffins.

I read somewhere in the comments in one article that radio DJ's are never supposed to air the stations dirty laundry when it comes to the letting go of other DJ's. Like they are helpless, and can't say anything on the phone or in passing conversation to anyone. What tripe. There has been many times when I have suddenly discovered a morning show or people gone missing, and suddenly it's like they never existed! No one talks about it, no one replies, why can't radio just be honest? Talk about the departures. The Edge did celebrate Streek, but there was no reference that they fired him, and the casual radio listener would never know that. It really ticks me off because they kissed his ass on air, but did they actually defend him when they found out he got canned? Or did the other staff just brush it off as "business" not caring he was the last link to the old days? It's a farce, because if you as a DJ gain a fanbase in your area, people want to know what happened to you if you left. I say good luck in trying to keep peoples mouths shut now, in the age of Twitter and Facebook. I loved the juicy article on Barry Taylor's MySpace page (I miss him too). Man if there is one thing I hate, its how corporate radio has become. It's all about the mighty buck. I could rant on and on about this, but its true. I may have not even been alive when radio was actually "radio" and formats were free and it was about "the music", but I do know for sure there was such a time – when DJ's had a lot more say and stations weren't so geared to play "what was popular" or "run more ads" just to make some revenue. I don't know where my mails are, but I appreciate Alan Cross for being the only person at CFNY at the time to actually reply to my e-mails. He was Program Director back then, and I even bitched at him when the 102.1 The Edge's website got a major revamp and looked like every other radio site out there! It was days before I discovered pretty much every station around K-W, etc, is owned by the same damn company, Chorus, and it makes me sick because there is no individuality anymore. All stations have the same working and looking website, and I noticed each station boasted the same "back in two minutes" branding with their ads (which got so annoying after a while I just wish the DJ would stfu about it). It was enough to make me sick. Where do you run and hide when every station is controlled by the same higher power? If I ever do find those e-mails I'll forward them to you, as you seem to be the guy interested in such stuff.

I noticed the change when Winters came in. Oh man, you know how annoying it is when I drive to work, listen at work, drive home, drive to the mall, drive to bowling, etc, and I hear the same damn song all the time in one day! I remember days in a row where I would here the exact same promo featuring like five songs in three second segments (one of which would be the song they play next), and I always bet right what song that would play next. I grew to hate MGMT's "Kids" this way (they still overplay it!). I hated "Civil Twilight", and that new City & Color song, and several Linkin Park and Foo Fighter songs. I liked "Check My Brain" from Alice In Chains until they killed it. They completely left the first single, "A Looking In View" in the dust (7 mins long), and the third single is having a hard time because they keep playing "Check My Brain". Don't get me wrong, I like some new stuff and listen to The Edge in hopes of hearing something new I'll like (like the new 30 Seconds To Mars "Kings And Queens"), but at its peak, "Sex On Fire" from Kings Of Leon was being played more than seven times a day, and I e-mailed the Edge on it. I've mailed them several times about their playlists, never got a reply. When they made it "the 90s nooner", I thought this was a chance for them to play really "out there" stuff we hardly ever here – its almost the same damn songs I hear every two weeks! Much like the "oldschool lunch" on 91.5 The Beat, they repeat the same rap, r&b and disco tunes. Playlists are too skimpy these days (all stations), with older songs always being erased. And if your song wasn't a big "chart" topper it when it was big, chances are you'll never hear it again on radio (save for some exceptions). When I look at the old year end music lists from the 90s, some of the stuff you never heard anymore on The Edge! 1980's stuff these days on The Edge? Forgetaboutit. (Last time they played old stuff was when they did a Top something Canadian countdown). There was a time when that stuff was new and "the now", but now you hear some of that really old stuff on variety stations and such, deemed for much older audiences. A song like "High School Confidential" or "Echo Beach" or "Nova Heart" has a greater meaning and value being played on The Edge…when you hear it on some retro mix station with "softer" or more "mainstream" hits, it doesn't make the song even sound as edgy as it used to, compared to the rest of that other station's playlist. It loses its meaning. I hope you know what I mean. Some of The Edge's classic playlist is considered "retro 80s oldschool" for parties and such, not "ground breaking" and "new" like it was. And even now, those retro stations like DaveFM (who changed their format to all rock now, like we need another 35-55 demo rock station in these parts), don't even play a lot of 70s/80s Canadian songs anymore (because they aren't "rock")! There was an entire period from 2003 till 2008 when a lot of older Canadian stuff still got airplay (on a lot of stations not just DaveFM), and now I find the dates on some of my Canadian mp3's to be from a time when radio played (and I discovered) a lot of good music, because when I look at these files names, I realize NO station ANYWHERE is playing this stuff anymore. Its long forgotten, save for Youtube.

I laughed when I read Barry got in shit for "talking too much about music". Are you serious? It's a radio station! And of course I was appalled to see "Top 40 with Grunge" mentioned. As if The Edge only ever played stuff past 1990…well now I guess that is true…as they almost never play stuff from the 1980s. By 2010 standards the 80s are as ancient as the 70s, leaving the 90s and early 00s to nostalgia over. The same thing happened to 91.5 The Beat here. It started off as a real R&B rap station, but after that "didn't work", they went to Top 40 shit. I really wonder who is to blame. The corporate companies, or the brain dead young kids these days that really don't know shit about GOOD music. I'm so glad I strayed from the "pack" at an early age…then again, I still think pop music from my day was better then the auto-tune no talent hacks of today. The Edge has lost its identity, and the current company is succeeding in making it another mindless station that will please "casual" fans of radio. It is conforming to "the system" it once rebelled against. I wtf'ed when I first heard AC/DC and Guns N Roses for the first time earlier last year. Seriously? Old rock and hair metal? This isn't 107.9. And even IF The Edge plays a lot of Canadian talent, its overshadowed by mega popular bands like Green Day, Linkin Park, and Foo Fighters. We will hear these bands forever until the day we die, lets hear something else! I keep finding old CFNY CD's from the 90s at Value Village, I wonder if I should have picked them up now! So I can learn more about what the station was back then.

When Fearless Fred came in and I saw Bookie get bumped to late nights, and considering how long Bookie has been there, I would not be surprised if he was handed an envelop too. Such a cold way of doing it, too. Like for Streek – 25 years, no goodbye party, just "fuck you", you're on your own. I can't stand Fearless Fred's voice. He sounds scatterbrained, cocky, childish and I agree with people calling him the poster boy for the literal and figurative death of quality radio. I had a good laugh that you and I shared the exact same mind on who he sounded like – the stoner/slacker character Jude from 6Teen. I sometimes forget its Fred and think it's that character's voice actor. Fred himself does not have a good voice for radio. Some are made for this profession, others are not. I cringe listening to him, but I have no other good radio anywhere else, save for Conestoga College 88.3, but for a year now their reception has been garbage even in local areas and I don't know why. To quote someone in the comments, "Terrestrial radio in North America (and maybe elsewhere too) has for decades been on a path to commercialization, homogenization, calcification, whatever descriptor you like." That is so terribly depressing. Radio once meant so much to one generation, and now it just means "sell-sell-sell" more products. 102.1 The Edge really needs a spin-off station for its older fans. I believe something of that nature would do well considering the large CFNY fanbase.

Mr. Taylor says that he and Mr. Streek made it clear around the office and on the air that they were not happy with the decreasing diversity of the music they were being asked to play. It was a long way from the mid-eighties, when, under Mr. Marsden, listeners were promised $1,002 if they noticed the same song being played more than once in 24 hours. The official limit now is 7 times in 24 hours.

Wow, compared to how it is now, this seems so unreal. Back in the days before online listings too!

From what I've gathered on Streek, he was very passionate about his work and I'm sure thought he would spend all of his days at The Edge. I could not believe he got a tattoo of them on his glute. Some people may deny the fact his taking his own life was solely related to his job, but damnit, I believe a good portion of it was. Could you imagine, during a worldwide recession, at a job you had for 25 years where you thought you had job security and were "up in the totem pole", you get let go just like that? Not even a heartfelt goodbye, just gone. Erased from the website and memory and kicked in the ass. "We got what we wanted out of you for 25 years, now you don't fit the bill for the current times, see ya!" *door slam*. I bet he file horrible, like no one even cared or acknowledged his years of service, a job he had right out of high school. Suddenly at 45 you are left without an income.

"You're the only person who ever interviewed me for a job," he said. "I don't know how to interview for a job."

Poor guy. And he was still active, even up to the point of his "demo". I wish I knew what went on in his head in those two months. As you stated, "his state of mind had him convinced he'd be better off dead. At the end of the day, this is the shittiest fact of all." Too true.

In closing, I'd like to mention after reading all of what I read, I have a real dislike for Ross Winters. And I was actually surprised he replied back to me in July when I ranted a long e-mail to him about Steeks death. I went on to say I was pissed they let go two great DJ's, and straight out said he took his own life because he got canned, and asked if he meant anything to "you people". I told him you should feel ashamed, and honestly said with the downfall of terrestrial radio, I only listened to the Edge for its morning show. It is true, after getting fed up with local stations and this station, since April 2009 the shop I work in has switched over to my iPod, and its a lot more satisfying making a playlist for the shop putting on songs people want to hear (uncut and uncensored too). I stated I wouldn't listen anymore after Streeks suicide, but I admit I still do, but hardly as much as I used to. I stated the quality of the station had been going down for years, and went worst when Cross left. I also mentioned he was getting rid of DJ's because they were too old and said I bet Bookie is next, but I could be wrong on that one. I said I may have considered a career in radio but after seeing the bullshit The Edge became, I'd reconsider. It's all about turning a profit, not about the music, etc. And after these events, seeing your station as a cold, heartless place that does not give two shits about their important employees. What he said:

Hi Steve, thanks for your email, you make a lot of comments on things that you really don't know about, and unfortunately I can't comment on everything. This is a very tough week at the edge. You can bet that the edge cares deeply about its people.

I don't know how much of that he made up, or how much is heartfelt, after reading everything I have read. Keep up the great work on your blog!

-Stephen
If you have something you want to get off your chest, send it to me at mike (at) torontomike.com and with your permission I'll post it on your behalf... assuming it's from the heart. Thanks, Stephen, for sharing.
---
If you like funny, you like Louis CK. I'm not sure there's a funnier guy out there right now.
I've been a big fan of his for a while. Heck, I even enjoyed his very short lived HBO sitcom Lucky Louie. From the "better late than never" pile, I finally saw his 2007 HBO comedy special "Louis C.K.: Shameless". And yes, it was funny, but you already know that.
He opened with a little bit "Tell Your Girlfriend I Said Thanks". NSFW!
More Louis CK hilarity:
---
Humble and Fred fans, I know you've been waiting patiently for Humble and Fred's Fifth Podcast. Dan's passed it over to me, and I'm ready to throw it into the wild just as soon as I get Freddie P's final blessing.
I just listened to it, and about an hour in I received some sweet praise from the boys. Here's 1:24 that really spoke to me.
If you need help getting your Web 2.0 groove on, contact me.
---
"Likely" posts over at Pension Plan Puppets and has just launched PuckingHilarious.com which offers "funny hockey apparel for puck heads".
PuckingHilarious.com will give two of you a free hockey tee shirt. The only rules are that the tee shirt has to be shipped to a North American location and to win you have to leave a comment below. In your comment, vote for your favourite of the initial four designs.
I'm assured from a trustworthy member of the Barilkosphere that the quality of the shirts is amazing, screen printed with love and care on good quality shirts. No cheap heat transfers and no big mass producing corporations. Just a graphic designer and a very talented screen printer having fun.
Get your completely customizable shirt now at PuckingHilarious.com or vote for your favourite design below for a shot at one of two freebies. Contest ends Sunday, January 10th at midnight. I'll announce the winners on the 11th.
Now cast your vote for:
Goal Scores You
Sad Habs
NHL 94
Hackey Night
They're all so good, it's tough to pick a favourite. But you have your orders... go!
---
I think we all had Russia pencilled in as our semi-final opponent today, but somehow Switzerland upset Russia and had the pleasure of taking us on.
No problemovitch. It was a fairly easy victory for Team Canada as we earned a berth in our 9th World Junior Hockey Championship final in a row. We'll be playing for our sixth straight gold medal. Now that's dominance.
The final takes place Tuesday night at 8pm against either Sweden or the USA. Bring it on.
---
While I enjoyed this afternoon's semi-final matchup between Canada and Switzerland at the World Junior Hockey Championship, I kept my laptop at bay to take a real-time pulse of the nation. That's why I love Twitter, you're connected to hockey fans throughout the country and can engage and interact as it happens.
Part of my battle against Pepsi and their Cheer Nation campaign involves saving the souls of those Canadians who have bought into Pepsi's program. One such Twitter user is Ms. Mandy Muffin from Mississauga.
From Ms. Mandy Muffin's Twitter profile, we learn quite a bit about her. How do I get me one of them panty seller jobs?
Official Mandy Muffin Twitter Page! Amatuer (sic) Porn Model, Camgirl, PhoneSex Operator & Panty Seller
Before you jump to conclusions, no I don't follow Ms. Mandy Muffin. I do subscribe to an RSS feed of a Twitter search for the keywords "Pepsi" and "cheer" and that's how I found Ms. Mandy Muffin. Check out this trifecta of tweets.
Clearly Ms. Mandy Muffin is Pepsi's target audience. She's bought their awful, unnecessary and offensive cheer hook, line and sinker. Naturally, I felt a need to reply to her micro Pepsi ads.
Ms. Mandy Muffin wasn't happy. She quickly replied.
I'm still confused by her "proud Canadian" comment. Was she suggesting that I'm not a proud Canadian because I don't want her tweeting and chanting for Pepsi? I replied.
And that just riled her up, as she began rubbing my face in Pepsi's cheer.
Luckily for me, I was defended by none other than Mz Kitty Demure who claims it's all about the music, the sports and the burlesque!
And you thought Twitter was for nerds.
---
I'm still a newcomer to the PVR (or is it a DVR?), having only taken the plunge in March 2009.
As you all predicted, it has radically changed the way I watch television. In fact, I don't watch anything in real-time anymore, unless it's a live sporting event. Appointment viewing for all other programming has completely disappeared.
There are two primary reasons for this switch: convenience and ad avoidance. I decide when I'm going to watch The Simpsons or Lost or 30 Rock. We press play when we're ready, and we fast forward all commercials. If it's something we want to watch close to real-time, like the Academy Awards, we start it about an hour after it starts so we can ignore everything television advertisers throw at us.
Some shows we'll watch On Demand with Rogers on channel 309. We're currently going through Jason Schwartzman's Bored to Death that way, but we can pause, fast forward, etc. There are other programs we deem "time sensitive", like Saturday Night Live and 60 Minutes. We try to get to those within 48 hours of airing, whereas I've still got Family Guy episodes from November to watch.
If it's not sports, I don't see the ads. Because I don't see as many TV ads as I used to, I find I'm less tolerant of them. The Pepsi Cheer Nation ads, for example, have me infuriated, and I'm in full Pepsi-attack mode. We'll see if the Star prints the article I submitted.
The PVR must be the worst invention as far as broadcasters are concerned. Their revenue comes from advertisement sales, and the PVR has made ads invisible.
It's just too bad my only defence against that insulting and sickening Pepsi campaign is the mute button.
---
I'm submitting a song for SLS23 consideration. I'm submitting "Just Breathe" by Pearl Jam.
This isn't just the best song on Backspacer, it's the best Pearl Jam single since... since... well, since before SLS, that's for sure.
There's a rule with SLS that the same artist can't be represented on the same issue more than once. Pearl Jam's "The Fixer" was a shoe-in for SLS22, so I couldn't nominate "Just Breathe" until now.
Now you know the rest of the story.
---
Our streaky Leafs are in a nosedive. We're now 2-5-2 in our last 9 games. After our 0-7-1 start, we had a very respectable 9-4-2 run that pulled us back into playoff contention. Now it seems that was all for not.
On the bright side, I felt THE MONSTER was excellent. I don't know why Wilson keeps going back to Tosky. We all know it would have been 7-1 for the Flames with Tosky between the pipes.
---
There were 2,155 sources of traffic to this site in 2009. #1 was Google and #2 was Yahoo. That's search engine traffic, and important, but this entry isn't about search engine traffic. It's about other sites that sent visitors over here throughout the year.
Excluding Google, Yahoo and Bing, here are the top ten sources of traffic to TorontoMike.com.
Inbound links are always appreciated, and whenever possible reciprocated.
---
It's 01-02-2010. It reads the same, from left to right, as it does from right to left. As we all learnt from The Simpsons, that's a palindrome.
Bart: "Hey, where's Otto?"

Skinner: "Now there's one palindrome you won't be seeing for a while."
Update: By popular request, here's They Might Be Giants with "I Palindrome I".
Happy Palindrome Day.
---
The Kleptones "released" one of my favourite albums of all time. I almost wrote "favourite mash-up albums", but that's not true. A Night at the Hip-Hopera is one of my favourite albums overall, just like Girl Talk's Feed the Animals was my favourite album of 2008.
The Kleptones have a new album available for download here. It's called Uptime / Downtime and I'm downloading it as I type.
Here's the cover art. Do you recognize the city?
---
According to Google Analytics, here are the top ten keywords that brought people to this site in December 2009.
rick hodge fired
country 95.3
sandra rinomato breasts
party playlist 2009
party playlist
toronto mike
boom 97.3
roy halladay ad
party music playlist 2009
big shiny tunes 2
In December, people were looking for Rick Hodge, wondering what happened to their country music station and catching wind of the new Boom 97.3 on Boxing Day.
And the search for Sandra Rinomato's breasts continues...
---
Chris Cornell wrote a very sweet tweet that excites this Soundgarden fan. "The 12 year break is over & school is back in session. Sign up now. Knights of the Soundtable ride again!"
Back in October, Soundgarden appeared on stage together for the first time since '97 during a Pearl Jam show at the Gibson Amphitheatre in Universal City, CA. And now I'm getting my New Year's wish and a true reunion. It's time for new damage.
---
Freddie P finally wrote about Stephen Harper's request to prorogue Parliament. Fred's got a hard on for Stevie, anointing him "the rational man" no matter what he says or does.
Fred's entry opened with a direct shot at yours truly. "Check out the crap going on over at Taliban Mike. I really don't know where to begin with this stuff."
That's right, Fred called me Taliban Mike. To prove a forced point, he's comparing me to that fundamentalist Islamic militia. It's a remarkably offensive stretch, but I know Fred's just playing shock jock. I'm not alone in my opinion of Harper's latest insult to democracy.
I'd like to address one commenter over on Freddie's entry. It's by Dial Twister and he/she asks:
Either you're quite willing to throw your (former?) friend, Toronto Mike, under the bus, or the two of you have a publicity pact going on.
Firstly, there's no publicity pact here. I found out about "Taliban Mike" when it showed up in my Google Reader. As for throwing me under the bus, he's done it before. We disagree fundamentally on so many things but it never messes with our friendship. His politics are a little far to the right for my liking, but he's good people and I love the peckerhead.
And no, there's no truth to the rumour that I'm keeping Humble and Fred's Fifth Podcast hostage. Dan Duran is the bottleneck there, I swear.
---
I was psyched for this one. Last New Year's Eve, I had to write an entry during the second intermission entitled "Bestest Game Evah!". In that game, the USA was up 3-0 before we stormed back. I just knew we were in store for another doozy.
Grandma came over, pizza was ordered and we were an hour from puckdrop. That's when my carefully planned New Year's Eve was thrown a curve ball. My son's stomach pain returned, pain he's complained about off and on for four days, and we decided I'd take him to the emergency room to rule out appendicitis.
We actually watched the first period of the game from the paediatrics emergency waiting room at St. Joe's. I pissed off a handful of sick kids when I turned the station from Treehouse to TSN. I stand by my decision.
We eventually saw a doctor who ordered an ultrasound for 9am this morning. James gave some blood and we headed home to watch the end of the game. With only ten minutes to play in the third period, and our beloved Team Canada down 4-2 to the Yanks, I fed the kids a promise. If Canada lost the game, I'd sleep outside.
Michelle loved that idea, and it perked up James as well. My wife and mom both thought I was crazy, because when Canada lost and I didn't sleep outside, I'd be revealed as a fraudster. I, however, have seen enough Canadian hockey to know we'd find a way to win. I had no doubts.
The rest is history. Jordan Eberle notched his second of the game to cut the American lead in half and Alex Pietrangelo tied it with a short-handed snipe with 4:15 remaining. Then, after overtime, our shooters were perfect in a shootout, which included a complete beauty by Future Stanley Cup Winner Nazem Kadri™. The good guys won in the end.
Here's the complete shootout. Kadri's goal is at 1:08. Awesome.
And I didn't have to sleep outside. The boy has since had his ultrasound and after a few more hours at St. Joe's we got the all-clear. He doesn't have appendicitis.
What a comeback! Happy New Year indeed...
---
Want more Toronto Mike blog entries? Visit the archives.