Toronto Maple Leafs
---
---
I've been blogging here for 14 years, and during that time there were some pretty low times in Toronto sports. Just four years ago I wrote this about the new bottom for Toronto sports teams. Things were very, very bad for the big five.
In 2016, things got a whole lot better. In fact, there's something great to report about every team in the big five not nicknamed the Argos. Although we didn't win a championship, we were close!
Toronto FC
Ten years after their birth, TFC hosted the MLS Cup final, losing a heartbreaker to Seattle. That second leg against Montreal in the semi-final was absolutely thrilling.
Toronto Blue Jays
For the second year in a row, the Blue Jays played in the ALCS. Unlike the hype train of 2015, this didn't seem likely in September as we sputtered into the playoffs, but an Edwin walk-off against Baltimore in the wildcard game and a sweep of the Rangers in the ALDS helped recapture the joy of the previous year.
Toronto Raptors
For the first time in franchise history, the Raptors won a best-of-seven playoff series. And we did it twice! We even took two games against Cleveland in the conference finals, making this far and away the best Raptors season, ever.
Toronto Maple Leafs
Last season, the Leafs were bad. Very, very bad. This is a good thing, as it helped us land Auston Matthews with the first overall pick in the draft. Now, with Matthews, Marner and Nylander, the future actually looks bright and the present is a lot of fun, too.
Toronto Argonauts
Let's not ruin this entry with an Argos update.
In addition to successful developments for the big four teams in this city, Toronto hosted the Grey Cup, World Cup of Hockey and World Juniors. 2016 was a very good year for Toronto sports. Let's hope for a championship in 2017.
---
As a Toronto hockey fan born in the 70s, I idolized Wendel Clark. You'd be hard pressed to find a Toronto hockey fan born in the 70s who didn't. Here's something I wrote about Wendel almost 10 years ago.
I will never forget the 1985-86 post season when we swept the Chicago Black Hawks in three games. That was when my brothers and I first broke out the Diet Coke. You would have thought we had just won the cup. Wendel was our leader and a member of The Hound Line with Russ Courtnall and Gary Leeman. We took the St. Louis Blues to a seventh game before bowing out. We went just as deep the next season, too.

Wendel Clark scored the overtime winner in the greatest game I ever saw. My brother Ryan proudly wore his #17 jersey and we all suffered during his long periods of inactivity due to injuries. Clark was our guy and pound for pound the toughest player you'll ever see playing the game. Doug Gilmour remains my favourite Leaf, but Clark was the definitive Leaf.
Last night, I had an opportunity to meet #17. His new book Bleeding Blue is coming out, and there was a little get together at Maple Leaf Gardens to commemorate the occasion.
I got a photo and some time alone with him. We primarily discussed the fan-created All Heart tribute video I've been enjoying for the past decade. Wendel knows about it, Wendel loves it and I was able to fill him in on the origin thanks to some excellent sleuthing by Down Goes Brown. Wendel seemed genuinely interested and as humble as I'd heard.
After our five minute conversation, others wanted his attention. After four years of having such people I admire visit me for 60-120 minute one-on-one conversations in my house, I think I've become conditioned to expect that. But no, I chose not to invite Wendel to my house. I saved that imposition for Ken Reid.
I've had an advance copy of Bleeding Blue for some time now and I love the stories. It really is an ideal holiday gift for any Toronto hockey fan born in the 70s.
---
Prior to yesterday's home opener against the Boston Bruins, the Toronto Maple Leafs had only retired two numbers:
#5 for Bill Barilko
#6 for Ace Bailey
The number of retired numbers has now bloomed to 13 with the following additions:
#1 for Johnny Bower and Turk Broda
#4 for Hap Day and Red Kelly
#7 for Tim Horton and King Clancy
#9 for Charlie Conacher and Ted Kennedy
#10 for Syl Apps and George Armstrong
#13 for Mats Sundin
#14 for Dave Keon
#17 for Wendel Clark
#21 for Borje Salming
#27 for Frank Mahovlich and Daryl Sittler
#93 for Doug Gilmour
Only one current Leaf had to switch numbers to make this possible, so James van Riemsdyk scored his goal last night as #25 instead of his old #21.
Here's the excellent ceremony you likely missed because you were busy being frustrated by the Jays game. It gives you a chance to hear the Leafs' new PA Announcer Mike Ross as well.
---
Auston Matthews made his regular season NHL debut last night in Ottawa and scored four goals.
It's the first time in the history of the NHL that a player scored four goals in his first game.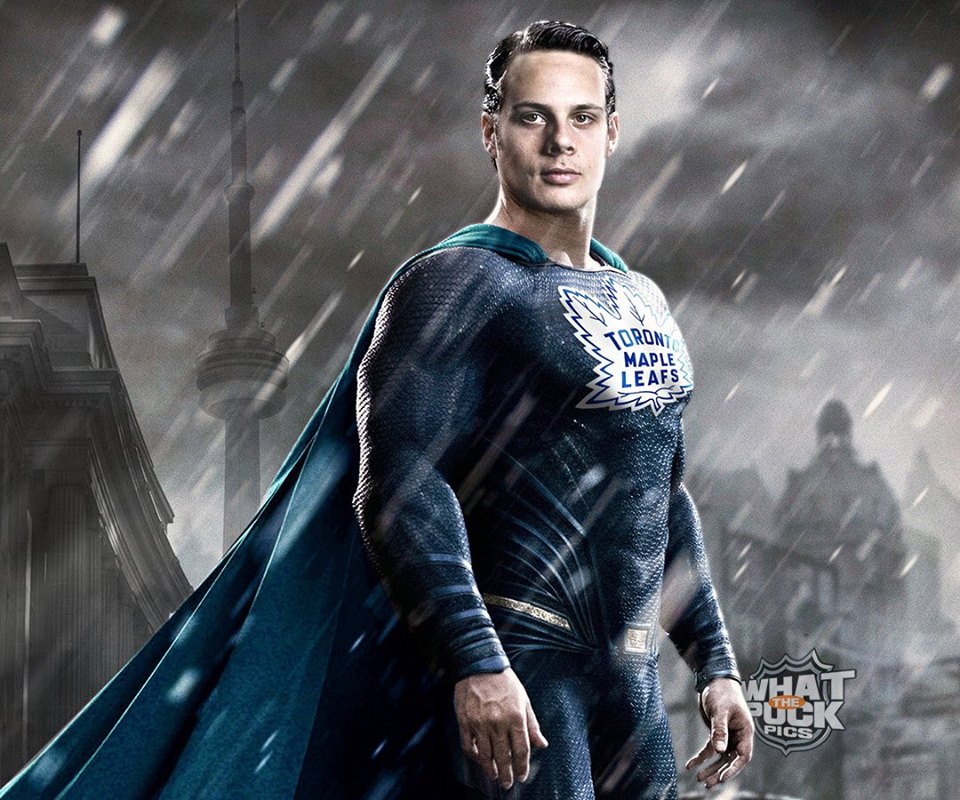 And that, ladies and gentlemen, is how you make an entrance.
---
In the world of professional sports, I'm focused on the Jays vs. Red Sox this afternoon. A win and we'll host the wild card game Tuesday. This is a big game.
I was just biking with my two older kids and we were chatting about the Jays. My 14-year old son is more excited about Auston Matthews' debut with the Leafs tonight. My daughter will "follow" the game on Instagram. This led to each of us ranking Toronto's big 6 teams in terms of personal preference.
My 14-Year Old Son's Rankings
Leafs
Raptors
Jays
Marlies
TFC
Argos
My 12-Year Old Daughter's Rankings
Raptors
Leafs
Jays
Marlies
TFC
Argos
Straight from the mouths of babes, as they say. Despite the fact I watch most Jays games and talk about the team often, the team is a distant third on each of their lists.
You can lead a horse to water...
---
---
Frederik Andersen has been traded to the Maple Leafs in exchange for the 30th pick in the 2016 NHL Entry Draft and the Leafs 2nd round pick in the 2017 NHL Entry Draft. The Maple Leafs promptly signed him to a 5-year extension.
From TSN:
Andersen posted a 22-9-7 record with a 2.30 goals-against-average and .919 save percentage in 43 games last season with the Ducks. The 26-year-old also went 3-2 with a 1.41 goals-against average and .947 save percentage in five playoff starts in the 2016 post-season.

He has a 77-26-12 record with a 2.33 GAA and .918 save percentage over 125 career regular season games with Anaheim. Andersen also holds a 17-9-2 career post-season record with a 2.34 GAA and .916 save percentage.
I haven't been this excited since we traded for Vesa Toskala!
---
John Brophy was 83. He spent the bulk of his hockey career as a player and coach in the Eastern Hockey League but I knew him best as head coach of the Leafs from 1986 to 1988.
He was coach for one of my first favourite Maple Leafs memories, a first round sweep of the Chicago Black Hawks in 1985-86.
John Brophy was the Steve Martin of the EHL, but this photo proves he wasn't born with white hair. pic.twitter.com/T0xTth7N60

— Toronto Mike (@torontomike) May 23, 2016
The John Brophy the masses know pic.twitter.com/VEsM0RROeC

— Toronto Mike (@torontomike) May 23, 2016
Fascinating recent interview with John Brophy by Kent Russell https://t.co/xEWDpBgpDF pic.twitter.com/3mvvJcHbEi

— Toronto Mike (@torontomike) May 23, 2016
"It's a shame you'll disappear from life before you can see yourself become a myth." #Brophy https://t.co/xEWDpBgpDF pic.twitter.com/Ndz9QPh7Kb

— Toronto Mike (@torontomike) May 23, 2016
John Brophy was not the most enlightened fellow, nor was he politically correct, but damn was he interesting.

— Toronto Mike (@torontomike) May 23, 2016
---
The Leafs had a 20% chance of winning tonight's 2016 NHL Draft Lottery and the balls bounced in our favour for once. We've won the lottery and will draft first overall on June 24.
I don't know about you, but I'm pretty happy. It's nice to know all that losing last season has paid off. Auston Matthews is all but a lock to go first, so if the Leafs don't trade the pick, Matthews will be the big talented center we've lacked since Mats Sundin.
If the Raps win game 7 tomorrow night, this would be one helluva sports weekend in this city.
---
Previous
1
2
3
4
5
6
7
8
9
10
11
12
13
14
15
16
17
18
19
20
...
125
Next
Want more Toronto Mike blog entries? Visit the archives.