Toronto Maple Leafs
Prior to yesterday's home opener against the Boston Bruins, the Toronto Maple Leafs had only retired two numbers:
#5 for Bill Barilko
#6 for Ace Bailey
The number of retired numbers has now bloomed to 13 with the following additions:
#1 for Johnny Bower and Turk Broda
#4 for Hap Day and Red Kelly
#7 for Tim Horton and King Clancy
#9 for Charlie Conacher and Ted Kennedy
#10 for Syl Apps and George Armstrong
#13 for Mats Sundin
#14 for Dave Keon
#17 for Wendel Clark
#21 for Borje Salming
#27 for Frank Mahovlich and Daryl Sittler
#93 for Doug Gilmour
Only one current Leaf had to switch numbers to make this possible, so James van Riemsdyk scored his goal last night as #25 instead of his old #21.
Here's the excellent ceremony you likely missed because you were busy being frustrated by the Jays game. It gives you a chance to hear the Leafs' new PA Announcer Mike Ross as well.
---
Auston Matthews made his regular season NHL debut last night in Ottawa and scored four goals.
It's the first time in the history of the NHL that a player scored four goals in his first game.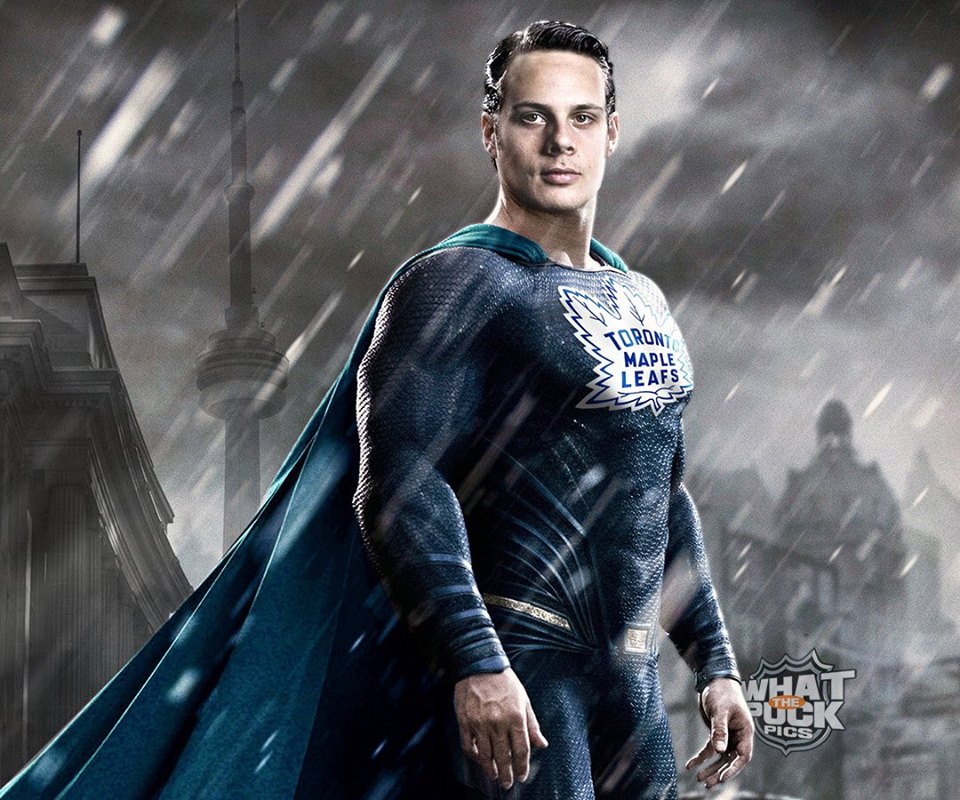 And that, ladies and gentlemen, is how you make an entrance.
---
In the world of professional sports, I'm focused on the Jays vs. Red Sox this afternoon. A win and we'll host the wild card game Tuesday. This is a big game.
I was just biking with my two older kids and we were chatting about the Jays. My 14-year old son is more excited about Auston Matthews' debut with the Leafs tonight. My daughter will "follow" the game on Instagram. This led to each of us ranking Toronto's big 6 teams in terms of personal preference.
My 14-Year Old Son's Rankings
Leafs
Raptors
Jays
Marlies
TFC
Argos
My 12-Year Old Daughter's Rankings
Raptors
Leafs
Jays
Marlies
TFC
Argos
Straight from the mouths of babes, as they say. Despite the fact I watch most Jays games and talk about the team often, the team is a distant third on each of their lists.
You can lead a horse to water...
---
---
Frederik Andersen has been traded to the Maple Leafs in exchange for the 30th pick in the 2016 NHL Entry Draft and the Leafs 2nd round pick in the 2017 NHL Entry Draft. The Maple Leafs promptly signed him to a 5-year extension.
From TSN:
Andersen posted a 22-9-7 record with a 2.30 goals-against-average and .919 save percentage in 43 games last season with the Ducks. The 26-year-old also went 3-2 with a 1.41 goals-against average and .947 save percentage in five playoff starts in the 2016 post-season.

He has a 77-26-12 record with a 2.33 GAA and .918 save percentage over 125 career regular season games with Anaheim. Andersen also holds a 17-9-2 career post-season record with a 2.34 GAA and .916 save percentage.
I haven't been this excited since we traded for Vesa Toskala!
---
John Brophy was 83. He spent the bulk of his hockey career as a player and coach in the Eastern Hockey League but I knew him best as head coach of the Leafs from 1986 to 1988.
He was coach for one of my first favourite Maple Leafs memories, a first round sweep of the Chicago Black Hawks in 1985-86.
John Brophy was the Steve Martin of the EHL, but this photo proves he wasn't born with white hair. pic.twitter.com/T0xTth7N60

— Toronto Mike (@torontomike) May 23, 2016
The John Brophy the masses know pic.twitter.com/VEsM0RROeC

— Toronto Mike (@torontomike) May 23, 2016
Fascinating recent interview with John Brophy by Kent Russell https://t.co/xEWDpBgpDF pic.twitter.com/3mvvJcHbEi

— Toronto Mike (@torontomike) May 23, 2016
"It's a shame you'll disappear from life before you can see yourself become a myth." #Brophy https://t.co/xEWDpBgpDF pic.twitter.com/Ndz9QPh7Kb

— Toronto Mike (@torontomike) May 23, 2016
John Brophy was not the most enlightened fellow, nor was he politically correct, but damn was he interesting.

— Toronto Mike (@torontomike) May 23, 2016
---
The Leafs had a 20% chance of winning tonight's 2016 NHL Draft Lottery and the balls bounced in our favour for once. We've won the lottery and will draft first overall on June 24.
I don't know about you, but I'm pretty happy. It's nice to know all that losing last season has paid off. Auston Matthews is all but a lock to go first, so if the Leafs don't trade the pick, Matthews will be the big talented center we've lacked since Mats Sundin.
If the Raps win game 7 tomorrow night, this would be one helluva sports weekend in this city.
---
I was catching up on some work last night when I saw this tweet from TSN1050 host Mike Richards.
Watching a Leaf "Classic" game from 1989. I think Damphousse has just finished a 7 minute shift..#WTF? @TSN1050Radio pic.twitter.com/w9Ig5o43xl

— Mike Richards (@MikeRichardsTSN) March 24, 2016
Immediately, I knew what game he was watching. It was my game. It was the final Maple Leafs game of the 1980s and I was in attendance at Maple Leaf Gardens to witness the most exciting game I'd ever seen live.
It was 6-1 Bruins, and my buddy Joe and I were playing the funeral march over a megaphone he had smuggled in. We didn't get to many games, so when you got a dog, it hurt. And there were plenty of dog games in the 80s.
When I saw this tweet from Mike Richards, I turned on the television and tuned in LeafsTV. I got to relive that night in 1989 and it was as glorious as I remembered.
Vincent Damphousse scored late in the second period to make it 6-2, and that's how it stood with 5 minutes left in the third. Then, Gary Leeman scored, and Luke Richardson scored, and Ed Olczyk scored. Suddenly, it was 6-5.
At this point, it felt like we couldn't lose. Eddie O made sure of it, with a nifty breakaway goal to tie it up late. Then, in OT, Mr. ALL HEART whacked home the winner. Leafs win! Leafs win! Leafs win!
I spent last night in 1989. That wasn't a tweet, that was a time machine.
---
The Toronto Maple Leafs have traded goaltender James Reimer, along with forward Jeremy Morin, to the San Jose Sharks in exchange for goaltender Alex Stalock, forward Ben Smith and a conditional fourth-round pick in the 2018 NHL Entry Draft.
I'm not going to write about every Leafs trade over the next few days, as I'm sure there will be a bunch, but I will write about James Reimer.
He owned this city back in 2011. Don't believe me? Click here. I was quick to pick up my Optimus Reim shirt, which I still wear all the time. I even dropped his name in the song I wrote and sang at my wedding.
James Reimer is now a member of the San Jose Sharks, but that won't stop me from wearing my Reimer tee shirt, and that won't stop me from enjoying this gem from Bloge Salming and Down Goes Brown.
#TeamReimer 4 life.
---
On Thursday night, I had three tickets to watch the Leafs and Hurricanes at the ACC. They were in the Fan Deck and courtesy of @TheFordFanatic. Me and my two oldest donned our Leafs jerseys and got set for Maple Leafs action.
The Fan Deck, if you've never been, is on the 600 level of the Air Canada Centre. To get to the 600 level you have to take an elevator to the 400 level and walk up a couple of flights of stairs. When you've hit the ceiling, you know you've arrived.
Last year, I took my daughter to a game in The Fan Deck and we enjoyed free all-you-can-eat popcorn. This year, for unknown reasons, we got the popcorn and all-you-can eat pizza and wings. It was amazing.
I'm still full, actually. The game was surprisingly good, too, as the Leafs won 3-1.
Just follow @TheFordFanatic on Twitter and you could score yourself one of those 200 tickets to every home game. Just don't ask me when they bring out the pizza and wings to accompany the free popcorn.
---
Previous
1
2
3
4
5
6
7
8
9
10
11
12
13
14
15
16
17
18
19
20
...
125
Next
Want more Toronto Mike blog entries? Visit the archives.